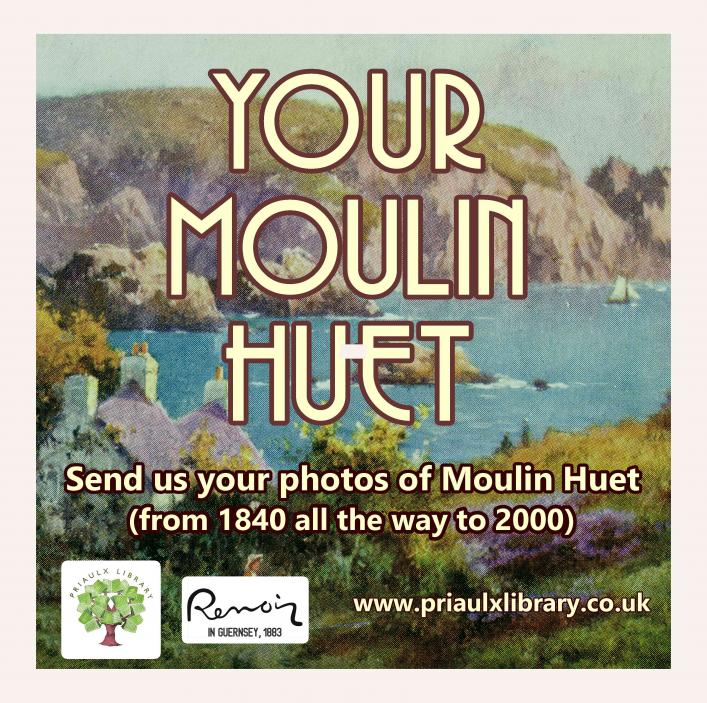 Your Moulin Huet
From 22nd September 2023
Until 21st December 2023
Join with us at the Priaulx Library in celebrating one of Guernsey's most famous beauty spots, the bay of Moulin Huet.
The Library has a database of over 20,000 local images, which any visitor to the Library can freely access. We are asking all you out there, islanders, their descendants, holidaymakers, collectors, to share with us your historic and vintage photographs of Moulin Huet. We are aiming to collect non-digital photographs that were created before the year 2000.
We'll display them as part of our 'Renoir in Guernsey: a day in 1883' exhibition by running a slideshow in our exhibition room. We don't need the original photographic print or negative.
Later we'll be asking some of the contributors if they would allow us to include their photographs in our Guernsey Photographic Collection database of historic images.
So how can you contribute?
Please send a scan of your photograph to [email protected]. If you are on the island and you can't scan it, please bring it in to the Library and the staff will scan it for you.
In the accompanying email please tell us what you know about the photograph - if there are people in it, who are they? Do you know the date - even an approximate one will be helpful, and we'll accept photographs from the earliest in 1840 right up to the turn of this century. We'd love your thoughts on the photo too - any memories or observations you would like to make. Many of the photographs we have in our database at the moment are undated and the people unidentified.
The images you send to us will only be used for the Your Moulin Huet project. They may be shared on social media and will be displayed during our exhibition.
We're really looking forward to receiving your photographs and remembering our own fun times spent at Moulin Huet!