Donations 2014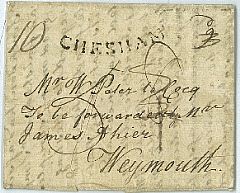 William Howard of Inverurie has very kindly sent us a letter written in December 1800 by William-Pierre Le Cocq from his boarding school in Chesham, to add to our present collection of this young man's correspondence. As with all William's letters, it is fun and affecting to read. Mr Howard, who was born and brought up in Chesham, has also transcribed and annotated the letter. This letter, acquired by Mr Howard's brother, was probably offered for sale in 1980 by Stanley Gibbons, as reported by the Guernsey Press of the day.
Christian Corbet, who is a generous friend of the Library, sent from Canada objects he had found on the battlefield of Queenston Heights, where Guernseyman Sir Isaac Brock famously met his death, including fired shot, buttons, a coin, a soldier's pocket knife, and a rare copy of an Indian Chief gun escutcheon.
Godfrey De Lisle of Ontario presented us with a significant collection of 19th-20th-century material relating to the De Lisle family in, amongst other places, the US, Australia, Argentina, and South Africa. The items include photographs and an invitation to the Duke of Wellington's funeral.
We have received a set of account books from the United Reformed Church, covering collections 1822-1892 and accounts 1858-1968, and the marriage registers of the De Lisle Methodist Church, 1928-1992.
Hazel Greany kindly donated a collection of books including a bound volume of early Gazettes, 1793-1801.
Mary Logan of St Peter Port gave us a collection of papers relating to a seed farm, and the rent book of Lilley's vinery.
Beryl Launay donated her work on Torteval records and the Le Ray family, with Torteval Church baptisms and marriages.
M Marquis of Guernsey donated a Methodist hymn book, with the signature of Adèle Le Riche.
R P Wickham gave the Library four letters from 1899 pertaining to the Stella disaster, addressed to Messrs Black, Geoghan, and Till.
Items from the Lenfestey family. They include a receipt book from the 1890s-1900s with revenue stamps, covering loans:Pierre Roberge and F D P Bienvenu to Frederick Lenfestey, with the signatures throughout of Joseph Naftel, J E L Martel, Quertier Le Pelley and J Mauger, and a rent book also belonging (probably) to Frederick Lenfestey, in which he begins by paying rent in 1894 for a house and stables called La Longue Maison in St Saviour, which he has purchased from Sieur Pierre Le Cras. Mrs Frederick Lenfestey is recorded as paying chefrente to the Fief des Fouqués in 1947. There is an index to the rents due, as follows: To the Procureur of the Poor of St Pierre Port; Thomas de Sausmarez, Esq.; Hilary C de Baugy, Esq.; Héritier A Quertier, Esq.; T W M de Guérin, Esq.; Madame De La Mare; A Godfrey, Esq.; James Le Page, Esq.; St Saviour's Sunday School; Victoria Fund; Fief Le Comte.We have also received a rental agreement dated 22nd June 1799, in which Nicolas Du Quemin of St Saviour agrees to pay rent to Henry Blondel Jr., of Les Loyers, due on a property Blondel has purchased in cash from John Rutter son of Jean and Susanne Ahier his wife. The final item is very interesting: it is another rent book, this time belonging to Jean Lenfestey and dated1796. Sieur Pierre Lenfestey pays rent to Helier Carré for a field called the Courtil Le Maresquet, purchased from Richard Angel and Susanne Brouard, on behalf of his son Jean, a minor, from 1796 to 1811. Then it is revealed that Pierre Lenfestey purchased the 'maison et terre de la Sainte Apolline' from the same Richard and Susanne Angel. This confirms a letter written on April 24th,1891 when the important house 'La Poline', of which the Chapel of St Apolline had served for a long time as stable and store, was demolished. The Lenfestey family was known to have owned this ancient farmhouse. The index to the rents reads as follows: Premier Susanne Brouard. Sieur Hellier Carré. Mr Richard Ozanne [Reverend Richard Ozanne, Rev. J M Arnold, Dame Catherine Madeleine Zukowska Ozanne]. Dame Elizabeth Priaulx. Jean Robillard. Susanne Brouard. Rachel Gallienne. Thomas Le Marchant Esq. Arthur Atherley Esq. James Carey Esq. Mr Abraham Lenfestey. Mr Jean De Garis. La Longue Maison is again mentioned. 'From Mr Jean Lenfestey by right of his wife Dame Marie De Garis, rent for the Courtil des Cinqverque 1815-16.' Jean Guillard, Rachel Gallienne, Etienne, Judith, & Nicolas Breton &c & c.
Could the donor of these Lenfestey items please contact the Library.
---
All these donations are much appreciated and will be of great help to researchers and the users of the Priaulx Library, to whom they are freely available for consultation.