Rainbow in the Library: a home for 'Guernsey's Own' window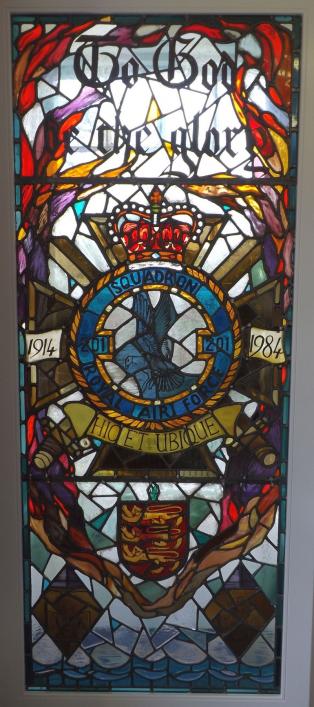 The Priaulx Library's St Aubyn room, where we keep our art, social and ancient history and Guernsey French collections, has always been a sunny and peaceful place to settle down to reading or research. It is even more lovely now, however, as it is flooded with colour from a beautiful stained glass window that has been transferred here from its original home at Kinloss Barracks in Scotland. The window was commissioned in 1984 to commemorate the founding of 'Guernsey's Own' 201 Squadron RAF in 1914.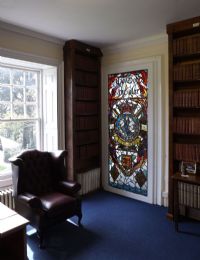 201 Squadron's affiliation with Guernsey was announced on 4th May 1939 at an official lunch by Sir Kingsley Wood, who was in the island to take part in the opening of Guernsey's new airport the next day. The British government had recently undertaken a programme of expansionof the RAF, and as part of the operation decided to affiliate each squadron with somewhere in the British Isles. 201 duly became 'Guernsey's Own;' at that time they were operating Southampton flying boats, but are probably best known today for flying the Nimrod reconnaissance and strike aircraft. The Squadron moved into their permanent base at RAF Kinloss in 1965. The close association of the Squadron with the island has been maintained since 1939, their colours being kept in St Peter Port Church, and upon the disbanding of the regiment in 2011 many items of memorabilia were moved to the existing dedicated museum at Castle Cornet.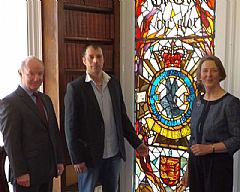 The window was officially installed on 3rd May 2013, with a reception for the Lieutenant-Governor and others associated with 201 Squadron and the Library. The Library Council is especially grateful to the Bonsai Group and Lee Stillwell for their expertise and support. The photograph shows the then Lieutenant-Governor Air-Marshal Sir Peter Walker, Lee Stillwell of the Bonsai Group, and Jurat Claire Le Pelley of the Priaulx Library Council during the reception.