Ruth Ozanne's Occupation Diaries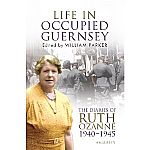 William Parker, editor of Life in Occupied Guernsey: The diaries of Ruth Ozanne 1940-1945, recently published, has very kindly donated Ruth's original handwritten diaries to the Library. Ruth Ozanne was born in 1888 and died unmarried in 1970. She was the daughter of a Bailiff of Guernsey, Sir Edward Chepmell Ozanne, and his wife Lady Frances.
William Parker was brought up in Guernsey. Heis related to Ruth and obtained the diaires through another relative, Anne Finlay, to whom they had passed after Ruth's death. Ruth's second cousin, William's father Major John Parker, was captured by the Nazis in 1940 during a mission to the island.
The wartime diaries, only some of the sixteen volumes of diaries that exist (Ruth began to keep a journal when she was 13 years old), are already proving to be of great interest and can now be consulted here at the Priaulx Library. The others await publication.
Here is a taste, from Thursday, July 1st, 1943, taken from the published book, p. 134:
Two amusing messages have got through from Canada via the Red Cross—one is addressed as follows:

Jean Tendous, Vos Avaines, Par Ichiu, Guernsey.

An SOS was put in the paper for 'Jean Tendous' and this brought 2 countrymen to the Red Cross Bureau. In Guernsey French the address runs 'I understand your hardships over here,' or something like that.

The second message was to:

Ann Steelgot, Vachon Farm, St Martins, Guernsey. 'Still got cows on the farm.'
Do you have books, photographs, or documents with a Guernsey connection that you would like to be looked after and made easily accessible to the public? Why not donate them to the Library? Find out how.