Salvation Army Occupation Diaries
9th November 2015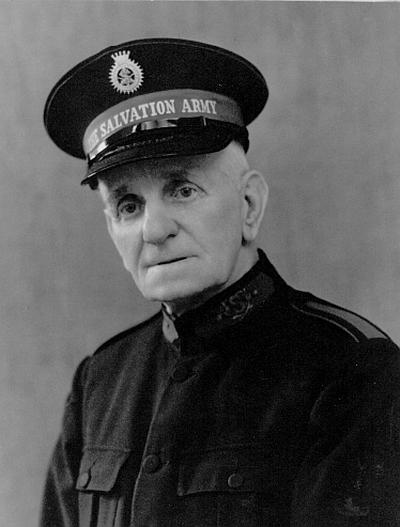 The diaries of Joseph Griffith, 1940-44, 1947.
The Salvation Army archives held at the Salvation Army International Heritage Centre in Camberwell, London, have very kindly supplied us with photographs and transcriptions of the diaries of Commandant Joseph Griffith, who was based at L'Islet during the Occupation. Born in 1871, Commandant Griffith, who came to Guernsey with his wife towards the end of the First War to take charge of L'Islet Corps, lived at Ville Baudu, and died in Guernsey in 1947. His diaries have been transcribed by his son William Griffith; the material includes newspaper cuttings and other information. The Salvation Army were suppressed by the occupying forces, and the diaires provide much detail of interest to students of the Occupation. They provide a complement to the letters of Marie Ozanne, copies of which were also given to us by the Heritage Centre.
---
The War Cry, October 11, 1947
Kept the faith: Commandant Joseph Griffith
As a lad of sixteen, Joseph Griffith came to grips with the things of God and goodness as he listened to the witness and entreaties of Salvationists at Thornton Heath. He responded and knelt at the Mercy Seat, finding salvation and his destiny.

Seven years later he was admitted to the training home as a cadet and was eventually commissioned as an officer to work in the north. He served, amongst other places, at Birkenhead, Bolton, Perth, Gloucester, Cheltenham, Leeds, L'Islet (CI), Pokesdown, Trealaw, Margate and Maidstone, from which corps he retired in 1930.

The commandant remained on Guernsey through the wartime occupation of the Channel Islands, and his faithful ministry to the soldiers of his old corps at L'Islet, as well as to his comrades at St Sampsons and St Peter Port, is a record of courage and faithfulness which will ever remain in the memory of the people of the island.

Crowds gathered to pay their tributes during the funeral service at L'Islet Cemetery. 'He was a great soldier—right to the end.' said one of him.