1812, Prisoners-of- War
Local Prisoners-of-War held in France eligible for a share of a charitable fund made up of donations from islanders, and administered by Harry Dobree. The illustration is from the Gazette de Guernesey of March 1812; the actors were officers from the garrison (see note below).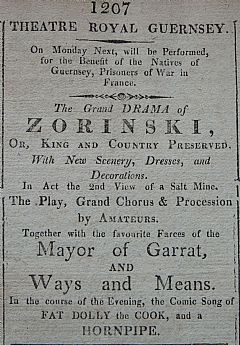 See The Fund for the Relief of Guernsey Prisoners in France, 1806; Prisoners-of-war, 1813; Prisoners-of-war, 1814; Two letters of Charles De Havilland when prisoner in 1809
---
Letters from Martha Dobrée to Frederick W Mann, 13th and 25th March 1812:
A play is to be performed next Monday week for the benefit of the Guernseymen prisoners in France, Messrs De Jersey and Le Cocq have been persuaded to take part ...

I attended the play also Monday last, but was not, I must own, much entertained. I went against my inclination ... Captain Fyars was better as Bruin in the Mayor of Garrat than as the King in Zorinski. I imagine he felt rather intimidated at first, which gave him rather an awkward appearance unfit for a king. He is, I have heard, very fond of that amusement.' [Mann-Dobrée collection, in the Library.]
---
Gazette de Guernesey 6 June 1812 (p. 91)
Copy of a letter to Harry Dobrée, from Messrs Mallet & Co, Paris.
Paris, 22 April, 1812
Sir,
We are honoured that you have once again authorized us, by your letter of the 10th of this month, to draw £536-18-11 sterling on your account at Messrs Campbell, Bowden & Co., London, to be distributed amongst those Prisoners of War in France who are natives of your island, or who have a wife and child there.
Yesterday we provided to Messrs Bowden, Campbell & Co., London, our note for £536-18-11 stg., payable in 30 days, for which we have negotiated an exchange rate of 19 francs 35 centimes, and today we are contacting all the dépôts [detention camps] for up-to-date prisoner lists. As soon as we receive these, we will give out the sum of 106 francs 50 centimes to those who only received 79 francs at the last distribution: meanwhile, please find enclosed the names* of those who received a share of the last distribution.
Yours most sincerely,
MALLET, Frères & Co.
*The publication of this list has had to be put back until the next number due to lack of space.
---
Gazette de Guernesey Saturday 13 June 1812 (p. 94)
List of Prisoners who are natives of Guernsey or who have a wife and children there, who received a share of the distribution of the £536-18-11 stg. as per the letter from Messrs Mallet & Co. published in our last number:
At Besançon
Pierre Vidamour, David Dorey, Pierre Roberge, Thomas Le Lièvre, William Moon, Jean Gray, James Renouf, George Johnston, Nicolas Langlois, Thomas Grumley, Jean Coombs, Jean Lerraling, Thomas White, Jean Rogers, Jean Marche, William Piesing.
Sarrelibre.1
Jean P. Du Port, Nicolas Lihou, Thomas Mahy, Jean Corbet, Jean Rooks, William Holmes, James Brouard, Elizée Tourtel, Jean White, Hélier Marquand, Nicolas Priaulx, Jean Le Sbirel, Jean Laventure, Ph. Leruez, Elisée Le Lacheur.
Bitche.
Philippe Nicolle, Nicolas Capelain.
Cambray.
Jean Camel, Jean Crosby, Patrick Hire, George Lobbo, Nicolas Tourtel, Jean Le Page, Pierre Jehan, Robert Farren, P. Kingerville, Jean Torode, Jean Murray, Jean Girard, R. Clarck, T. Devonshire, Thomas Allen, Nicolas Winnes.
Givet.2
Charles Rabey, Thomas Robin, George Le Moigne, Pierre Martel, Jean Mahy, William Aplen, Archibald Duncan, Jean Butler, Thomas de France, Jean Viel, Walter Latimer, Martin Guignon.
Arras.
Edward Mesny, Christian Shaw, David Marrett, Jean Moullin, James Davidson.
Longwy.
Nicolas Moulin,3 Pierre de Garis, C. Le Quesne, Daniel Maillard, I. de Lisle, Jean Todure, A. Simon, Jean Lenfestey, Jean Domaille, Jean Martin, Jean Marquand, Jean Pardy, Ch. Pardy, Jean Gibson, Jean Fall, Jean Sterling, Richard Brown, Samuel Campbell, Samuel Wright, Robert Chiles, R. Bedbrook, François Ribercobb.
Valenciennes.
Thomas Noals, Daniel Mahy, Thomas Breeake, Isaac de Jersey, N. De la Rue, Jean Arrivé, A. Bichard.
Verdun.
Pierre Marche, Pierre Priaulx,4 François Giffard, P. M. Mollet, N. Le Cheminant, Jean Clague, M. G. Richardson, James Woolcock, Thomas Priaulx.
Liège.
Isabelle O'Brien.
---
1 Zachary Mahy was also in Sarrelibre in 1812. Originally serving on HMS Crescent and Orion as Gunner's mate with Admiral James Saumarez, he had been captured by a French privateer in 1807 as part of the crew of the Guernsey cargo ship Sally. For more about him and his life, see Glendinning, A., 'Zachary Mahy and Sarrelibre,' An Eye on the Past in Guernsey, pp. 37 ff. André Métayer has kindly pointed out that Bitche, or Biche, was a fortified prison reserved for POWs who had attempted to escape. See also September 1806.
2 Gazette de Guernesey, 18 January 1812. 'Could the person who deposited the equivalent of 139 francs on behalf of N. Gallichan, held at Givet, in France, come and collect the receipt for this Prisoner-of-War from Harry Dobrée's office at no. 205, The Pollet.'
3 For Nicolas Moullin, 1779-1851, see E B Moullin, Quarterly Review of the Guernsey Society, Winter 1957, 'A Mariner's Petition,' pp. 65 ff., and Fig. 15.
4 Peter Priaulx, 'Pilot, Royal Oak, arrived Verdun 30th October 1811,' from Thomas James Walker's The Depot for Prisoners of War of War at Norman Cross, Huntingdonshire. 1796 to 1816, London 1913. Thanks to André Métayer.
The Mercure, 26th May 1812, prints a letter of thanks from the prisoners, 'natives of Guernsey', at Givet to the islanders, thanking them for their generosity over the past few years during their captivity. Every so often, they say, they each receive 79 francs from the funds raised in the island, for which they are exceedingly grateful and are their humble servants and devoted compatriots; they were:
Thomas de France, Jean Mahy, Charles Rabey, W. S. Aplen, Jean Viel, George Le Moignent [Moignan], his mark X. Jean Butler, Martia [Martha?] Guignon, Thomas Robin, Pierre Martel, Elie Tourtel, his mark X. Archibald Duncan, Walter Latimore. 'NB The last-named Archibald Duncan and Walter Latimore claim to have married in Guernsey; we only have their word for it. Tourtel has only just arrived at the Dépôt and so has not profited from your kindness, he was taken prisoner on the frigate Manilla, which sank some time ago, near Texel.'