August 1810
From the Gazette de Guernesey. The illustration shows the prime, from Grisier's 1864 Les Armes et le duel, in the Library. See Monsieur Siordet's fencing school, below.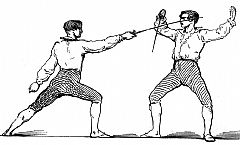 Saturday, 4th August 1810.
The ground belonging to the heirs of the late P. De Lisle, Esq., situated in the New-Town, between Mr Bennett's house and garden, on the one side, and the wall garden of the Coffinot, and Mr Maingy's stable, on the other side, will be sold by public auction, to the highest bidder, either together or in separate lots, on Friday next, at 11 o'clock. NB The house in Pollet-street, belonging to the said heirs, is to be disposed of by private contract.
To sell or give to rent immediately, a convenient house situated opposite to the new prison, and adjoining to the play-house, well worth the attention of innkeepers. Apply to James Arnold, Public-Notary, No. 4, near the Church.
A good hand-quern for sale, for wheat or barley (braye), very suitable for country use; two capstans and two nuts, reasonably priced; apply to James or John Cochrane, Tobacconists, near the New Courthouse.
A false rumour has been circulating, which accuses me of informing on Sieur Nicolas Breton's Tea shipment, which was impounded a few weeks ago on its arrival from Jersey. I therefore offer a reward of Five Guineas for information leading to the arrest of the authors of this slander. JOHN BROUARD.
---
At the Chief Pleas, after Easter, held the 28th April 1794, before Wm. Le Marchant, Esq., Bailiff, present &c. &c.
Upon the King's Comptroller representing that some Boar's flesh, has lately been sold at Market, without declaring it as such to the purchasers, who thought it common pork, by which they were deceived; the Court, to prevent all inpositions of the nature, has ordered, after having heard the conclusion of the said Comptroller, that those who shall bring such flesh to sell at Market, shall be held and obliged to declare as such to the purchasers thereof, under the penalty of 30 livres tournois fine, applicable ¼ to the King, ¼ to the poor and ½ to the informer, besides the confiscation of the said flesh.
JAMES AGNEW, H. M.'s Deputy-Greffier.
---
Walter Long, a native of this Island, late belonging to HMS Ardent, deceased, George Rogers, ditto, Richard Slee, ditto Echo, Nicholas Jehan, ditto Swift, —— Allen, late of HMS Africaine, ditto (claimant Richard Allen), John Brehaut, ditto Orestes, (representative Judith Dorey, his mother), Thomas Le Huray, ditto Sheldrake, (claimant his father, T. Le Huray, of Torteval).
The representatives of the above deceased Seamen, are requested to apply to James Arnold's Office, No. 4, near the Church. NB Any persons having deceased relations formerly belonging to any of HM Ships, will be directed how to recover what is due to them, by applying to said Arnold, who has an agent in London, licensed for that purpose.
[Added 25th August: Julian Hippolite, late belonging to HMS Arab, as Purser's Steward, deceased.]
Wanted to purchase, a second-hand Parrot cage or two, any person having such to dispose of may hear of a purchaser, by applying to the Printers.
The Island prisoners in France, at the depôts of Besançon, Auxonne, and Cambrai, were all well the 8th July last.
To be let, and entered on at Michaelmas next, two Cottages, one containing seven rooms, the other five, with a garden in front, and a School-room, about 56 feet long by 14 wide, situate in St John's street, New-Town; also two houses situate in the Market-place, No. 608 and 609. For particulars enquire of Mr Lamble, Richmond-House.
R. Rachael, middle of the North-Pier steps, has a large assortment of Corks, to dispose of.
Umbrellas and Parasols covered and repaired by R. Racheal (sic), middle of the North Pier steps.
---
J. A. Chevalier & Mauger, respectfully inform their friends and the public, that they have just Published, and now ready for delivery, Price One Shilling,
THE SABBATH TRIUMPHANT, or
The iniquity of the breach of the 4th Commandment EVINCED.
In a public controversy in the Island of Jersey, in the year 1808; respecting the legality of performing Military Exercises on the Lord's Day.
---

Under the Patronage of Honorable Lieut-General Sir JOHN DOYLE, Bart & K.C.,
Mr Siordet, Professor of Fencing and the Highland Broad-Sword, has the honor to inform the Military and other Gentlemen of the Island, that he proposes giving lessons in those indispensable sciences, agreeable to the approved method of his late master, the celebrated M. Le Brun, at Paris.
Attendance. Mondays and Wednesdays, from 2 till 4, at the Brown-Bear, near Fort-George, and Tuesdays and Fridays, at the Plough-Inn, near Amherst Barracks.
Subscription per month, One Guinea.
NB Private attendance in the French and Italian Languages, the Classics, Elocution, Drawing, Mapping, the Use of the Globes, Practical Geometry, Trigonometry, Navigation, Surveying, &c. &c. &c. Residence at Mr Levy's, Market-Place.
---
Saturday 11th August, 1810.
The house of the late John Carey Esq., where he lived, in High-street, will be sold by auction, on the premises, on Wednesday the 22nd inst. at 10 o/clock in the morning. For further particulars apply to John Carey, Esq., at the said house (to see the house and the cellars). [This is John Carey Snr., 1740-1810, who married Marie Le Ray. They originally lived in the Bigoterie in Berthelot Street. His daughter Mary married Gaspard Le Marchant, who also lived in the High Street as a young man. His son John Jnr. (1769-1847) was King's Receiver and married Rachel Carey Dobrée (1775-1849).]
For sale, at the New Mill, Country-Mansell:
French flour, 1st quality, at 34s per cwt. or 8s 9d per ¼ cwt.
English do. at 35s per cwt. or 9s per do.
English 2nd do. at 32s. cwt or 8s 3d. per do.
English 3rd do. at 82s. (sic) cwt. or7s 3d. per do.
Meal [non-bultée] 10s per bushel.
Flour &c. of the same quality may be had at Mr Mollet's mill, [au Moulin de bas, de la Vrangue] at the Vrangue, or at Isaac Carey's, [au Bouillon] near the Long-store, at the prices above-mentioned.
To let several genteel rooms, furnished or unfurnished, and a cellar in the house called the British Hotel, formerly occupied by R. Winter, near the Quays, bottom of High Street. Also several rooms in Mr Slèque's house, on the Quay. For particulars apply to Elizabeth Forage, at the said Hotel.
9th September 1809, before the Lieutenant-Bailiff. Mr Henry Eméric De St Dalmas, has been sworn in as guardian of the property of Sieur Pierre David Combeau, who is unable to manage his own affairs due to his indisposition, appointed by Sieur Paul Le Prevost, his brother-in-law, and Sieurs Pierre Drilleaud, Daniel Drilleaud, Nicolas Lihou and Pierre Blanche, relatives of the said Combeau. Signed JAMES AGNEW, King's Deputy Greffier.
For particular reasons, Henry Eméric De St Dalmas takes the liberty to remind those to whom it may concern, that he is still guardian to Mr. P. D. Combeau's property, by virtue of the foregoing act.
---
P LE PATOUREL's Musical Instruments and Music Warehouse, Smith-Street, next door to Mr Bishop's.
P. Le Patourel begs leave to inform the Ladies and Gentlemen of this Island, that he has for sale, or to let out on hire, the following Instruments, viz:- Grand Piano-Forte, best. Square do., from 7 to 50 Guineas. B, C, and E Clarinets, Patent. Flutes 1, 4, 6 and 8 keys do. improved. Do. Cases. Do. 1, do Potters Patent. Do. 3d's. 4 Silver and Brass Keys. 5th, 6th,and 7th Octaves, do. do. Flageloets, single and double. Eo[l]ean Harps, improved. Ladies Tambourins. Do. Triangles. Castanetts (Spanish). Hand Organs, from 5 to 40 Guineas, as also, every description of Music Instruments.
A great number of Piano-Fortes, (new and of the best quality) are actually forwarded from London, and will be received shortly, when the Ladies may have a supply on hire, and if purchas'd within six months, the hire shall be abated.
Some parcels of Music are arrived, and some very extensive collections of all the new and best publication, are expected in a few days.
Regiments supplied with regular sets of Instruments warranted in time, and at the London prices—likewise every description of Piano-Fortes, &c., &c., sold on the same terms, and kept in tune for 12 months, without any additional charges.
---
Saturday 18th August, 1810.
Messrs Brock, La Serre, Maingy & Co., will sell to the highest bidder, without any reserve, on Wednesday the 22nd instant:
Figs, Ginger, Spunges, Shumack, Castile Soap, Boxwood, Tallow, Oil Stones, Lemon juice, Juniper Berrys, Flower Pots, Red Wine, for Vinegar, Cork-wood, currants, and a few very fine Buenos-Ayres hides.
The sale will commence at 10 o'clock in the forenoon, at the stores belonging to Peter Maingy, sen., Esq., and now occupied by them.
T. Westlake, Umbrella and Parasol-maker, in the Market-place, feels himself highly indebted to those Ladies and Gentlemen, and his friends in general, who have been pleased to honour him with their commands, and takes this opportunity to return thanks, and to inform them that he is just returned from England, where he has layd in an assortment of materials for the purpose of carrying on the business to its extent. All orders, either for making or repairing, will be punctually attended to, and done in the most compleat and satisfactory manner. NB J.W. (sic) not only covers and repairs, but he engages to make either Umbrellas or Parasols, to any size or pattern. Old Umbrellas taken in exchange. Military and all other Hats covered on reasonable terms; Pattens of all sizes, made and repaired.
E. De Ste. Croix, a à vendre, viz:
30 tonneaux soude d'Espagne, 30 do. lies d'huile de morue, 7 barils garence en poudre, 3 do. de gomme, 1 do. de Alkali, 44 poches de Garence ou Alizari, 500 bouteilles essence de Térébenthine, 28 douzaines de Champagne, 78 Bouteilles d'Huile Antique, 42 do. d'eau de Miel, 48 do. d'eau de Suave, 60 do. d'esprit de Jasmin, 18 douzaine d'eau de Cologne, 900 peaux de Buenos-Ayres, et quelques poutres de 40 à 46 pieds de long.
Wanted, two Apprentices to the trade of Sail-making. For further particulars enquire at M R Phillips, near the Cornish Tavern.
---
The following information details the costs incurred since the beginning of the present war, for building work, maintenance, erection of towers and fortifications, and the purchase of associated land, in the United Kingdom, up to 5 January 1809:
North Britain, £16,834, 18s, 10½d; North, £3,753, 0s, 7½d; Yorkshire, £9,406, 10s, 6½d; East, £141,896, 15s, 7d; La Tamise (Thames District), £5,234, 1s, 0¾d; Medway District, £716,965, 13s, 1d; South, £868,640, 3s, 8½d; Portsmouth District, £150,298, 1s, 10½d; Plymouth District, £42,756, 12s, 10½d; Severn, £3,855, 4s, 8d; Ireland, £154,419, 19s, 11¾d; Guernsey, £47,037, 7s, 6¾d; Jersey, £71,874, 5s, 8d.
J. Harding, C. Astley Cooper, M. Singleton. Ordinance Office, 13 June, 1810. [From the French.]
To be sold, and entered on at Michaelmas next, a small Public-House, adjoining to the Barracks of Jerbourg, with an acre and a half of ground, with a promising crop of potatoes: the whole may be viewed at any time, by those who may wish to be purchasers. NB The potatoes are of the best blue sort.
The Reverend N. P. Dobrée offers a small family accommodation in his house at the Mare de Carteret: he will employ the man for four days a week, in all weathers.
---
TOWN and PARISH OF ST PETER's PORT.
Whereas, in pursuance to an Ordonnance of the Royal Court, bearing date January, 1801, all proprietors of Public houses, and others, who may Lodge Strangers, are ordered to give a true and faithful List of such; specifying their occupation, and the Nation they belong to, (and also due information when such Strangers leave their Houses), to the High Constables, every Saturday before noon, at their Office near the Pier Guard.
Notice is hereby given, that unless such persons, as the above may concern, do conform themselves to the said Ordonnance, they shall be prosecuted for the penalty therein contained to the utmost rigour of the Law.
Frederick Price, sen., John Mansell, Constables. Guernsey, 17th August, 1810.
---
Tuesday 14th August 1810, before P. De Havilland, Baillif, present &c. &c.
The Lieutenant-Governor & Commander-in-Chief of this island has brought it to the attention of the Court that the main ways out of Town that meet the new main island roads are either so narrow or so steep that they are dangerous and extremely difficult to use, that they could be improved, and that now is the time to set about it, while the troops, tools, and other machinery currently in use constructing the main roads are still at the authorities' disposition, thus cutting the cost of improving these Town roads. The Court has listened to the conclusion of the King's Officers and wishes to second the well-intentioned views of the Hon. L.-G.; having visited the sites in question, viz, the path leading from rue du Truchot to rue de l'Hôpital, to Cornet Street, and Smith Street, which are notoriously bad roads, and being persuaded of the great public benefit that would arise from their improvement, has authorised and hereby authorises a LOTTERY whose profits will fund this project, the plan for which is outlined below. Messrs William Collings, Jean Hubert, Frederick Price, jun., William Robinson, Jean Métivier, Thomas Bertier, Frederick Lukis, and John Betts are hereby appointed Lottery Commissioners to oversee the drawing of the lots. [From the French, see newspaper for details of Lottery.]
William Derbyshire, at the sign of the Pine-Apple, top of Berthelot-street, has some sucking pigs, fortnight old, for sale.
To let for Michaelmas.—A very genteel apartment, now occupied by the gentlemen of the SAVOIR-VIVRE Club; the above apartment is well calculated for a Club, or may be let ready furnished.—Apply at Mrs Hick's, near the South-Pier.
Thomas Du Frocq informs his friends, and the public in general, that his day and evening schools are still open, in Mount Durand, for the instruction of young people of both sexes, in reading, writing, Arithmetic, in English or in French, Geography, Geometry, and Measurement, on modest terms. He hopes by his care and assiduity to earn the approval of those who would honour him with the care of their children.
Lost, from the Hotel, a fine new sheet of French Cloth, marked Payne's Hotel, August 6th 1810, also two French Diaper Napkins, marked A. Meredith Bristol: whoever will give information where they may be found, shall receive a Guinea reward. Lost, last Sunday, an umbrella, some where between Jean Le Noury's house, in the Garenne (de la Garende) and Sieur Helier Nicolle's house, at the Hougue (da la Hougue). If found please return to Nicolas Blondel, at the Grands Moulins, to receive a reward.