The Book of Sark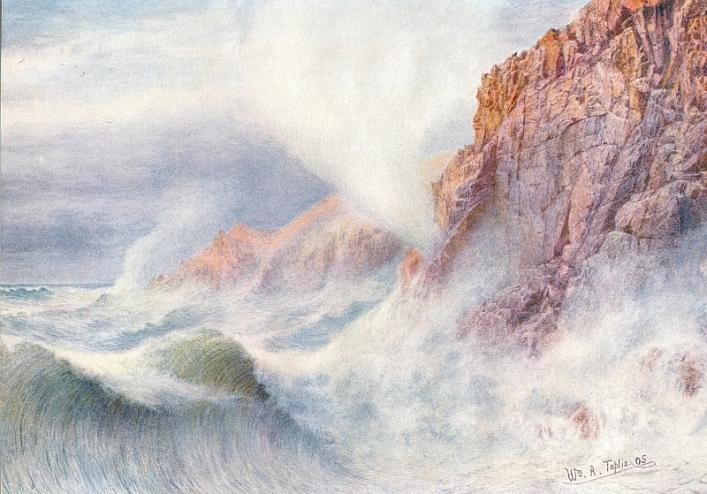 The Book of Sark: twenty-one reproductions in colour from the Royal Academy exhibits and other paintings in oil and water colours, by William Toplis; text by John Oxenham. Limited edition of 500 copies. Hodder & Stoughton, London, 1908. 98pp.
William Toplis, R.A., (1857-1942), a young artist from Sheffield, first arrived in Sark in 1883 on holiday with his family, and remained there for sixty years, despite the fact that at first he was unable to converse with the patois-speaking islanders. He became friends with the author John Oxenham, who eventually persuaded him to produce a picture book for which he would write the text and Toplis provide the illustrations.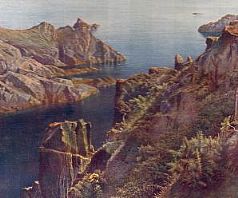 The publishers, Hodder & Stoughton, were not keen to produce this luxurious a volume, but Oxenham, a lover of Sark who was by then a very successful author, seems to have persuaded them to go ahead with an edition of 500 copies of which the first 350 were bound in vellum,1 with tipped-in reproductions of twenty-one of Toplis's Sark paintings. The volume is now highly sought after by collectors. The Priaulx Library has three copies, one of which came from Major Percy Groves' own collection. According to the biography, No. 108 was bought by Guernsey's Guille-Allès Library, while No. 242 was one of the copies taken by the Times Book Club in 1913, offloaded by the publisher when sales were not going well, much to the artists' horror. The biography of Toplis by Paul A Toplis2 gives a great deal of information about the artist and his works, based on private and public material, including that Toplis received a number of copies at a discount which, during the Great War, he had much difficulty selling, which explains why the deal with the Book Club came as such a blow. It was only after many years that he saw a return, being able to buy and resell copies at some profit.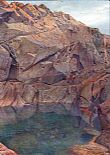 Probably the best-known of Toplis' Sark paintings is that depicting 'The Venus Bath,' a rock pool on Little Sark (reproduced above), which took him over a decade to complete. Unlike others of his paintings, The Venus Bath was rejected several times by the Royal Academy, but was reproduced many times as both black-and-white and colour prints. In 1910 the final version was accepted by the Academy and featured prominently in that year's exhibition. An oil painting twenty-one inches by fifteen in size, it proved extremely popular, and caused an upsurge in Sark tourism. He is said to have popularised the Venus Bath with visitors (it is now known as the Venus Pool, with an accompanying Adonis Pool). Localities in Sark did not at that time always have specific names; he was first shown the spot by his good friend Peregrine Feeney, and when asked the name of the painting reportedly answered 'Feeney's Bath.' The painting is now in the Candie Museum; the illustration of the Venus Bath in The Book of Sark is not quite the same, for Venus is missing.
The picture at the top of this article represents a souffleur, a phenomenon which occurs when waves rush into a cave. The book describes it thus:
There are several active souffleurs in Sark, but the finest, beyond all question, is this of Saignée. It works continuously for an hour before and an hour after high-tide during a strong north-west gale, and casts its column of spray to a height of two hundred feet at times.
The souffleur cave has a comparatively small entrance to a large interior. The swelling waves bottle up the air on the cave, compress it beyond bearing until something has to give way, and the tortured air rushes out with a roar like artillery, carrying the water with it in clouds of spray, and shaking the upper cliffs with the forceful agony of its escape.
On a clear day, with the afternoon sun lightening still more the sparkling emerald green of the waves - a wonder of vital colour only to be fully realised by actual sight—and playing on the spray of the souffleur, the spectacle is a unique and beautiful one.3
For a slideshow of the illustrations and an audio commentary, go to http://www.museum.guernsey.net/book_of_sark.htm.
The Book of Sark is currently being reprinted in a centenary facsimile edition.
---
1 The Priaulx Library is fortunate enough to own three copies of the Book of Sark. In 2007, the first of the three was sent to Derry's in Nottingham for conservation as all were suffering from similar problems: warped vellum binding, foredge ties missing, interleaves creased and with very brittle and damaged mount paper. Derry's dry-cleaned and ironed flat the pages throughout, remounted the prints on acid free Fabriano Tiziano paper, reinforced the spines and joints and threaded new 1" silk ribbon ties into the original slots on the case. The original vellum binding was still completely intact and has simply been cleaned.
2 Toplis, Paul A., Toplis Artist of Sark, The Biography of Wm. A. Toplis (1857-1942), Paul Toplis, 28 Blackheath, Colchester, 1995, 191 pp. As well as providing a detailed biography of Toplis' life, it provides much interesting information about Sark life during the sixty or so years he and his family lived there, from Toplis' perspective. He seems to have been a rather obsessive and litigious man who made many enemies but who may have had right on his side more often than not in his battles in the Sark courts; after the Great War, convinced there was to be another Great Flood, he made several attempts to buy the lease of Brecqhou from the Seigneur of Sark, making elaborate plans and with separatist intentions, but was never successful. During his later years he made more money from stamp dealing than painting.
3 A Sark Souffleur (Saignée Bay). Text by John Oxenham.