Captain Sir Robert John Le Mesurier McClure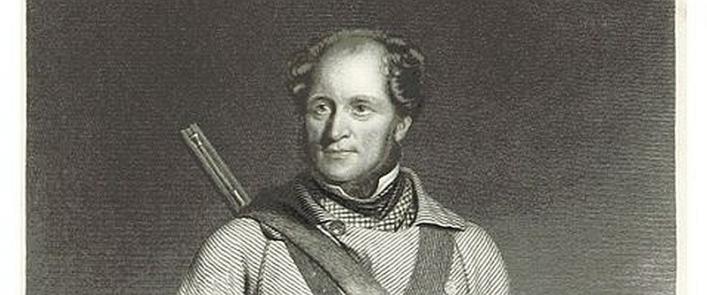 Circumstance and media frenzy made him one of the most famous men in the world in the 1850s and 1860s. But who remembers him now?
Guernsey may almost claim Captain McClure as one of her sons, as on the death of his father he was, in his earliest infancy, adopted by the late General John LE MESURIER, Hereditary Governor of Alderney, from whom he received the baptismal names of ROBERT JOHN LE MESURIER, and he was educated at the school of the Rev. Philip Hayes, of this island.
In 1845 John Franklin began his ill-fated voyage to the Arctic. The world was truly fascinated, but excitement turned to horror when Franklin and his ships HMS Erebus and Terror failed to make contact. So general was the concern that eventually in 1847 the Admiralty decided to send out a new naval expedition to find the first; when this failed, they sent out another one, and put in command of this second manhunt the 41-year-old Captain Robert McClure, who had already made two voyages in the Arctic region. As well as finding out the fate of Sir John Franklin, the Admiralty hoped that these new expeditions would justify their expense by at last finding a way to complete the journey through the Northwest passage.
In December 1853 the Gazette de Guernesey dedicated three front pages to the journal of Captain McClure. They called him 'un vrai héros, natif d'Aurigny' (a true hero, and Alderney native). Captain McClure, while on his high-profile search for John Franklin, had become the first man to cross the final link in the Northwest passage, le passage du nord.
Robert McClure was a child of fate; he owed his career and subsequent fame to the consequences of two untimely deaths, that of his father before he was born, and that of Franklin. His father, also Robert, was a Captain in Abercrombie's 89th Regiment of Foot, and fought alongside John Le Mesurier (see portrait below),1 the son of the hereditary Governor of Alderney. McClure saved Le Mesurier's life on the battlefield, and so moved by this was the then Captain Le Mesurier that he made a promise to McClure; that if he had any children, and should die, Le Mesurier would look after them. McClure was from Londonderry, but while stationed in County Wexford, where the 89th Foot had defeated Irish rebels, he had married a well-off clergyman's daughter, Jane Elgee,2 in 1806, only to die that same year, at Aboukir. Five months later his son, Robert, was born on 28th January, 1807. When Robert was four, Le Mesurier, who after seven years of marriage was childless himself, was true to his word. He became Robert's guardian. Robert was from thenceforth known as Robert John Le Mesurier McClure, and John made him his heir. Robert's mother had remarried the previous year; Robert went to live in Alderney, where the General was now Governor, and during his childhood there he came to love the sea and ships.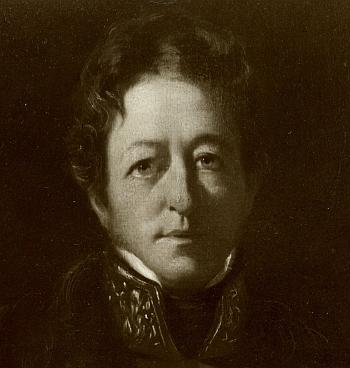 He was educated by Rev. Philip Hayes, of Guernsey. Like all upper-class Bailiwick boys, however, Robert eventually had to leave his island home to go to school, and his adoptive father chose Eton for him. This was not the only major disruption to his life, however, for Le Mesurier's wife, his cousin Martha Perchard, had in 1817 and 1818 unexpectedly given birth to two boys in rapid succession, and Robert was no longer the heir. Robert transferred to Sandhurst at twelve, but was unhappy there and absconded with three friends to France. John Le Mesurier, who had intended him to join the army, persuaded him to return by allowing him to join the navy instead, at the comparatively old age of sixteen, in 1824, serving first on HMS Victory. In 1825 John Le Mesurier, no longer as well-off as he had been, made a draft will3 in which he left nothing to Robert, but as Robert's grandfather, the Reverend John Elgee, had died two years earlier, he may already have been provided for.
In 1836 Robert was serving his time on as part of the Coastguard, waiting to be promoted to Lieutenant, when he volunteered at short notice to join an expedition to find the missing link in the Northwest passage. The ship was HMS Terror, commanded by Captain Back. The voyage was difficult, McClure did well, and was promoted, but further progress was slow; his time, when he had a job, was still spent mired in the Coastguard. His luck turned in 1847, however, when, thanks to his Arctic experience on the Terror, the Admiralty appointed him first lieutenant of the lead ship in the search for the lost Franklin, the HMS Enterprise under Sir James Clark Ross. Franklin had set out for the eastern Arctic, but when Ross returned in 1849 empty-handed, the Admiralty, desperate to find Franklin, sent the same two ships—the Enterprise and Investigator—straight out again, this time to the western Arctic, under the command of Richard Collison. McClure, now Commander McClure, was made second in command of HMS Investigator.
Collison and McClure failed to find any trace of Franklin, whose ships, HMS Erebus and HMS Terror, are still being searched for to this day (update: one has just been found). HMS Investigator became trapped by ice in Mercy Bay, and the crew with her. It was while looking for a way out of the bay on a sledge that McClure made his discovery of the final link in the Northwest passage. In 1854, after two years on the ice, the rescue boat the Resolute itself having been trapped and abandoned, and having walked and sledged across the ice for many miles, the crew were rescued. They returned to the UK in triumph, after five years away, having also managed inadvertently to become the first people to circumnavigate the Americas.
The news of McClure's achievement in discovering the way through the Northwest passage caused a furore. He became a national hero, was promoted to Captain and knighted, and for a while he was a celebrity very much in the contemporary sense, universally fêted. He was court-martialled for the loss of the Investigator, and acquitted.
A select committee of the House of Commons reported that Sir Robert McClure and his companions 'performed deeds of heroism which, though not accompanied by the excitement and the glory of the battle-field, yet rival in bravery and devotion to duty the highest and most successful achievements of war.' Accordingly, a reward of £10,000 was granted to the officers and crew of H.M.S. Investigator, as a token of national approbation... In this generation, there are very few men who have achieved more lasting fame than Robert McClure.4
He ended his career a Vice-Admiral, but his star waned, amongst doubts about his conduct during the two years stranded in Mercy Bay, where he had put the crew on half rations, and whether it was in fact he, and not another member of his crew, or indeed Franklin four years previously, who had truly discovered the passage. His reputation remains controversial; he is even regarded by some scholars as 'a notable bungler.' He died in 1873 and is buried in Kensal Green cemetery. A special service for Franklin and the members of the Arctic expeditions was held in 2009, and the graves of some of the explorers were visited. 'After some difficulty, McClure's gravestone was located. It is hoped that his memorial may be conserved in the future.'
M'Clure Bay, on the west coast of Somerset Island, Nunavut; Cape McClure, on the north coast of Banks Island, Northwest Territories; and M'Clure Strait, between Banks Island and Melville Island, Northwest Territories, which formed the northwestern end of one of the routes through the Northwest Passage, were named after Robert McClure. The Investigator was thought to be irretrievably lost in Mercy Bay, although the Inuit told stories of ancestors removing the copper and other items from the abandoned ship, and that the mast had long ago fallen and the ship sunk. In June 2010, basing their research on the Inuit knowledge, a Canadian expedition found McClure's ship.
An account of his great discovery can be found in Osborn, S. (ed.), and Cresswell, S. G. (illus.), The discovery of the North-West passage: by H.M.S. "Investigator", Capt. R. M'Clure 1850, 1851, 1852, 1853, 1854 / from the logs and journals of Capt. Robert Le M. M'Clure, Tokyo: Charles E. Tuttle Company Inc. by M. G. Hurtig Ltd., 1969, in the Library.
---
1 John Le Mesurier (1781-1843) married Martha Perchard (1780-1846) in 1804. She was the daughter of his maternal Aunt Martha Le Mesurier and the very wealthy Guernseyman Peter Perchard, who became Lord Mayor of London. She was John's first cousin. John found governing Alderney very troublesome and expensive, and in 1825 he resigned the patent, transferring it to the Government. He was thus the last hereditary Governor of Alderney. He went to live in Tunbridge Wells. He had two sons in 1817 and 1818; Peter, who died aged 16, and John, who became a minister; John had two children by his first wife, Gertrude Skinner.
2 Robert McClure's mother, Jane Elgee, was the daughter of the Reverend John Elgee (1753-1823), of Dundalk, and Jane Waddy, of Wexford. Her brother Charles (1783-1824) was a solicitor in Wexford. He had several children, one of whom, Jane Francesca Elgee, was a nationalist poet and folklorist who married Sir William Wilde and became the mother of the poet Oscar Wilde. Robert Le Mesurier McClure was her first cousin.
On October 8th, 1853, the Star commented:
By an article in another column it will be seen that the problem of a North-West passage has been solved by Commander McCLURE, of HM ship Investigator, who has passed from the Pacific through Behring's Straits into Davis' Straits. We rejoice that this achievement has fallen to the lot of a British officer.

Guernsey may almost claim Captain McClure as one of her sons, as on the death of his father he was, in his earliest infancy, adopted by the late General John LE MESURIER, Hereditary Governor of Alderney, from whom he received the baptismal names of ROBERT JOHN LE MESURIER, and he was educated at the school of the Rev. Philip Hayes, of this island.
3 Hackney Archives (National Archives).
4 Compendium of Irish Biography (1878).