Corporal Edwin Carter, Rifle Brigade, 1916
From the Star, 25 November 1916.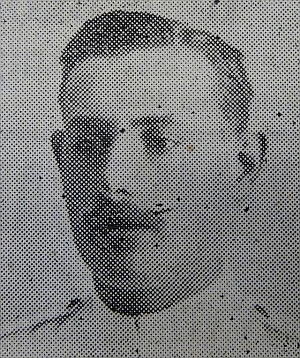 Six weeks ago Mrs Carter of Hauteville received a letter from her son, Corporal Edwin Carter, Rifle Brigade, in which he stated that on the following day he was to lead his platoon over the trenches and that he did not expect to see them again, and wished them all goodbye.
Having had no news from her son since that day, Mrs Carter wrote to the Records' Office for news. Receiving no answer she telegraphed, and on Friday evening, received the following telegram:
Missing, 19/10/16. Nothing further. Carter. Records.
Corporal E Carter, who is 25 years of age, enlisted in the Rifle Brigade 7 years ago, and was in India when the war broke out. He came over with the first Indian Contingent, and proceeded to France, after a brief furlough in the island. He was Acting-Corporal then and had been promoted to Corporal in France.
He has been wounded twice, once in the knee, and the second time in the face, when he was struck by shrapnel. He was removed to England and after a brief furlough here returned to France. Soon after returning he was sent back to base suffering from shell-shock.
He has had several narrow escapes of being killed. Once, all his companions were either killed or wounded, and on another occasion a bullet passed through the peak of his cap without injuring him.
In his letter Corporal E Carter also stated that the engagement next day was the 9th he had participated in.
Before enlisting Corporal Carter was 7 years in the employ of Mr F Clarke, States Arcade.
We sincerely hope that news may be forthcoming and that he may yet be a prisoner-of-war.
---
War Letters: Life in the trenches.
The Star, January 29, 1915.
Private Edwin Carter of the Rifle Brigade writes to a friend in Guernsey:
You want to know a bit about life in the trenches. We have three days in the trenches, and three days in billets. We have been here now three months and I can tell you we have had very bad weather. Our old trenches are simply full of water, just like a river, and the men have to take it in turns baling out the water, and the remainder have been all night working in making new trenches behind the old ones. It is quite a treat to go in a dry trench after being in the damp ones. Of course, the new ones have no shelter from artillery fire, so we have to be flat down close up to the cover to get out of the way.

The men do not have much of a rest in the trenches. They have to do sentry go, and often they have to go and help the men on fatigue to improve the trenches and make them more secure and safe from artillery and rifle fire. We have lost a good many of our men; about 30 killed, 40 wounded and more than 200 sick. Our casulaties all told are about 270.

The German snipers are the men who do the damage. As regards their artillery fire, it is not much good. All they have done up to now is smash houses and churches. As far as I know, up to the present we have only lost one of our men through one of their shells. They have sent a good many over, also 'Jack Johnsons.'

The first time we went into billets, just before we had our artillery, they shelled us out three times, and I tell you we did not call them something, but since our artillery have come they have kept the German guns quiet.