Frederick Le Page as St Andrew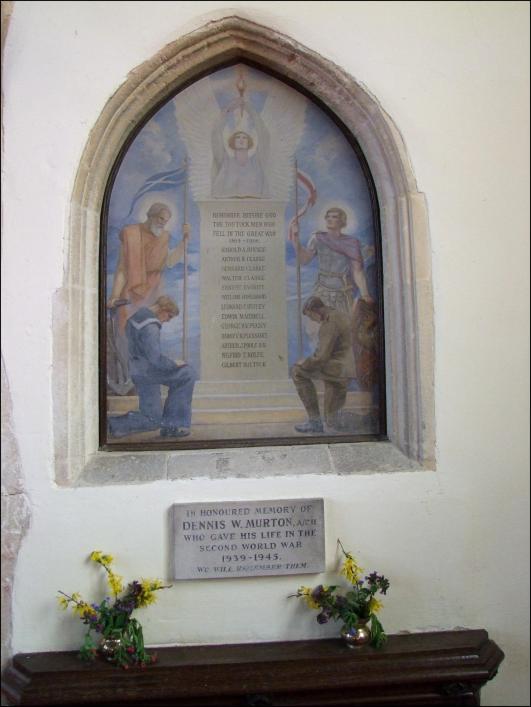 From Rosemary de Saumarez's reminiscences of James St Vincent Saumarez, 4th Baronet (1843-1937). The photograph of the memorial in Tostock Church is courtesy of Simon Knott. Rosemary Ashley (née de Saumarez) donated a photograph album to the Library in 1984 which contains photographs of Frederick, the sisters, his boat and his cottage at Cobo.
Once, when two of Lord de Saumarez's daughters, then young girls, were marooned on a rock off Cobo Bay they were eventually rescued by boat by Frederick Le Page,1 a well known Cobo fisherman. Lord de Saumarez gave him a pension for life and visited him every time he came back to Guernsey after a period of absence. Le Page would take the children fishing and show them how to hold octopuses by picking them up from behind so they could do no harm. They conversed in French as he could not talk English easily. He was a fine-looking man, with a long beard and Marion2 painted him with his little grand-daughters and also employed him as the model for St Andrew in a War Memorial fresco she painted at Tostock Church, Suffolk. He had a great sense of humour as well as being a man of great spirituality.
From 'James St Vincent Saumarez,' by Rosemary de Saumarez and Peter Girard, Report & Transactions of the Société Guernesiaise, 1972, p. 154.
---
1 Our Le Page expert's best guess is that Frederick was the son of a fisherman, Samuel Le Page (b. 1794),and Margaret Girard (b. 1795), and was born on 22 March 1843 at the Courtil de Croix, Câtel. If anyone has any other information, we would be very pleased to hear it.
2 Marion de Saumarez, James' daughter, b. 1885. An artist who trained in Paris, she died in 1978, her best-known painting, for islanders at least, being the lovely portrait of her sister Gladys in the Candie Museum. A short biography is given in Quarterly Review of The Guernsey Society, XXXXVIII, Spring (1986), pp. 7-8.