Girl Golf Caddies
31st May 2019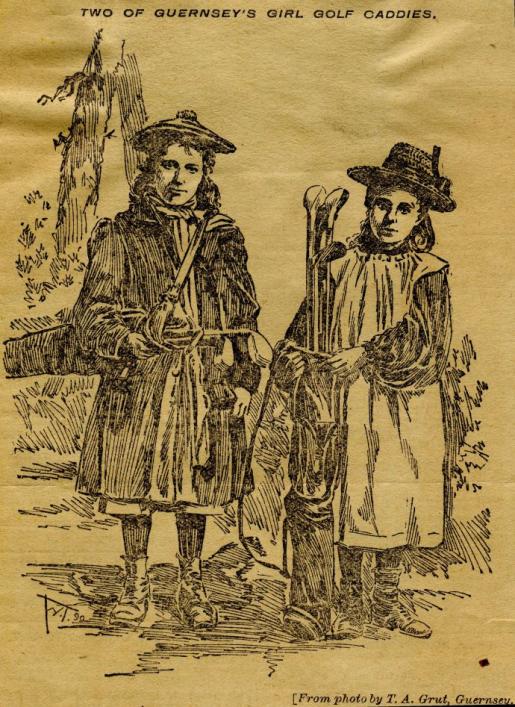 From The Morning Leader, Tuesday 18 April 1889, and Punch, 12 April 1889. Cuttings in the Priaulx Library collection. The original photograph from which the drawing is taken was by Thomas Grut. Do please contact us if you have an example of this photograph.
Girl Golf Caddy
is beating the boy in Guernsey and teaching him manners
Among the attractions of Guernsey are the golf links at Lancresse on the north of the island, extending over several miles of breezy common that ends on the sea shore. There is a large club of ladies and gentlemen, and there you may see the unusual spectacle of young girls doing duty as golf caddies. There is no School Board in the island, and no compulsory education law, so young Guernsey learns lessons or not, according to its own sweet will, and the reward of
A SHILLING PER DAY AND LUNCH
tempts many girls between the ages of seven and 16 to follow the ball and enlist as regular attendants to their own special patron or patroness. The illustration is from a photo of two of these young girls who are to be found every day on the links; they are sturdy lasses with deeply tanned skins.
An objection at one time strongly urged by some of the leading clergy in the locality was that the life is too rough for the girls, as they must necessarily associate with the boys similarly employed. But as for the fear that they might become rude and wild and use bad language, one of the oldest golf players there declares that the result is just the reverse. Instead of the girls deteriorating they have improved the manners of the boys on the links. The majority of players also – says our Guernsey correspondent – prefer to have girl golf caddies as being quicker and more attentive to their duties.
---
Punch, April 12 1899
The Girl caddie in Guernsey
[On the Guernsey golf-links girl caddies are employed.]
At Guernsey there is a most beautiful course,
The golfers there do not have laddies,
Instead there's a curious custom in force
Of only employing girl caddies.
At Guernsey, suppose you ever got 'holed,'
You never fly into a passion,
At once by a charming girl caddie consoled,
You smile in superior fashion.
At Guernsey the caddies are most picturesque,
And smart in their bright Tam o'Shanters;
Curmudgeons complain the idea is burlesque,
But nobody heeds these old ranters.
At Guernsey intending to 'putt' on the 'links,'
I started one day like a stupid,
But 'ere I returned with my caddie, methinks,
The links had been put on by Cupid.