The Grand Bosq: Fautrart, Martin, Le Marchant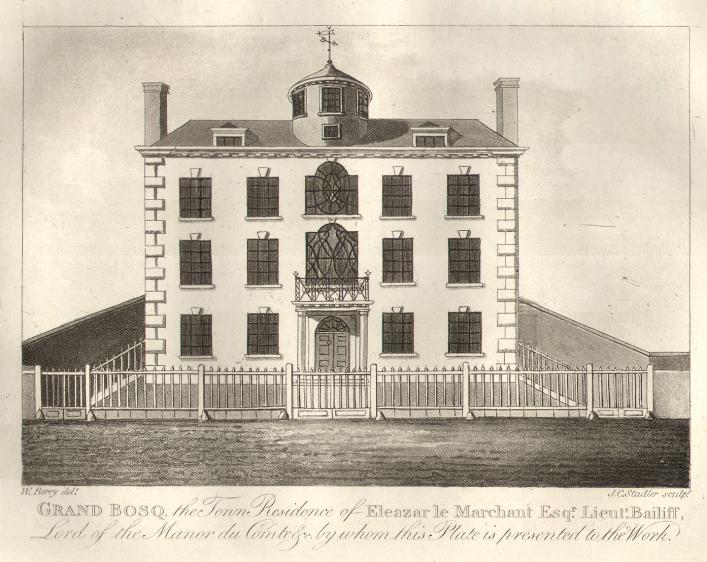 Le Bosq and the Royal Hotel: the Grand Bosq. The illustration is a plate from Berry's 1815 History of Guernsey.
Mr Lieutenant Bailiff, a venerable old gentleman with powdered hair and pigtail and his 3 surviving sisters, antiquated virgins, who lived in a house at the end of the railing of the Plaiderie, used to sit of an evening at the large window of the house at the Grand Bosq playing whist. Mary, the eldest of the three sisters, a fairly portly woman, dressed tidily but without any attention to aesthetics or the becoming—As her two younger sisters were ugly and shrivelled, they were called the 'three graces.' An English stranger who chanced to see them in their carriage looked at the arms outside [the Le Marchant arms depict three owls] and the beauties inside and said 'Three owls proper outside and three proper owls within'. Mary survived all the others and lived at the Grand Bosq and at Les Grands Maisons. A sister, said to have been young and pretty and engaged to be married, died prematurely being quickly cut off by a fever.1
The Grand Bosq was an 18th-century mansion that became Guernsey's grandest hotel. The area of St Peter Port known as Le Bosq, or the Wood, is situated to the north-east of the Town Church and included what we now know as the Truchot and St Julian's Avenue, along with the site of the Grand Bosq, known by many as the former Royal Hotel. A chapel dedicated to St Julien was established there in 1313. The defences of St Peter Port originally ended at a gate next to the Town Church, while the houses along what is now the Front, including the Grand Bosq, gave out directly onto the sea, with jetties and moorings on the shingle beach. Even some houses on La Grand'Rue, or High Street, had such access to the sea; streams ran down the steep streets feeding watermills in the middle of what are now shops and busy pedestrian areas and streets.
Many of the houses in the centre of St Peter Port, especially those near 'La Grille' (the gate) or 'Le Temple Ville' (the Town Church itself) were owned by families that were of particular eminence in the centuries before the Napoleonic Wars. The original Norman subdivision of Guernsey into two fiefs had led to the creation of the Fief du Cotentin, which consisted of the south and south-eastern part of the island, and that of Bessin/Le Comte, the western part. By 1262 this latter was in the hands of William de Chesney. Janette de Chesney, his grand-daughter, married the Lieutenant-Bailiff Denis Le Marchant, whose father Pierre (d. 1335), the founder of the dynasty, had been Lieutenant-Governor and Bailiff, and whose eldest brother Jean (d. 1392 childless) was also Bailiff. Their holdings in St Peter Port alone were eventually so extensive that they were known as Le Haut Manoir des Marchants, and were viewed when required as a single entity by the courts. Edith Carey suggested that these may have originally been granted to Jean by the King. In this way a great deal of money and influence came in to the hands of the Le Marchant family, all of whom were descended from Denis and Janette.
There were other families who moved in the same close-knit circles and shared public office between them, and the Le Marchants married into these families, the property passing in and out of the various families' hands through the centuries. Disentangling these relationships and rights and ownership of property can be very complicated, requiring access to original documents and some luck. While the Priaulx Library has some of these documents, a great number of manuscripts and legal documents in the collection are meticulous copies of originals by such eminent amateur historians as Edith Carey, Edgar Maculloch, and Jean Métivier, in the process of research for the books and articles that they published and which are of such interest and help to us now. A few property censuses were undertaken on behalf of the Seigneurs; the Livres de Perchage that do exist list the owners of properties at the time of the census, and often their previous owners, and are an invaluable aid to establishing the history of a property.
The area of Le Bosq certainly included several properties from earliest times, and these were in various hands, [c.f. for example Poche B p. 103 1477/70 Le bail d'un L'Etoc à un Langlois d'un Gardine au Bosq au nord de la Fontaine des Corbins], but by the sixteenth century, the period from which we have the significant record, the major land-holders there included the Martin family, whose offices included that of Bailiff. Jean Martin was known as du Bosq in 1537. He married Marguerite Le Marchant, daughter of Guille Le Marchant (d. after 1499). Guille was Lieutenant-Bailiff and the son of Captain Drouet Le Marchant and grandson of Denis. Guille and his sister Janette founded a school in 1513 which Darryl Ogier places probably on the site of the present St Julian's Avenue. It is possible that the land at Le Bosq passed to the Martin family through this marriage, since before this the Martin family were primarily active in St Sampson and St Martin. The families were certainly close, as Guille's nephew Jean Le Marchant married Catherine Martin, and Jean Martin is named in the will of Denis Le Marchant.2
The first Livre de Perchage of Fief Le Roi in St Peter Port of 1574 includes a house belonging to Nicolas and Pierre Martin at Le Bosq.3
Guille's great-great-granddaughter Marie, widow of Jean Priaulx, married in 1613 Nicolas Martin, son of Nicolas du Bosq. Their daughter Elizabeth Martin went on to become the wife of the Minister of the Town Church, the Reverend Daniel Fautrart,4 who along with their son Jean is shown as the owner of the house in the next Livre de Perchage of 1640. The Jerseyman Cardin Fautrart, Daniel's grandfather, was also owner of a great deal of property; Daniel's cousin Anne married William Le Marchant in 1627 and inherited Cardin's wealth, which was shared between four grandchildren and is listed in great detail in the will of Eléazar Le Marchant (d. 1717).
Edith Carey copied a document dated 1683, in which Marie Corbin as widow and heir of Jean Fautrart du Bosq sells 'the houses at Le Bosq that once belonged to Nicolas Martin' to Thomas Le Marchant, a descendant of Guille Le Marchant's cousin Jannequin. A controversial churchman and diehard Puritan, Thomas (d. 1684) had spent some time in the Tower of London following his refusal to sign the Act of Uniformity. His main residence was at the Grand'maisons, a large farmhouse in St Sampson's parish. His son Eléazar (d. 1717) became Bailiff, while his daughter Olympe married Pierre Priaulx Junior, Seigneur of the Fief du Comte. The Fief Le Comte had been purchased in 1630 by Pierre's father Pierre, a Royalist who had been banished during the Commonwealth, and who, on his return to the island, was unlucky enough to be hit on the head by a cannonball from the (ironically royalist) Castle, while walking through the Pollet, and killed. He had forfeited his wealth to a member of the Le Marchant family, not, as it might appear, because they were on opposing sides, but because his mother had been a Marie Le Marchant. In the Livre de Perchage of 1706 his grandson Pierre owns the house at the Bosq, through his mother Olympe Le Marchant. Olympe did not die until 1728, having married five times in all. Shortly after Pierre's death, in 1722, Eléazar Le Marchant (1690-1767) purchased the Fief du Comte from his family. He was one of the four children of Thomas Le Marchant's youngest son, Josué (d. 1696). These children inherited a great deal of wealth, including estates in Kent and the property of Cardin Fautrart, from their childless uncle Eléazar (d. 1717), a copy of whose will is at the Library. The next Livre de Perchage of 1732 lists:
Eleazar Le Marchant Esq [au droit de Josue Le Marchant Esq] acquereur des heritiers de Mr Pierre Priaulx [a cause de De Olimpe Le Marchant [fille Thos: crossed] sa mere] en Partie partie de quay maisons et terres qui furent a [la ditte] De Olimpe Le Marchant fille de Mr Thomas Le Marchant et auparavent au Sudt Fautrart
This entry has been amended, but it appears that Pierre Priaulx sold the main house at the Bosq to Josué Le Marchant, from whom it passed to his brother, Eléazar, later Bailiff, who begins to refer to himself as 'du Grand Bosq.' In 1712 he had married Catherine, daughter of William Le Marchant, sister of William of L'Hyvreuse in St Peter Port. He had at least nine children. Tradition maintains that the family kept on the Grand Bosq, although they also possessed a sizeable house at Grand'maisons in St Sampson and one at the top of Town in the Manoir, because the ladies wanted somewhere convenient to stay when attending soirées at the Assembly Rooms (now the Guille-Allès Library)—the roads (and the street lighting, or lack of it) were terrible at the time. The last owner was Eléazar Le Marchant,5 Lieutenant-Bailiff, whose sisters are described by Dr Chepmell at the beginning of this article. In 1806 we find him advertising some of the contents of the house in the Gazette,6 and later seeking tenants for the Grand'maisons in 1809. It is from this period that the well-known engraving in Berry's dates (it was drawn in 1814 and published in 1815).
During the recent rebuilding of the house, a chimney-place was discovered in the gardens, with the arms of Charles Mauger. Charles Mauger, merchant, insured a 'house called the Grand Bosq, now empty' in the early part of the 18th century.7
Most of the estate of the three Le Marchant spinster sisters passed to John Le Marchant of Rotterdam and Thomas Priaulx of Montville, as the sisters objected to the perfectly respectable husband of the intended heiress. The Grand Bosq became a hotel, and the history of the Royal Hotel as it eventually became known will be the subject of another article.
---
1 Edith Carey Scrapbook II: Dr Chepmell's MS. A memorial to the sisters is to be found in St Sampson's Church, as their main residence was the Grand'Maisons in that parish. After the commemoration of the Bailiff of 1705-1716, Eléazar Le Marchant, is written the following: Comme aussi les corps des sousnommés enfans de William Le Marchant, Ecr. et de Dame Marthe De Havilland, son Épouse. De Demoiselle Elizabeth Le Marchant née 13 Novembre 1754, et décédée en Juin 1829. De Demoiselle Rachel Le Marchant, née le 12 Février 1756, et décédée le 12 Mars 1832. Et de Demoiselle Marie Le Marchant, née le 7 Mars 1752, et morte le 4 Décembre 1840.
2 In 1573 Marthe Poidevin, who bought property at Le Bosq in 1549, is cited as having possessed 'maisons et ménage du Bosq;' her granddaughter Elizabeth Perrin married two of Denis' great-grandsons, firstly Pierre Le Marchant, grandson of Jannequin, and then William Le Marchant, grandson of Guille (who was himself the husband of Laurence Perrin).
3 [Poche B p. 85 1531 Lre un Martin baille à un Eustache [Symon?] la maison du Bosq baillez depuis à Thomas Rougett; not necessarily the main house]. [Eustache Simon, Thomas Rouget]
4 John Quick (1636-1706) included a life of Helier Fautrart (b. 1565) in his Icones Sacrae Gallicae et Anglicanae, but confused him with his son Daniel (c. 1585-1652). The Fautrart family was of French origin, being descended from Pierre Fautrart, a Huguenot refugee who took the oath of allegiance to the Royal Court in Jersey in the 1540s. His son Cardin was the grandfather of Daniel. E.P. Le Feuvre, in his introduction to the MS transcript in the Priaulx Library, explains that Helier was sent to Geneva in the early 1580s at the expense of the Guernsey Reformed Churches, but refused to settle there and returned to Jersey (where he was probably born), where he was elected Minister of St Martin's in 1585. Daniel began his career in Guernsey, where he was appointed to the livings of Castel and Torteval in 1619, and then to the Town Church in 1633; Baron Schickler in his Eglises du refuge states that Daniel also attended University in Geneva, althought there is no independent evidence for that. See Schickler, Fernand, Baron de, Les églises du refuge en Angleterre: Paris: Librairie Fischbacher, 1892, pp. 486, 483, 496 (cf. Ogier, Darryl, Reformation and Society in Guernsey, p. 150); Le Feuvre, E.P., ed., Quick, John, Icones Sacrae Gallicanae et Anglicanae, 'Life of Monsieur Hellier Fautrart,' typed transcript: all available in the Library.
5 'A very different man, in every respect, was Eléazar Le Marchant, Lieutenant-Bailiff of the Royal Court. He was always called "Monsieur le Lieutenant" and was a pompous man, careful of etiquette, but very polite, even to me, a young lawyer's clerk, when I went to pay him some rents due to him by our clients. He wore a wig with a queue, a coat with silver buttons of a large size, knee-breeches and silver buckles. And indeed, he was a great man of that time, living in the Grand Bosq, what is now an old section of the Royal Hotel. His country house, in fact the house of his ancestors, was "la Grande Maison" at the entrance of St Sampson's, a very different place to what it is now. I remember a very good joke at his expense in the Court. A friend of his, Monsieur d'Estienne, also called Stephens, left in his will a clause by which his executors had to buy a gold snuff-box worth a hundred guineas, and present it to Monsieur le Lieutenant in memory of his old friend. Either in spite or by mere thoughtlessness, the executors got a heavy, huge, ugly gold box, of no use to anybody. Eléazar le Marchant refused it, and the matter came for settlement before the Court. Thomas de Saumarez pleaded for the executors, and with his hand outstretched, and five fingers apart (a favourite gesture of his), he said: "Gentlemen, I see a perfect propriety in the whole matter, it is quite right that Monsieur le Lieutenant, owner of Le Grand Bosq and of La Grande Maison should also be the owner of this grand snuff-box, this fine work of art!" And for that reason, or for some more legal argument impressing the Court, Mr Le Marchant had to take the big ugly snuff-box. Half a century later I heard the end of the story. The last member of the Le Marchant family had some transaction with a gentleman in Alderney; as payment for his services he gave him the snuff-box which went promptly into the melting-pot and served to buy a watch and chain, now an heirloom in the Alderney family.' An excerpt from Guernsey in the Thirties: Remininscences of the late Rev. M. Gallienne, part V, in The Star, February 1901.
Despite his pomposity, however, Eléazar got into serious trouble by refusing to accept his election as Jurat, citing poverty—an excuse that cut no ice with his peers.
George Bell rented "the house and land at the Bosq" from William Bell in 1798, as noted by Peter Mollet in his Notebook. He says "This property must have belonged to the Le Marchant family, as Charles Le Marchant paid a rent to his brother of three-quarters as a retour de bille and which he accounted for from 1785 to 1792 when William Bell came into possession."
6 Gazette de L'Isle de Guernesey, February 22, 1806 Mardi prochain, il y aura une vente, à la maison du vieux Bosq, a Glategny, savoir; des courtines ou ridaux de lit & de fenêtres, boiler de potin, chandeliers de cuivre, etain, une quantitie de plats & assiettes, boles & mogs, & plusieurs autres articles & ustensiles de maison. La vente commencera 10 H. DU MATIN, SUR LE LIEU. Gazette de L'Isle de Guernesey, February 11, 1809 Eléazar Le Marchant ec. fait savoir que ses trois magazins, dits du Seneschal, tres commodes pour le commerce du Vin en détail, sont a louer; comme aussi qu'il a besoin de quelques personnes à demeurer aux Grandes Maisons.
7 Stevens Cox, St Peter Port 1680-1830, St Edmondsbury Press, 1999, Appendix 20: London Sun Fire Assurance Company lists, p. 176. For Charles Mauger, see 'Diary written at St Saviour's,' by TF Priaulx, in the Report and Transactions of the Société Guernesiaise, 1953, pp. 227 f.
Gazette de Guernesey, 4 January 1812: Les magasins du grand Bosq, dit du Sénéchal, sont à louer.
Gazette de Guernesey, 1 June 1816: STRAYED, FROM THE GRAND-BOSQ-HOUSE, last Monday night, a small white SPANIEL, about five months old; the two sides of the head yellow, long ears, and a white mark on the middle of the head, answers to the name of Rover. Whoever will bring it to Eleazar Le Marchant, esq., will be well rewarded.—Any person detaining it after this notice, will be prosecuted to the utmost rigour of the law.