Guernsey Folk Lore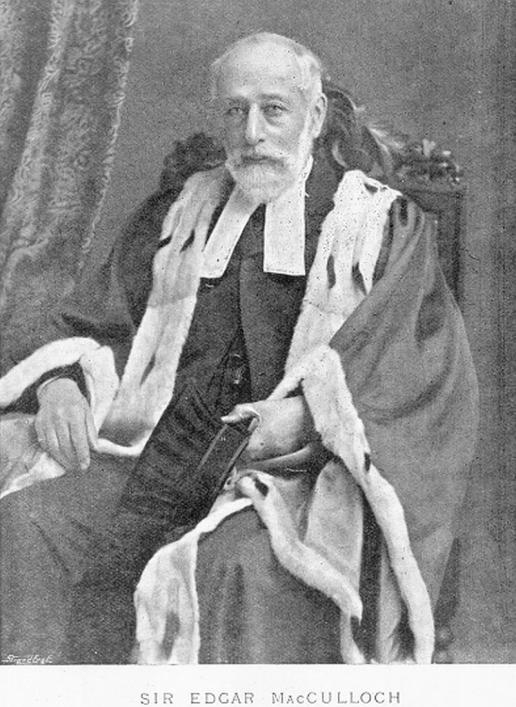 Guernsey Folk Lore, by Edgar MacCulloch, ed. Edith Carey, 1906: London: Elliot Stock, Guernsey: F. Clarke, States Arcade.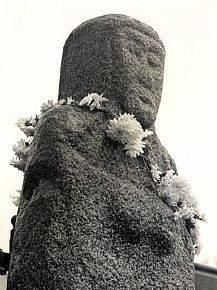 The photograph is of the Gran'mère du Chimquière, an ancient goddess figure that stands at the gate to St Martin's Church in Guernsey, and was taken by Carel Toms (Priaulx Library Collection).
---
Edgar MacCulloch (1808-1896) was Bailiff of his native Guernsey from 1884-1895. A keen and eminent antiquarian and member of the Folklore Society, he was knighted in 1886.
The local historian Edith Carey edited his collection of Guernsey customs, fairytales, and stories, recorded by him 'at various times' before 1874, and published them in 1903 as Guernsey Folk Lore. In 1894 (the date of 1864 given in the book was later corrected) the author had prepared a preface, eventually published with the book, in which he describes
A desire to preserve, before they were entirely forgotten, some of the traditional stories, and other matters connected with the folk-lore of my native island, induced me to attempt to collect and record them, but I have found the task, though pleasant, by no means easy. The last fifty years has made an immense difference here as elsewhere. The influx of a stranger population, and with it the growth and spread of the English tongue, has changed, or modified considerably, the manners and ideas of the people, more particularly in the town. Old customs are forgotten by the rising generation, what amused their fathers and mothers possesses little or no interest for their children, and gradually even the recollection of these matters dies away ...
His sources included an old family servant, Rachel du Port, and 'my ladies', ladies of leisure who collected material where they could; Edith Carey filled several volumes with her own research on the subject1 and from this added her own substantial appendix to MacCulloch's work, including more ghost stories, charms and spells, mostly from her own parish of St Martin's, and poems and ballads in French.
Amongst the 'ladies' was the author Louisa Lane Clarke, who, as Edith Carey notes, also published the stories she collected in Folk-Lore of Guernsey and Sark.2 Louisa Lane Clarke was the daughter of Major-General Ambrose Lane and Elizabeth Le Mesurier, and grand-daughter of Peter Le Mesurier, governor of Alderney. Louisa married the Rev. Thomas Clarke and spent her time in his parish of Wood Eaton in Oxfordshire until his death, after which, in 1865, she returned with their daughter Theodora3 to Guernsey, living at L'Hyvreuse. Louisa was an expert botanist and wrote a number of popular scientific works, including The common seaweeds of the British coast and Channel Islands4 in 1865 and the highly esteemed 1858 work of reference, recently republished, A Descriptive catalogue of the most instructive and beautiful objects for the microscope,5 through which she became quite well-known. She applied the same forensic eye for detail to her writing on local subjects, books on the history of Alderney and contributions to the study of Serquais amongst others.6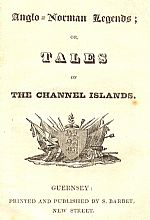 In 1842 the local publisher Barbet had printed a small book for her, Anglo-Norman Legends. In it were seven tales from the Channel Islands, including the tragic and sensational story of John Andrew Gordier. The various versions of this tale relate how a wealthy Frenchman, John Andrew Gordier, resident in Jersey, was on his way to visit his fiancée in Guernsey, when he disappeared. His body was discovered by two boys playing on a beach, wedged between rocks (or hidden in a cave), with head injuries. His fiancée suffers an acute decline; her parents press the suit of a Guernseyman named Gaillard. She will have none of it, but to please her parents reluctantly accepts a gift of jewellery from him. Gordier's bereaved mother sets out from Jersey to see her son's ailing fiancée. When she arrives she catches sight of the gold chain (or later, locket) and accuses the fiancée of murder, for this was the very piece of jewellery her son John had brought with him on his last fateful journey as a wedding gift for his bride-to-be. The girl expires from shock, but not before whispering the name of her Guernsey suitor. When the family rush to Gaillard's home to confront him, they find he has committed suicide and left a letter (either 'impious' or 'contrite') expounding his jealousy and guilt of Gordier's murder.
The story is seems first to have been published in 1772 in several British magazines, including The Scots Magazine, edited by James Boswell, The Gentleman's Magazine, and the The Oxford Magazine: Or, Universal Museum. It was taken up by Boswell's friend, the Irish soldier, playwright, and author Robert Jephson (1736-1803), who based upon it his play Julia, or the Italian Lover. The play is set in Guernsey, but the location is entirely incidental. Rather than using the original names of the protagonists, John Andrew Gordier and his murderer Gaillard, the characters are called Claudio and Mentevole, and the doomed heroine, who is never named in the original stories, Julia. The play was panned by the critics, despite the best efforts of Sarah Siddons as the eponymous heroine, but found more favour with the public. In 1815 the Guernsey Sarnian Monthly Magazine published the story, which it seems simply to have copied from an earlier British source. More recent versions of the story set it in St Martin and name Rachel Mauger of the Varclin as the beautiful fiancée, and Petit Port as the scene of the murder; it was published as such in 1883 in Clarke's Guernsey Magazine,7 though it is not obvious on what evidence, and the name of the villain has become the Guernsey surname Guillard. The du Gaillard family, however, was influential in Guernsey in the Middle Ages (probably dying out in the early 16th century when the Fief John du Gaillard passed to the Crown, although a female Gaillard appears in the St Peter Port Marriage Registers of the late 16th century: Elie Brevint recounts in his Notebook how the men of the Gaillard family were executed on a false accusation of theft; in 1364 Edward III had pardoned Peter Gaylard, who had fled the island after killing Peter Penny in a fight [Greffe Patent Rolls Ed. III 1361-64, 38].) The surname Gordier is found amongst the Huguenots of Normandy, and as Gordier is explicitly said to be French and the story hinges on the gold chain he intended to give to his girlfriend, it is quite possible he was a wealthy Huguenot refugee in Jersey, in which case the story could date from any time after about 1550. The early sources, in fact, place the tragedy in the year 1726, and attribute it to the minister of the parish in which the heroine lived. Of course, if the author of the story was a Guernsey resident, he or she could easily have picked plausible pseudonyms for the real protagonists, or non-contentious names for fictional characters. There are at least two Victorian novels8 in the Priaulx Library collection based on this tale, which became extremely popular outside the island as a 'true' example of the gothic 'twist of fate,' cited (always as a Guernsey tragedy) by, amongst others, Leigh Hunt in his London Journal of 1835, and again in One Hundred Romances of Real Life (1846), and Nathaniel Hawthorne in 1842 in Passages from the American Notebooks (Vol 2. pp. 39-40). The origin of the story, however, remains tantalisingly obscure. Edith Carey in her Appendix to Guernsey Folklore also quotes another story, entitled 'Le Seigneur de Damèque,' which is very similar and also takes place at the Varclin and Petit Port. This, unknown to Edith, was based on a true incident which occurred around 1774.9
In the chapter entitled 'Proverbs, weather sayings, etc.,' MacCulloch gives us the following, the family names featured still being present in the island today:
T'es coume Jean Le Tocq.- You are like Jean Le Tocq. This is addressed to a man who is seen abroad at an earlier hour than usual, and contains an allusion to the old Guernsey ballad of the invasion of the island be Evan if Wales in 1373, where it is said:Jean Le Tocq sy se leva/Plus matin qu'à l'accoutumée

I' fait de sen Queripel.—It is untranslatable literally, but may be rendered 'he acts like a Queripel' and is said of a man whose vanity leads him to take too much upon himself. The name existed as in Guernsey as early as the fourteenth century, at which time it was written Carupel, but here is not the slightest clue where or how the saying originated. It may possibly be a corruption of some proverbial expression current in Normandy.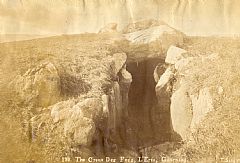 Edgar MacCulloch dedicates a chapter of his book to 'Holy Chapels and Holy Wells,' and successfully lobbied for the purchase and restoration of the mediaeval Chapel of St Apolline by the States of Guernsey in 1873. George Métivier, the antiquarian and poet, published a number of historical essays in the French language newspapers in the latter half of the 19th century, known collectively as Souvenirs Historiques,10 and it is evident that Edgar MacCulloch made extensive use of these. Although a great deal of MacCulloch's and Métivier's work centres on the folklore surrounding the cromlechs and stones of the islands, the first author to write about the ancient archaeology of Guernsey was probably the naturalist Joshua Gosselin (1739-1813), cousin of the archaeologist Frederic Corbin Lukis. A more up-to-date work in the library on the same subject is Pagan Channel Islands, by S V Peddle.11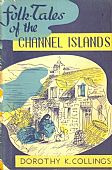 The folktales and legends of Guernsey have also proved the inspiration for several more recent books in the Library's collection. These include books for children:
Folk-tales of the Channel Islands, by Dorothy K. Collings, illustrated by Peggy Fortnum; Fairy Tales of the Channel Islands and Further Fairy Tales of the Channel Islands, by Eileen Parrish; and more general works:
The Channel Islands anthology: archaeology, history, folklore, edited by J. and G. Stevens Cox
The Folklore of Guernsey, by Marie de Garis
A Tale of St George's Well, by Louisa Lane
Guernsey Legends by Freda Wolley
The Forest of Vazon, by Sir Henry Percy Anderson
Wart-Charming, J. Linwood Pitts
Guernsey and Sark Legends and Stories, by E. Gallienne Robin
The Bailiff's Cross, by Henri de Monteyremar
A Legend of Moulin Huet, by Lizzie Freeth
A Legend of the Haye du Puits, by M A Cooke.
Many earlier books about Guernsey include observations of local customs and observances. Learned articles were published occasionally in the Report and Transactions of the Société Guernesiaise until 1921, but Edith Carey's publication of a lecture12 she gave at the Ladies' College in the island in 1909 seems to signal an end to serious investigation of the subject; J Linwood Pitts had made a plea for the 'wonder-stories' of Guernsey to be saved, in 1903/4. F Picot's article on Alderney folklore, which she collected in 1928 and published in the RTSG in 1929, having corresponded with Edith Carey, may be the very last word.
---
1 Guernsey Folk Lore: a collection of popular superstitions, legendary tales, peculiar customs, proverbs, weather sayings, etc. of the people of that island, from mss. by the late Sir Edgar MacCulloch; edited by Edith F Carey. Edith Carey's three mss. volumes of notes are held at the Priaulx Library. See Report and Transactions of the Société Guernesiaise, 1902, pp. 199-201. Edith Carey was helped in her collection of material by her cousin, Ernestine Le Pelley.
2 Folk-lore of Guernsey and Sark: an appendix to Le Lièvre's Guernsey guide, by Louisa Lane-Clarke, Guernsey: Le Lièvre, 1880
3 Theodora converted to Catholicism at the age of 21 and married an Irish career soldier, Bartholemew 'Bartle' Teeling, who later became Private Chamberlain to the Pope. She was an author of religious texts for children. Her mother eventually also became a Catholic.
4 Louisa Lane Clarke, The common seaweeds of the British coast and Channel Islands: with some insight into the microscopic beauties of their structure and fructification, London: Frederick Warne and Co., [1865].5 Louisa Lane Clarke, A Descriptive catalogue of the most instructive and beautiful objects for the microscope, London (Farringdon Street.); New York (18, Berkman St.): Routledge, 1858.
6 Amongst the works of Louisa Lane Clarke in the Library are: The island of Alderney: its early history, antiquities, present state, scenery, customs, and trade: being a companion and guide for the traveller, Guernsey, Brouard, 1851; The new parish church of St. Ann; its origin and symbolism: Affectionately addressed to the people of Alderney, Guernsey: S. Barbet, 1850; Guernsey French: (written in 1880), Guernsey: Toucan Press, 1978; etc.
7 Clarke's Guernsey Magazine, Monthly Illustrated Journal, Vol. XI, May, 1883, p. 368; Guernsey, F. W. Clarke, States Arcade, Market Place
8 The Little Gate of Tears: A Romance of the Island of Guernsey (1906) by 'Austin Clare' (Wilhelmina Martha James) and The Locket: A Story of Old Guernsey (1883) (Mary Hoppus (Mrs Alfred Marks) (1843-1916).]
9 Guernsey Folk Lore, p.p. 581-589. A story from Nevada, the Murder of Henri Gordier (the hanging of "Lucky" Bill), bears a striking similarity to these two tales yet seems to be based on a true incident that occurred in 1857.
10 George Métivier, Souvenirs Historiques, collected in a scrapbook in the Priaulx Library.
11 S. V. Peddle, Pagan Channel Islands: Europe's hidden heritage; London: Robert Hale, 2007.
12 Edith F. Carey, Guernsey Folklore: Lecture delivered at the Ladies' College, Feb. 18th 1909; Guernsey, printed at the Star office, Bordage Street. Dorothy K. Collings, Folk-tales of the Channel Islands, illustrated by Peggy Fortnum; London, Sydney: Harrap, 1955; Fairy tales of the Channel Islands: based on myths and legends of the isles, by Eileen M. Parrish, Guernsey, Toucan Press 1987; Further fairy tales of the Channel Islands, Eileen M. Parrish, Guernsey, Toucan Press, 1994; The Channel Islands anthology: archaeology, history, folklore, edd. J. and G. Stevens Cox, Guernsey: Toucan Press, 1975; Guernsey legends: broadcast on BBC Radio Guernsey, by Freda Wolley, Guernsey, 1986; A Tale of St George's Well: a Guernsey legend, Louisa Lane, Guernsey, c. 1850. Marquand, H. E., 'Old Sarnia - its customs, merry-makings and superstitions,' Transactions of the Soc. Guernesiaise, V (3) 1907, pp. 290 ff.; De Guerin, T.W.M., 'List of dolmens, Menhirs and sacred rocks, compiled from Guernsey place-names, with legends, etc.,' Transactions of the Soc. Guernesiaise, IX (1) 1921, pp. 30 ff.; de Garis, Marie, 'Folklore of Guernsey: The Weather,' The Review of the Guernsey Society, XXX (1), pp. 12-15; Johnston, P. K., 'Some Old Guernsey Proverbs and Superstitions', ib., XXXIII (3), Winter 1977, p. 74.