The Heaumes of Guernsey County
Amongst the very first settlers in Guernsey County, Ohio, in the heart of Appalachia in the United States, were the two groups of Guernsey people who arrived there in 1806 and 1807, from whom the district takes its name. They were soon followed by other enterprising island families, and this is the story of one of them.
In 1832 the family of Pierre Heaume left Guernsey and settled in Ohio, eventually moving to Guernsey County in 1850. Judith, Pierre's wife, died after giving birth to fourteen children, and he married a widow, Anna Groves Hellyer, dying himself in 1865.
Pierre and Judith's second child, John, was born on 14 February 1816 and christened in St Martin's Church. John married Rachel, daughter of Pierre Priaulx and Judith Guilbert of Le Friquet de Haut in the Câtel,in 1847; she had left Guernsey for America at the age of 15 in 1837, accompanying her two half-brothers, John and Nicholas Priaulx. They were settled in Ohio, but had returned to Guernsey to get married, both on the same day. John married Elizabeth Bailleul and Nicholas his cousin, another Rachel Priaulx, and they took the young Rachel with them back to Ohio. She lived with Nicholas and his family and was soon followed by two younger brothers, Thomas and Elizée; the first was to die in an accident, the second in the Civil War.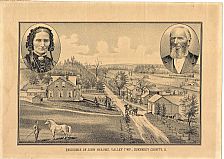 John Heaume raised Percheron cattle on a farm in Buffalo, Guernsey County, and was also in the tobacco business. He was an active citizen and filled several public offices in Cambridge, the capital of Guernsey County. Rachel died in 1892. In 1894 John returned to Guernsey to visit and died here. He was buried in the Heaume family vault in Candie Cemetery. A biography of his son, William E. Heaume, features in a comprehensive illustrated study of the county, Guernsey County, Ohio, by Col. Cyrus Sarchet, written in 1911, which is available to view in the library. In it, we learn that William was born in 1850 and also became a farmer, moving to Cambridge in 1907. He was lucky enough to discover a rich vein of coal underneath his farm, the income from which enabled him to retire. He married Amanda Salladay, the daughter of a Guernsey County farmer, in 1873 and had four children; Minola M. who married the Rev. Charles Larrick of Springfield; John S., also of Springfield, who married Julia Moler; Oella J, who married Professor O.B. Drake, of Colorado; and Amy Alberta, who married a dentist, James A.Secrest, of Cambridge. Of William and Amanda, Col. Sarchet says:
Mr and Mrs Heaume are active in all progressive movements calculated to advance the public morals and educational interests of the town and county of their residence. They are charitable toward all worthy objects. The Heaume farm and country home was perhaps the best improved and cultivated in the country. The dwelling had all modern conveniences, the lawns well kept, the buildings modern and always in splendid repair.
Some of this information was taken from an article by T. F. Priaulx, 'The Heaumes in America' in The Review of the Guernsey Society Vol. XVI, Autumn (1960). See also 'Guernsey County, Ohio' by F. D'A Collings, RGS Summer (1986), and 'From Guernsey Channel Islands to Guernsey County, Ohio,' by Silvia Hickman, RGS, Spring (1999). For the early Methodists in Guernsey County and their classes in French, see 'Guernsey in America', The Guernsey Free Churchman, December 1924, p. 7.
If you are interested in this family and would like to know more about their Guernsey ancestry, this and further information is available at the Priaulx Library.