Hirzel Frederick de Lisle and Mary Carey, Pre-nuptial agreement, 1832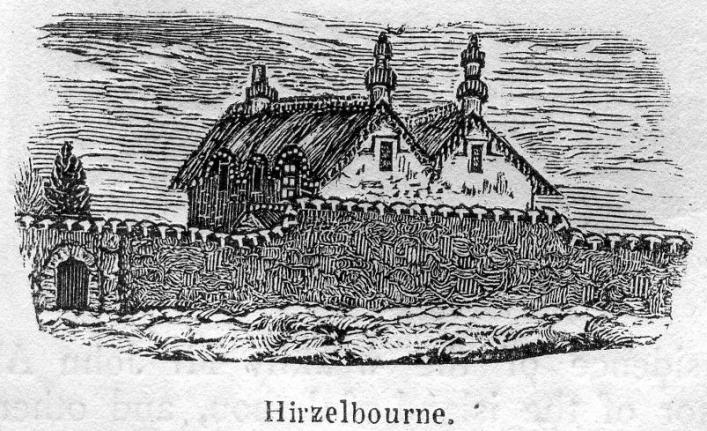 From the De Lisle family file in the Library (No. 9). 'Articles of agreement made in the Island of Guernsey, on the Sixth day of October, In the year of our Lord 1832, by and between Hirzel Frederick de Lisle Esquire, son of the late Hirzel De Lisle Esquire, of the said Island, of the one part, Mary Carey, Spinster, daughter of John Carey Esquire, son of John, of the said Island, of the second part, and the said John Carey Esquire, of the third part. Bear witness.' The illustration is of Hirzel de Lisle's house, Hirzelbourne, now Swissville. The woodcut is by Dr Thomas Bellamy and was published in 1843 in his Pictorial Directory and Stranger's Guide to Guernsey.
That whereas a Marriage is now agreed upon and shortly intended to be had and solemnized by and between the said Hirzel Frederick De Lisle and the said Mary Carey, the said Parties hereby agree as is hereunder expressed on the conditions, provisions and restrictions of the said intended marriage.
Article 1. Mary's existing capital and that accruing to her from the estate of her late grandfather Nicholas Maingy Esq. to be her full entire and sole property &c. 'without the control or interference of her said husband' &c., to pass to her children &c.
2. Trust set up for both partners by Mary's father John Carey.
3. Mary still to inherit her full share of her father's estate.
4. Should Hirzel die before Mary &c. 'But if the said Hirzel F De Lisle die without leaving children, the whole of the said Personal Estate shall revert, after the marriage or death of the said Mary Carey as he may have directed by his last will and Testament, and if he die intestate the same shall revert to his heirs.'
5. That the Parties shall have their respective rights on each other's real Property, according to the Law and usage of this Island.
Signed sealed and delivered in the presence of us, Matthew Gallienne and Matthew Gallienne Esq., witnesses.
---
Hirzel Frederick De Lisle was born in 1797, the son of Hirzel de Lisle and Harriet De Jersey. He was appointed Captain in the 49th Foot in 1826. His father Hirzel senior had begun his Army career as an Ensign in the 65th in 1784. Mary was born in 1802, the daughter of John Carey and Judith Maingay. See Hirzel Carey De Lisle (1836-1911).
From Jane Barlow's journal, 1834:
'7th. Met Mr De Lisle who asked us to accompany him to his brother's, Captain De Lisle's, to see the house he is building, a very pretty house and lovely grounds. He has picked strawberries in the open air last week and I saw numberless strawberry plants in blossom. He has had asparagus for dinner, all in the open air, not forced, and has sent some to the sick Mr Maingy.'
Edith Carey in a note suggested that the house might be 'perhaps Hirzelbourne, now Swiss Villa?' Bellamy's Guide (see picture above) confirms it:
'On the Rohais Road may be seen Hirzelbourne, a kind of Indian Villa, the property of Captain de Lisle, which unfortunately is nearly concealed from public view by a lofty wall.'
---
Download pdf document (4 pages, 3.94MB).