Laine's warehouse in Berthelot Street
'MSS belonging to Mr Laine of High Street, respecting his store in Berthelot Street (behind and touching the present Savings Bank), and the Savings Bank itself, formerly 'La Maison Briard.' Names and dates; the transcriptions of these interesting vues de justice, where the jurats visited properties about which there was a dispute and sought witnesses, may be consulted at the Library. The photograph is from the Carel Toms' Collection in the Library and accompanied an article he wrote about the demolition and rebuilding of this house in 1950-51.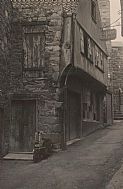 See also:
Lost things: Lainé's store in Berthelot Street
Our old house in Berthelot Street
Old house in Berthelot Street, documents
High Street in 1860's
---
No. 1. 1 April 1575: Vue de Justice. Guillaume Beauvoir, Bailiff, Thomas Effart, Nicolas de Sausmares and Nicolas Pageot, Jurats. Against John De Vic son of Richard de Vic and his guardian Henry Beauvoir, in favour of Nicolas Martin and Nicolas Carey guardians of the children of the late Nicolas Martin du Bosq.
No. 2. 5th November 1594: William Le Marchant guardian of Rachel Germain daughter of Gilles Germain of the Town sells to John Briart son of John of Jersey, his wife Rachel Martin daughter of Nicolas Martin du Bosq, Pierre Beauvoir, John De Vic son of Richard, Nicolas Carey.1
14th June 1569: William Blondel and John Blondel sons of Michel Blondel son of Collas Blondel and Jeanne Gauvain his wife, sells half of a house in High Street to Gilles de St. Germain son of Pierre, Pierre le Pelley, Toussaint Vaudin. [Note: from Miss Carey's MS.] Details of house and rooms included.
No 13. Bille de partage of the late James Beauvoir son of Pierre, Pierre Beauvoir, André Henry, Jean Briard and his wife daughter of Nicolas Martin.
Extente of St Peter Port 1573: Nicolas Carey by right of his wife Colette de la Marche, Louis de Vic.
No. 3. 15th July 1600: Vue de Justice granted to Judith Germain guardian of her children, against Jean Briard. [sic, see following:]
15th July 1616: Under seal. Vue de Justice. Judith Germain guardian of her children, against Jean Briard (she claimed he had extended his gable into the road illegally and spoilt her view); Jean de Rozel Senr., Jean Guille, Jean Fallaize, Thomas Saumares, Jean Blanche, (witnesses), Thomas Beauvoir, Jean Baudain, Helier de la Marche, Jean du Parc, Thomas Bisson, Jean Painsec, Collas David, Isaac Bertrand, Lucas Le Rusey [Le Ruzey], Jean Carey, Edmond Ettur, Nicolas Le Cornu, Pierre Brison, Jean Le Mesurier, Thomas Blanche, Edward Grigory, Nicolas Blanche, Thomas Ollivier, Nicolas Mansell son of Robert Mansell, Edward Nicolle, Thomas Brocq, Etienne Brocq, Jean Le Petit, Guillot Bachelet, Simon Neale, Pierre Le Mesurier son of Collas Le Mesurier, Simon Grult, Thomas Pitman, Abraham Fouquin (witnesses).
17th July 1617: enquête, argument between Jean Briard, guardian of his children, and [Jean?] Baudain, about the enclosure and land adjoining, coming out at Briard's house, witnesses Jeanne Mesley [?] widow of Collas Hubert, Thomasse Martin her friend, Edmond Estur aged about 80, Nicolas Bazille dit printerre [?], Thomasse wife of Edmond Estur aged about 78, Susanne wife of Thomas Vuiot aged about 57, Pierre Le Pelley, Katerine Allez aged about 60, Edouard Grégoire aged about 79, Elizabeth wife of Thomas Blanche aged about 39. Jouanne Grandin wife of Thomas Le Quesne aged about 96, Sara d'Aubert aged about 48, Cardine la Calle aged about 40, Esther de Jersey called Paul aged about 40, Marie Patronne[?] aged about 30 (witnesses).
29th May 1654: Sale. Collenette Baudain daughter of Jean Baudain of St Peter Port. Daniel de Beauvoir junior, Sieur Pierre de Beauvoir des Granges.
16th February 1679: Estate of Sieur Pierre Bailleul2 junior, son of the late Pierre Bailleul and Collenette Baudain. Witness Sieur François Le Pelley; Jean de Havilland (Attorney to Rev. Dr. Jean de Sausmarez of St Peter Port), Thomas du Parc, Marie Le Pelley daughter of Pierre Le Pelley, Rachel Martin wife of Jean Briard, Anne Patronne[?] aged about 24, Rachel Briard [Martin?], Marie widow of Pierre Durant aged about 46. Signed Amice Carteret (Bailiff of Guernsey), Jean Herault (Bailiff of Jersey), Philip Carteret, J Lemprière.
No. 24. 18th July 1738: M. Amice Andros heir of his mother Dame Madeline Mansell, M. Thomas Priaulx son of Pierre Priaulx by right of Dame Marie Andros his wife, widow of Sieur Jean Ollivier.
Guillaume pedigree
from letters of 4th July 1730, 13th July 1730, 18th January 1782 re house at rue Tanquoel: Benjamin Guillaume, Aaron Guillaume, John Bowden, Elizabeth Guillaume, Pierre de Carteret (1782), Marie de Carteret and Esther de Carteret (both 1804).
No 25. 29th December 1679: Sieur Henry Ozanne de la Hougette, sells to Sieur Richard Guille son of the late Jacques Guille of St George, two courtils, one called Courtil Anne Le Moigne and the other Le Courtil de l'Jarge[?], rent to pay to Esther Asseline daughter of Elie son of James due to her through her grandmother, Esther Verrin.
No 14. 16th October 1765: Samuel Bonamy Ecr., Sieur Pierre du Port son of Guillaume du Port, Jean Vidamour.
No 15. 13th December 1708: Sieur Thomas Le Mesurier eldest son of the late Sieur Jean Le Messurier sells to Sieur Jean Heaume son of John and his wife Rachel Parker daughter of Jean of St Peter Port. Jean de Havilland, Israel Recorde and his wife [Rachel? see Ecclesiastical Records re Pews] Le Goubey daughter of Raulin Le Goubey, Sieur Pierre Gruchy, Simon Le Goubey, Estienne Mourant.
---
1 See Chapter 34 of McCormack's The Guernsey House, 'The Guernsey Savings Bank' (756).' Carel Toms, in St Peter Port, People and Places, Phillimore, 2003, p. 24, published a photograph from 1891 showing the Briard house 'with a timber-framed top storey, which was later removed.'
2 E. Carey, Report and Transactions 1917 VIII (p. 39), 'A forgotten episode—the Bailleuls family.'