A Library Christmas selection box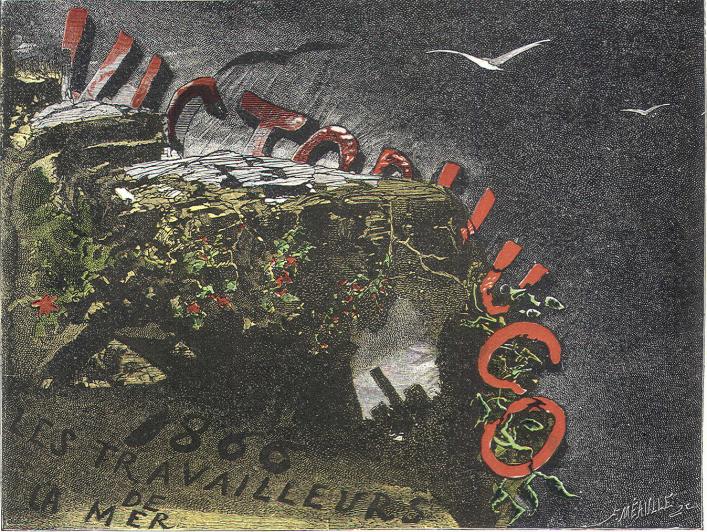 Guernsey Christmas—published and unpublished excerpts from the Library's collection. The illustration is Victor Hugo's own frontispiece to his Guernsey novel, Toilers of the Sea, the story of which begins at Christmas; like much of Hugo's artistic output, the picture is somewhat gloomy, but the rocks, so important in the book, are nevertheless covered with holly. The print is from a rare edition of the illustrations in the Library's collection.
Havilland Le Mesurier to his wife, Elizabeth Dobrée, c. 1794
Christmas in Afghanistan 1878
William Pierre Le Cocq at boarding school in Chesham, to his parents, 1799
Dobrée-Mann letters, 1850
Louisa Harvey's Christmas Preparations 1885
Rev. Douglas Ord, MS Occupation Diaries, 1941-45
25th December 1867 on board the Ship Louisa
Rev. Douglas Carey, to Louisa Harvey, 1915
Victor Hugo, The Toilers of the Sea, Chapter 1New Year in Guernsey
---
From his letters: from somewhere in Northern Europe, 25 Dec. Good morrow and a merry Christmas to my sweetest love. While I am waiting for the unfreezing of my shaving box I profit of the moment to write thee on a Christmas morning in the midst of ice and snow with my feelings harrowed up and in the midst of perplexities. Do not wonder my blessed wife at such short and unconnected letters as I have lately written. I miss no part but I am obliged to write just as I can from the purpose of some duty – and at eleven o'clock I am so jaded and fatigued and rest is so necessary to me that I am sure that thou couldst not wish me to make myself ill. Were I master of my own time even in the direction of my employment I might steal some half hour for my Love, but I attend Mr. Watson at all hours and exclusive of my own have much of his duty to perform. All this my sweet Girl I mention to prevent the possibility of they attributing that to want of reflection which really is impossible.
A merry Xmas to you all To my dear Boys around thee and my dear little Harriet God bless you all! May he comfort and strengthen and enlighten you and for the rest His holy will be done.
Do not my sweet Girl seclude thyself from the Society of thy Neighbours. Their style of visiting is not expensive and it is a duty due to our situation to keep up a certain degree of appearances. Adieu my sweet Love. When shall we meet again?
---
Christmas in Afghanistan 1878
From Harry Harvey's MS Diaries
Jumrood Dec 28th 1878
My dear Loo John Min and Ames
We marched in here on Christmas morning, the Pipe Major playing the Regimental March ('Blue Bonnets over the Border'), for nearly an hour, as we passed out of English territory, and so earned his pipes. This fort nearby belonged to a neutral independent chief, but he bolted, and it is annexed, and is the permanent hospital, and Commissariat stores, signal station, post office, and telegraph depôt. The Right Half Battalion were very glad to see us, as they had only half a night in bed per week, furnishing 25 men and 1 officer daily on escort duty up the pass to Dacca and back; and picquets at night.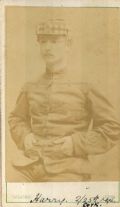 The 5th fusiliers, Mainwarra's Cavalry, and some batteries are here. Each regiment finds its own picquets, which are all round the camp. Stone walls called 'Shingas' are built up, 200 yards distant all round; and from the camp. These are distant about 50 yards from each other; and a double sentry and its relief, occupy these at night, and a company in, sleeps in its clothes in Camp. Yesterday Ramsay and I rode up to Ali Musjid, 8½ miles from here, and 5 miles up the Khyber. It is tolerably safe in the daytime from 9 to 4 p.m., but no-one is allowed in after that. We had a delightful ride; It was a splendid crisp cold morning with bright sun, and the entrance of the Pass was exactly like the way down to Petit Bo Bay. ... we passed lots of Afreedis of sorts; Mulla Kehls, or 'The Mulligan Guards,' as our men call them, fellows in our pay, and many other nondescripts called 'Catch 'em alive oh's,'as they do chokidar* work by day and rob at night. They are all armed all over, with knives, pistols, and rum-looking guns many with rifles, some handsome clear-eyed, bold-looking fellows, others ruffianly-looking scoundrels, who would be only to glad to shoot if they dare. But we were both armed with revolvers, and convoys were passing up and down under escort...
Your very affectionate brother, H.J. Harvey.
*chowkidar; a security guard, gatekeeper
---
Dobrée-Mann letters 1850
See also The letters of Margaret Mann
Annie Mann in Guernsey to Margaret Mann in Trinidad, 27 Dec. 1850
The Dobrées are trying to make the season particularly gay at home as Fred and Harriet are not likely to spend another here. On the eve of Christmas Day they had that new English toy, a tree of golden apples and toys illuminated with 26 candles.
Julia Mann to Mother, 22 Dec. 1851
Adèle and Agnes are drinking tea at the Dobrées, assisting in doing the honours of a beautiful Xmas tree. Adèle stayed with Baby and myself while the servants went to Church this evening. Aggy called for her on the way home. Dec. 29. The girls came home and I left off. The Christmas tree was very beautiful; they brought home a number of little cadeaux from the Dobrées and Watsons for themselves of purses, baskets, etc. Adèle and Nag have worked hard and brought a very pretty contribution of fancy work which gave great satisfaction, as also sundry and diverse charms for the little Dobrées and a new pipe for Charles Chepmell. I sent a crochet case to Minnie with a view of ? Spa painting, and velvet bracelets for Ellen, a black shawl pin for Annie Mann for whom I also have a lovely locket which I have sent to London to have James' hair put in with names, and a new locket with my hair for Moll; then we three sent a small edition of Roger's poems, a little beauty, to the Watson's. Mr Jonas [Watson] wants me to lend Baby for a tableau vivant of the old and new year, to be presented at Aunt Dobrée's on Wednesday at midnight. Richard Watson is to personate the old year, an old man on his deathbed with grey hair and beard, and blue lights to assist the delusion; and as he dies the curtain is to rise and show my baby boy crowned and covered with flowers, a striking emblem of a hopeful New Year; but Baby must not go out so late and I am going to church in the evening and I would not let him go without me.
---
Louisa Harvey's Christmas Preparations 1885
From her MS diary
Guernsey.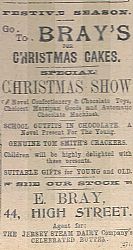 Sun. Dec. 20. Foggy and cold, but dry. To Trinity in the morning with John and Ames, saw the Highlanders marching to church for the first time. Walked home with Aunt; the 4 Mansell Mauger boys in their pew for the first time since their father's sudden death last Sunday. John and I talked till 3, then I rested. Ames brought me some sugars from Bert. They heard the startling news of Mrs Armstrong's death, as soon as she was in bed, having spent the afternoon in town with her maid, buying and distributing Christmas presents. Monday 21 Dec. To Rouge Huis to dinner, having looked on while John cut the evergreens for Trinity which John Baynard took down; 5d and 1d and biscuits to a cripple at the gate, who watched the action of John's American tool, like a play. I went to Adele's to hear about Mrs Armstrong and paid a long call. John and I cooked the mulled wine for Long Veille. Tues. 22nd Dec. Wrote to Harry and did 16 feet of organ loft decoration for Trinity with the evergreens John cut yesterday. John put it up at Trinity, Mary carried it down. I packed Mrs Lowther's basket of holly, white heather etc. Photos of Moulin Huet and myself for the maids, and little white angel card for Lizzie. Wed 23rd Dec. Ames took down the letters and baskets at 7. Mrs Baynard [Besnard?] here. Brouard here, gave him 8/4 for Christmas besides his 2/9, and Mrs Baynard 4/2 including her 1/8 days and 2/6. I went to town and bought Jacob's Annals of Guernsey for John's Christmas box and a lot of frilling for myself and fronts for the girls at 2/- each. B neckties at 7d. Ordered some treacle for the Christmas pudding. Bought a white daisy for Bert's Christmas, at Parsons and paid 2/- for his flowers to Mr Lowther. 18 Nov. John talked about building North rooms at Rouge Huis, and we talked over the plan. ... I was seized with a dreadful cold. Ill from head to foot. John gave me quinine, and Ames camphor and I had a conscious but restful night. Thursday 24th Dec. Fine and cold.... John pruned the box, and prepared it and the yew for the Town Church. Susan went out, and I weighed and chopped the suet and flour for Saturday's pudding.Friday 25th Dec. Christmas Day. To Trinity through the Mount, with Lily's Calendar and triform frame. Pleasant greeting from both the Priaulxs. Alarming account of Jane [a servant] from Min. Doubtful if she would give dinner ... It is hypochondriasm; she will be alright if she eats well and does her work. If not in 6 months she will be in the asylum. I stoned the raisins for tomorrow's pudding while Susan went to church. I went to Rouge Huis on her return. Excellent dinner. Turkey tender, pudding first rate. Gave Betsy 4 francs, Jane 3 francs and a white apron. Gave Susan 2 francs and 3 white aprons (3 yds). Mary 1 franc and 3 white aprons (2¼ yds). Trimming for both. Sat 26th December. Aunt Neve and Min, Aunt Mar and Bert to dinner—7. Goose, Queen's pudding and plum pudding. Mrs Baynard here to help. 2 frs. John sang, and showed his minerals, not yet unpacked.
---
William Pierre Le Cocq at boarding school in Chesham, to his parents, 1799
From his letters: Thursday 17th December 1799
Dear Papa and Mamma
Thursday I received with pleasure a parcel. I asked the maid a hammer and a chisel to open the box. I uncorded it and opened it, but when I lifted up the lid, what a sight! Lo! Mashed pears! Quite in a marmalade. Mrs Simpson came in at that instant and testified her astonishment. I found at the top a piece of white paper daubed over with pears, which I could hardly believe to be a letter. I unfolded it as well as I could, scraped the pears off, and set it by the fire to dry in hopes that in a short time it would be legible. I tasted one of the pears which though mashed was very good. I made Mr and Mrs Simpson as also Miss Hicks (Mrs Simpson's sister) taste some. Although I had not seen the letter yet, I made them a present of about the third part of them. I took some and distributed them amongst the boys who found them excellent. Mr and Mrs Simpson also found them very good. I gave a few to the maids, eat a few myself, and put a few by. Before I opened the box, I thought my Books were in it but I am very glad they were not as they would have been in a sad pickle. ..
If possible I will send you my Christmas piece Saturday with great pleasure. I received yours of the 9th, I must now describe to you the game of Hockey; we have each a stick turning up at the end. We get a bung. There are two sides one of them knocks one way and the other side the other way. If any one of the sides makes the bung reach that end of the churchyard it is victorious. ... I will now as you have desire it write every week in the Holydays. Next letter I write I will write in French though perhaps I will have a little trouble however I shall do my best. ...All the boys now are packing up dancing singing and hollowing [sic], they are to set out at 7 o'clock tomorrow morning. They are also at intervals blowing their horns and telling me 'I give you leave to do anything to me after tomorrow.' However they are all very good-natured fellows and though I do not go home I wish them happy holidays ... I hope you will find this letter more correct than the last. Tell Mr Grut that Mrs and Mrs Le Feuv[r]e are come here on a visit to Mr Simpson. Thank you for your political news. I have heard though I can scarcely believe it that the young Dauphin Louis 17th is alive and that very likely there will be a monarchy in France. ...
Farewell
Believe me your truly dutiful son
W P Le Cocq
Next letter in French, as promised, (translated here):
Jeudi 26ème de Décembre '99
Chers Parents
Please do not expect this letter to be as correct as the ones I write in English, but be assured that I shall do my best. I am almost alone here and in fact I would be were it not for the young Swede. Mr Simpson has promised me that I would visit London with him at the end of the holidays but he says he does not know where I can sleep as none of his friends has any bed free. I wonder if I might ask you if I could take the liberty of staying with either Mr Perchard or Mr Brock or the Le Mesuriers [Havilland Le Mesurier in Buckingham Gate], and if that suits, how I might go about asking them. Please write your answer to me next week, I would be really pleased. Yesterday was Christmas day and I was at Church three hours. When morning prayers were over, Mr Simpson asked me to walk with him to Bois and I happily accepted his invitation ... I took a tumble in pretty much the same place as last time, but I was not hurt. The day before yesterday I was busy sorting out Mr Simpson's library. I am reading lots but I am annoyed that Mr Simpson does not have many novels.
...The weather here is very cold, there is a lot of snow on the ground at the moment but I can always warm myself up by a nice fire. ...I was very happy to receive a letter from my cousin Abraham who tells me that some Russian soldiers have arrived in Guernsey, and that they have been billeted with the islanders, the officers in the houses of the gentlemen and the soldiers with the poor folk. He told me that Mr Beaurépère had asked a Russian soldier who had spent the night on the quay how it had been and the soldier replied that he had had a great night. That shows how these people are used to putting up with any weather, certainly an excellent defence for the island. ... I must write to you once a week during the holidays, as you have asked me to. I hope to receive a letter from you next week and with this hope I remain
Your very affectionate son
William Pierre Le Cocq.
---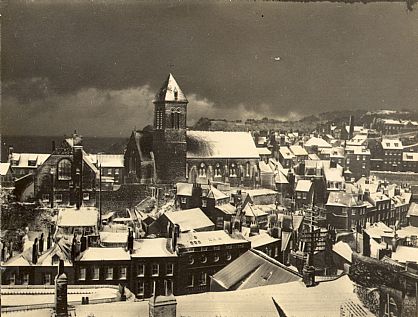 Rev. Douglas Ord, Occupation Diaries, 1941-45
Vol. III p. 416, typescript
December 23rd 1942. Two years ago everyone anticipated the handing back of the wireless sets, and much was made of the Kommandant's 'Christmas Box.' Christmas is once again upon us,—not, however, so that you would especially notice it—and a different anticipation haunts people. They are wondering what the latest Order regarding Registration and Identification of Persons means. Knackfuss adds his greetings in another of his 'Bekanntnachungen' threatening those who keep their wireless after December 31st. Those who are fools enough to trust the word of a German military man will doubtless rely on his promise to take no further action if they now surrender their sets. Rather than comply I would sooner smash a set. News will be scarcer than ever. Town is full of would-be shoppers, but there is nothing in the shops, except some sort of second-hand toys. A little five-year old girl went with her mother for a Christmas parade round them and came back quite excited about the second-hand toys and home-made substitutes she had seen. ... A pitiable accident occurred as I went down the High Street when a bull-headed German driver tried to force a huge lorry throught he mass of people as if there was not a moment to live. A child was carrying proudly a newly-purchased toy—a sort of home-made vehicle—which the lorry caught and broke. The parents were probably poor ... and in any case could hardly hope to replace the present. People were openly sympathising and openly cursing the driver. One family is determined to make the most of Christmas and has bought a turkey somewhere for £16. Though it is nearly Christmas I came home very depressed. Christmas Eve. Chrysanthemums ordered faute de mieux have been stolen from many greenhouses. On all hands this plundering is going on. Mr Will Mauger brought us some very beautiful chrysanthemums with the apology that he had some REALLY wonderful blooms for us, but after curfew last night they were all gone. But other things are going too. This Christmas Eve drafts are being marshalled at many places. Last year the curfew was extended for the season. This time old Müller will not grant any concession. We must be indoors by 9 p.m. through the entire holiday. ... Our sense of his unfathomable meanness grows. December 27th. We spent Christmas with the Blampieds of La Fosse very happily. They keep a tiny wireless set in a bucket slung up the roof of an outhouse. On Christmas Day I took down the King's Speech and wondered if next year it would be possible to do the like without one eye on the gate.
---
25th December 1867 on board the Ship Louisa
"Capt. Harvey of the 2-25th Regiment goes home by sailing vessel shortly, in charge of the Invalids of the season accompanied by Dr. O'Farrel. Left Colombo 13th December 1867 in the Louisa of London Capt. Tillman N.R. Ship built at Shields 1860." From his MS Diaries.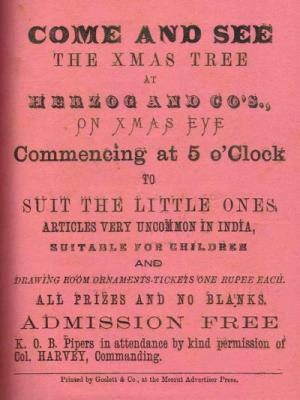 Lat-10-36 S Long 76-51 E ... .Calm lush afternoon ship lost steerage way. Wind from N8. 58 swell, indications of SE trades, too squally with rain for divine service. .. water bottle sent adrift. Hung a lantern in the starboard boat over quarterdeck & then men/soldiers sailors/women & children amused themselves till 10 pm., dancing & singing, very different to Xmas Day in England, here we are in thin cotton clothes. Mrs Fort(?) is getting quieter but still talks continually. Calm all the afternoon. The Capt. gave the men grog all round.
---
Rev. Douglas Carey, to Louisa Harvey, 1915
Rouen, 30/12/15
My dear Miss Harvey,
I am writing to tell you how grateful the men were for the presents which you helped to give them at Christmas. About £26 was contributed, and just over 500 presents were purchased, and sent over in half-a-dozen boxes. Each present had been separately packed in white paper, and a card of greeting attached to each with the words 'From friends at home.'
The Unit chosen was a Company of A.S.C. Bakers. It was 500 strong, and rather neglected. The Y.M.C.A. and other agencies were doing excellent work for most other units, but nothing was being done for these men. And their work is hard, with long hours, and very monotonous.
Christmas Eve 6 p.m. was the time chosen. The ceremony was a simple one. The Army Scripture Reader, an old friend of mine, had all the presents arranged on a long table on a temporary platform at the end of the men's dining hut. A curtain was rigged up and raised when the men were collected.
I made a short speech and read the very appropriate verse which had been sent out with the presents to be read to the men at the distribution. Then they filed past, each receiving a packet of cigarettes from the Army Scripture Reader, and a present from my own hands.
From the way the men responded to my remarks I could tell how grateful they were for this reminder of the loving thoughts of friends at home. I am ever so grateful to you all for your labour of love, which made this treat possible for these men. I am sure it brought joy in their exile,
Your very gratefully,
D. F. Carey.
PS Such a nice letter just received from the Serg. Maj. in the name of the Coy. Each sergeant had a present on his plate at breakfast Christmas morning.
From Mrs Douglas Carey
January 25 1916
I feel I must add this to my Husband's Letter, to thank you all once again for your wonderful and generous response to my appeal for Christmas presents for the men. I am enclosing a statement of expenditure. Besides these, 3 doz. Presents were sent out, separately, to my husband; also a large consignment of Toffee; and 5000 cigarettes.
Yours gratefully
Ada Carey
Donations received £26.2.10½. Expenditure: Presents 23.5.3/Music (by special request for hut) --.8.3/Paper, ribbon, labels, cards --.10.4/Tobacco & cigarettes 1.5.6./Freight of 5 cases --.13.0
In hand 6d½ £26.2.4
---
La Christmas de 182. fut remarquable à Guernesey. ... Victor Hugo always asserted that he knew but one word of English: 'Christmas.'
CHRISTMAS DAY in the year 182- was somewhat remarkable in the island of Guernsey. Snow fell on that day. In the Channel Islands a frosty winter is uncommon, and a fall of snow is an event.
On that Christmas morning the road which skirts the seashore from St. Peter Port to the Vale was clothed in white. From midnight till the break of day the snow had been falling. Towards nine o'clock, a little after the rising of the wintry sun, as it was too early yet for the Church of England folks to go to St. Sampson's, or for the Wesleyans to repair to Eldad Chapel, the road was almost deserted. Throughout that portion of the highway which separates the first from the second tower only three foot-passengers could be seen. These were a child, a man, and a woman. Walking at a distance from each other, these wayfarers had no visible connection. The child, a boy of about eight years old, had stopped, and was looking curiously at the wintry scene. The man walked behind the woman at a distance of about a hundred paces. Like her, he was coming from the direction of the church of St. Sampson. The appearance of the man, who was still young, was something between that of a workman and a sailor. He wore his working-day clothes-a kind Of Guernsey shirt of coarse brown stuff, and trousers partly concealed by tarpaulin leggings-a costume which seemed to indicate that, notwithstanding the holy day, he was going to no place of worship. His heavy shoes of rough leather, with their soles covered with large nails, left upon the snow as he walked a print more like that of a prison lock than the foot of a man. The woman, on the contrary, was evidently dressed for church. She wore a large mantle of black silk, wadded, under which she had coquettishly adjusted a dress of Irish poplin, trimmed alternately with white and pink; but for her red stockings, she might have been taken for a Parisian. She walked on with a light and free step, so little suggestive of the burden of life that it might easily be seen that she was young. Her movements possessed that subtle grace which indicates the most delicate of all transitions-that soft intermingling, as it were, of two twilights-the passage from the condition of a child to that of womanhood. The man seemed to take no heed of her.
Suddenly, near a group of oaks at the corner of a field, and at the spot called the Basses Maisons, she turned, and the movement seemed to attract the attention of the man. She stopped, seemed to reflect a moment, then stooped, and the man fancied that he could discern that she was tracing with her finger some letters in the snow. Then she rose again, went on her way at a quicker pace, turned once more, this time smiling, and disappeared to the left of the roadway by the footpath under the hedges which leads to the Ivy Castle. When she had turned for the second time the man had recognised her as Deruchette, a charming girl of that neighbourhood.
The man felt no need of quickening his pace, and some minutes later he found himself near the group of oaks. Already he had ceased to think of the vanished Deruchette, and if at that moment a porpoise had appeared above the water, or a robin had caught his eye in the hedges, it is probable that he would have passed on his way. But it happened that his eyes were fixed upon the ground; his gaze fell mechanically upon the spot where the girl had stopped. Two little footprints were there plainly visible; and beside them he read this word, evidently written by her in the snow,-
'GILLIATT.'
It was his own name.
---
Havilland Le Mesurier (1758-1806) was a member of a very distinguished family. He was the youngest son of John Le Mesurier (d. 1793), Governor of Alderney, and brother of Paul Le Mesurier (1755-1805), MP for Southwark and Lord Mayor of London. He became a merchant trader in Le Havre and married a Guernseywoman, Eliza Dobrée, in 1792. He moved to London but the following year lost a great deal of his fortune in speculation. He became "adjutant commissary-general of stores, supplies, and storage" under the Duke of York; the commissary-general was at that time Alderman Brook Watson, whom he mentions in the letter. Le Mesurier was acting commissary-general of the army in 1794-5 and his work was highly commended. Having entered in to partnership with his brother Paul in London as merchant traders, he was appointed commissary-general of the southern district in 1798, when a French invasion was feared; he reorganised the system to universal acclaim, but resigned when he felt that Sir Brook Watson was given precedence over him as the new commissary-general for England. In 1801, when Watson retired, he was reinstated and supervised the return from Egypt of Wellington's army, and spent time in Naples and Malta. He was a controversial figure, disliked by William Pitt for pointing out flagrant fraud and abuse in military supplies, but admired by many for the same. He produced several works: Commissariat Duties in the Field (1796); 2 volumes of The British Commissary (1798); the important Thoughts on a French Invasion (1798), reprinted several times; and Two Letters to the Commissioners of Military Accounts in which he exposed fraud. The Priaulx Library has some of his letters and documents, as well as genealogical information.
---
William-Pierre Le Cocq was the son of William-Pierre Le Cocq Sr. and Rachel Reserson, who married in 1784. William was born the next year and so was 13 years of age when he left Guernsey for Mr Simpson's school in Chesham, where he was not particularly happy; Chesham is extremely cold; he points out to his parents that he is considerably younger than the other boys and so will not mention his age to them for fear of ridicule. He remained away from the island for at least two years and the Library has 45 letters from him to his parents that cover this period. The school was in the Vicarage at Chesham, a village at that time well known for its non-conformism. The staff at the Library were very excited to find out that this letter may be the first known in the world to describe the game of hockey under that name!
William married his cousin Henrietta Wood Maingy in 1814 and had three children before his death at the age of 33 in 1819; in his letters he appears frail, whereas she was considerably younger and did not die until 1878. Peter Perchard, later Lord Mayor of London, and William Brock, with whom he wished to stay, were in business together, and connected by marriage and business to the Le Mesuriers. Family trees, original material and documents and other information about the Le Cocq family are available in the family files and the general collection in the Priaulx Library.