The Moie de Mouton and the unfortunate sheep of Sark, 1854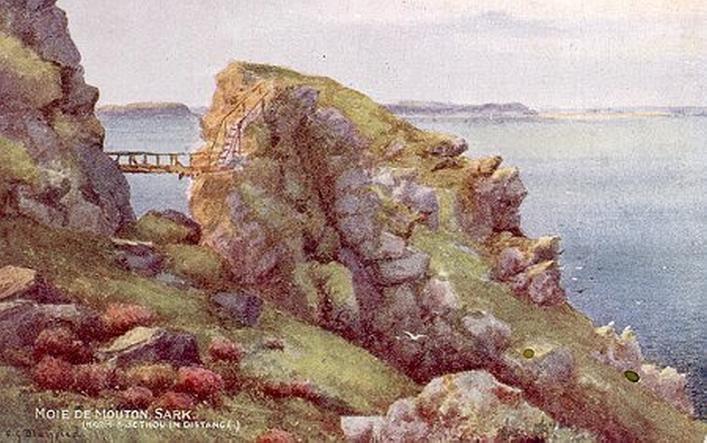 The Moie de Mouton cave, by a credulous R. Ellis, from the book Rambles among the Channel Islands, by a naturalist, 1854.
This cave is wholly inaccessible by land, in consequence of its being formed in the side of a peninsular mass of rock, separated by a steep precipice from the mainland of Sark.1 The form of this rock is very peculiar, and resembles that of a shoulder of mutton very closely. Its sides, up to a certain height, are in most parts precipitous, and in the rest shelve in a very slight degree. The summit of the rock is capped with herbage.
As I passed this rock with its scanty green covering, and saw with surprise eight or ten sheep browsing upon it, in places inaccessible to the foot of man, the boatmen told me the following curious anecdote about these sheep. They are carried thither in a boat from Sark, and are made to scramble up the rock, where they are then left. Escape is impossible, for on the land side is the steep precipice of which I have spoken, and on all the others are dangers equally great, with the additional one of the foaming current which sweeps the base of the rock. The sheep are securely left here to browse upon the scanty pasturage the surface of the rock supplies until they are wanted. Their owners then bring a boat to fetch them; but as it would be hazardous in the extreme to send a man after them, they are captured by the following singular expedient:—The best-conditioned sheep of the number is selected, and the owner aims at it with a musket. The poor animal, stricken by the ball, falls and rolls down the cliff, either to the spot where the owner is waiting to seize upon its lifeless body, or into the waters, from which it is rescued by him and taken home for domestic use.
The cave in this singularly formed rock is very regular in its outline. It is somewhat triangular in shape, the base of the triangle forming the roof. Veins of felspar are seen within it, the glitter of which forms a pleasing contrast to the blackness of the interior passages. It can only be entered, and that not without danger, by a boat, to a small depth. In stormy weather it is of course wholly inaccessible. As the evening was closing in we did not enter it, but, by passing near to the mouth in a boat, a good general idea of the excavation was formed.
---
¹ 'Cross over to the south end of Jument Bay and we soon find ourselves at the entrance to the big gully, which is bridged at the top by an old and unsafe wooden bridge. This view of the Moie makes a fine photograph. By going a short way up this gully and taking the turning then in the right, a fair portion of the way to the entrance to the cave is safely negotiated. We must now wait until the sea allows us to go on. At ordinary tides this cave is accessible for half an hour each side of low water by wading; during spring tides some time longer is gained, and dry-shod. The way down to the entrance of the cave, which is on the NW side of the Moie, is close to the edge of the cliff on the left side of the cave, where foothold wil be found free from the water. The cave when at last entered rapidly widens and heightens and leads us right through the Moie—it is no exaggeration to say that as a single cave it is hard to find its equal in interest or splendour. At the south entrance it is lofty, and its square cut shape adds greatly to its beauty and peculiarity.' [From Latrobe, G., Guide to the coast, caves, and bays of Sark, 1st ed., Route No. 20, pp. 84-5.]