Mrs William Sharshaw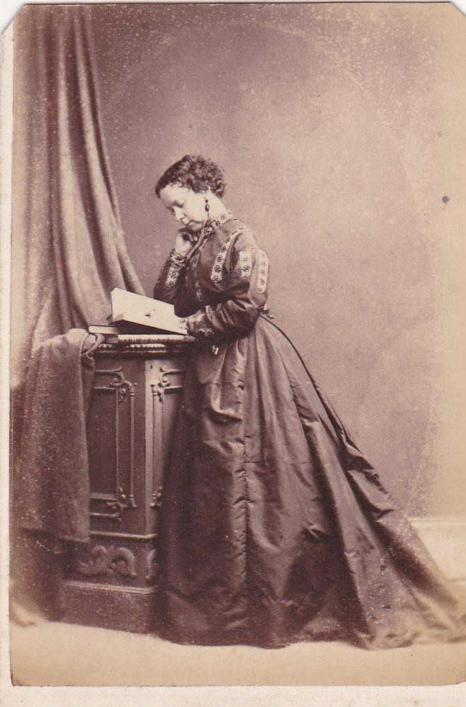 A brief obituary of a pioneering woman, from The Monthly Illustrated Journal (the Guernsey Magazine), February 1889. Mary Esther Sharshaw, born in October 1821, daughter of Henry Cumber and Mary Gallienne, was a pharmacist. The obituary does not mention that she came from two families of prominent Quakers. The two photographs of Mary, which are reproduced courtesy of their owner, both show her with a book. In the lower picture she is sporting a fine calabash, a typical Guernsey ladies' hat; the photograph is by her sister, the Guernsey photographer Sarah Louise Cumber.

We take up the pen with regret to lament the loss of Mrs William Sharshaw. It is not so very long ago she prescribed largely for an extensive circle of friends, so that it is almost superfluous for us to detail how almost indispensable were her services to the mothers and daughters of the island. Nowadays the ladies who study medicine are by no means few in number, but the time was when it was quite a rarity to find a qualified female practitioner. Herself the daughter of the late Mr H. Cumber, chemist, the deceased lady's union with the late Mr William Sharshaw, also a chemist, strengthened her natural taste for the study, and she developed into a skilful prescriber. At her husband's death Mrs Sharshaw assisted her brother, Mr H J Cumber, in his business, in Pollet-Street, her well-known figure being familiar to the customers there until quite recently, when she retired into private life with her daughter, Mrs J B Gardner, Royal Hotel. Mrs Sharshaw had been suffering from a bronchial affection for a short time, but nothing serious had been anticipated. The news, therefore, of her decease on Monday, January 7th, came as a surprise to all.
In fact, if anything this obituary rather underplays her achievements. Mary Sharshaw had been practising on her own as a chemist and druggist for many years. Widowed in her early 30s, she ran her husband's chemists' shop at No. 3, The Pollet, as a successful business for over 40 years. She also kept a private school along with her daughter Louisa. Her sister Sarah Louisa Cumber, known as Miss Cumber, born in 1820, never married. She trained in photography in London and began her career as a photographer in Guernsey around 1860, operating her studio from her sister's chemist's shop.