The Mystery of the Ostrich-feather Hat
9th March 2015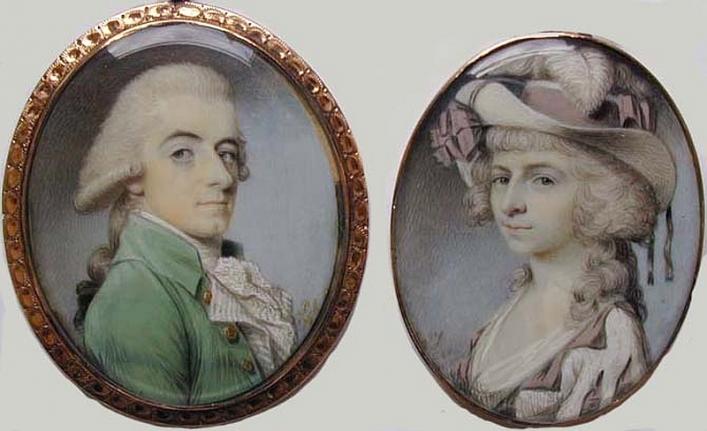 Judy and Brian Harden of Gloucestershire, specialists in portrait miniatures, approached the Library for advice as to the identity of the sitters for a pair of miniatures by the Jersey artist Philip Jean, bearing the date of 1785. While researching these we noticed some striking similarities between them and other local miniatures we were familiar with.
The Library has an extensive collection of historic photographs of portraits of Guernsey subjects, some of whom were painted more than once in their lifetime, so staff were able to compare the likenesses. It was originally suggested to us that the sitter was Thomas Saumarez, a career soldier in the Royal Welsh Fusiliers, but although there is a strong resemblance, after looking at other portraits staff became convinced that the face was in fact that of his brother, the future admiral James Saumarez. The lady is therefore his wife, Martha Le Marchant; they married in 1788. The Library has a collection of photographs of miniatures and other portraits collected by Edith Carey in the 1900s, and sure enough, it includes a very similar minature identified as Marthe Le Marchant. The miniatures in question are dated 1785, but James was in the island at that time, perhaps suffering from depression or some other psychiatric problem; he busied himself with charity work, a lifetime interest of his and one that he pursued vigorously. Martha was his cousin, ten years younger than he was, but they had apparently always been very close and had spent a great deal of time together. Philip Jean made occasional vists to his native islands, and the date of 1785 may coincide with one of those. However, several miniatures of prominent islanders by Jean, including Thomas Saumarez and William Brock, have clear dates of 1786.
Judy and Brian were also selling another contemporary miniature, shown below, a fine portrait of Rachel Dobrée, of Beauregard, who married Lieut-Col. Philip Bainbrigge; he was a captain in the garrison in Guernsey just before the French Revolution, and died in 1799 at the battle of Egmont-op-Zee, in which many Guernseymen took part, including Sir Isaac and Savery Brock. This 1786 portrait is by George Engelheart, but extraordinarily Rachel is wearing exactly the same 'Gainsborough' hat as that worn by Martha in her portrait. Other plausible suggestions included Gaspard Le Marchant and his wife Mary Carey; again there is a likeness in both sitters and again, in the well-known miniature of her (of which at least two versions exist), Mary is wearing the ostrich-feather hat. The same hat appears on the head of Harriet Brock, who was the wife of Thomas Saumarez. If all the young ladies' portraits in miniature are compared, the dresses of the sitters and the overall colours of the paintings are curiously alike, yet the girls' families were all very wealthy and could have easily provided fashionably unique costume for each had they wished.
All these girls were very closely related by marriage and of similar age, and were married within a few years of each other.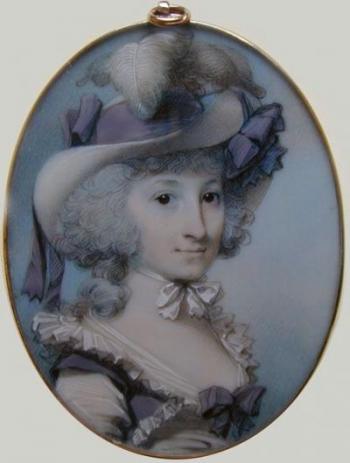 The first to marry was the youngest, Rachel Dobrée, only seventeen years of age, in 1781. Of the circle of girls, Rachel has the finest portrait by the best artist, one of the most fashionable of the time. George Engelheart was a prolific artist who painted all the important members of the court of George III; he painted the King himself 25 times. His miniatures are distinguished by the sitters' particularly sparkling eyes and he was fond of putting his female subjects into very elaborate hats. Rachel moved to London afer she married. The theory of the staff at the Priaulx as to the answer to the Mystery of the Hat was that the other ladies, who were painted by Philip Jean—a respected miniaturist, a Channel Islander then resident in London with many important clients, but no Engelheart—simply wanted to copy lucky Rachel's posh picture featuring the magnificent Engleheart trademark hat. However, as Engleheart kept a feebook of his sitters, we know that Rachel was painted in 1785/86—which may postdate the Philippe Jean miniatures—so, if the miniature of Martha Le MArchant is dated 1785, the chronology appears to work against us.
However, having discovered the existence of yet another Jean portrait miniature of what looks suspiciously like Mary Mourant of Candie (her sister Marthe married Rachel Dobrée's brother, Bonamy, in 1783¹) in exactly the same hat and dress, we investigated the family links between the sitters. Marthe Mourant's daughter, Sophia Dobrée, eventually married Rachel Dobrée's son, her cousin John Hankey Bainbrigge (Marthe had died when her seven children were young); Rachel's nephew Samuel Hankey Dobrée Jnr. married another of her daughters, Anne (d. 1815). (His grandmother Catherine Hankey, née Gale, is the sitter in a well-known portrait of 1740 by Allan Ramsay). Harriet Brock was sister-in-law to two other Mourant sisters (Mary Mourant married Henry Frederick Brock in 1784, and Ann married William Brock (marriage date as yet unknown). Peter Mourant Jnr., their brother, was the husband of Sophy Carey, Mary Carey's sister. The eldest Brock sister Mary, also the Mourant's sister-in-law, married James and Thomas Saumarez' brother, John.
We think, therefore, that the very strong family connection between the Brock, Dobrée, Saumarez, and Carey families led the girls deliberately to copy one another, strange though that may seem. Mary Mourant, for example, seems to have commissioned two versions of herself, one with the hat, the other in black. The sitters perhaps had copies made to give out to family and friends (we know for instance that Rachel Dobrée did just that) and paid a cheaper rate for them, with the face perhaps painted by Jean (who worked mostly in London and was only in Jersey for short periods) and a standard hat, dress, a background perhaps added by an apprentice or assistant, and a simple gold mount rather than the cloisonné and pearls that often framed the originals. The style of hat places the miniatures around 1785; a famous mezzotint of 'Mrs Mills' in a remarkably similar hat, engraved 'after Engleheart' by John Raphael Smith and published in 1786, places that hat firmly in 1785/6. Local historian Gillian Lenfestey suggested that the hat was perhaps part of the 'uniform' of a 'humdrum,' or ladies' club; we know that they were very fashionable at that period. The aristocratic Guernsey ladies were mostly members of the 'Brilliant.' Gentlemen's clubs were a mania, and those men who could afford it wore matching jackets as a mark of their membership.
Does anyone have any other ideas? We would love to hear them.
---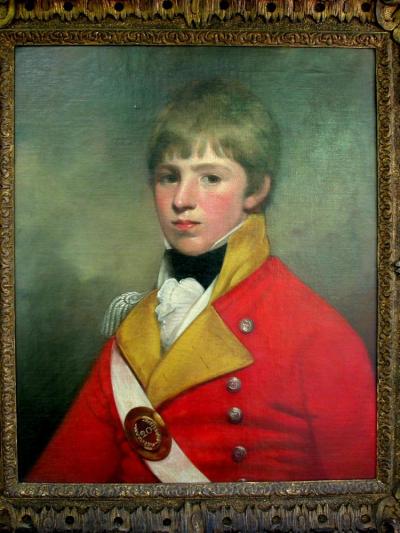 Update: E John Walford, an art historian and descendant of Rachel Dobrée, has very kindly sent us pictures of a lovely oil painting of Rachel, after the miniature, and one of her son, Philip Bainbrigge Junior. Bainbrigge Junior originally served at 13 on James Saumarez' ship, the Caesar, but had to leave owing to ill-health. However, the Duke of York was so impressed with his father's bravery before his death at the Battle of Egmont-op-Zee that he had offered any of the Bainbrigge boys a free commission. Philip Jnr took him up on the offer and went on to become a general; he is one of the Guernsey 'Heroes of the Royal Society,' having applied but failed to be elected. The picture shown here is of him at the age of 13. Rachel's brother Elisha Dobrée mentions the relationship between Rachel and Captain Bainbrigge several times in his diary, kept here at the Library; from this we know that Rachel had her first two children in Guernsey, returning specifically for the occasion, and Elisha mentions dining with them in London. We also have pictures from Dr Walford of miniatures of the Colonel and one of his son as an old man, for which we are very grateful.
---
¹ Caroline Guille Le Marchant, who was related to the Brocks, says in a letter of January, 1798:
Poor Mrs Dobrée died last week, she has left 7 children to mourn her death, though they are very young and very likely not sensible of the loss they make in losing such a friend. It seems that the last words she said were to recommend her children to an old servant who has lived there some time. She said also that 'She did not regret life.' I am not surprised at it; for I believe poor woman she had been very ill these last few years, it seems when she was taken ill she said she should not recover this time, for she did not feel as usual. Mr Mourant is very much affected, as is Mrs M. She has lost all her faculties and is not sensible of it. ....
When Captain Philip Melvill died in 1814, he left his wife, Elizabeth Carey Dobrée, daughter of Peter Dobrée of Beauregard and therefore Rachels's sister, virtually penniless and with seven children to look after.