Nicolas de la Mare, 1806

A letter from Southampton; teenage schoolboy Nicolas (b. 1790) to his father, Maitre John de la Mare in Guernsey. Nicolas attends John Crouch's school in Swaythling (then called Swathling). From the Le Hurel collection of historical family documents relating to the de la Mare family, recently donated to the Library by E Hatton.
Swathling, 25 April 1806.
My dear father, I am writing to let you know that I am in good health, thanks be to God, I intend to remain here to finish my year, since I have already done more than six months, but I wish I had never started these six months here, because the Deputy Master has left for London I hope you got my letter of Easter Monday I could eat double the amount of bread they give you here, and at lunch we get a pathetic amount of meat and potatoes and a tiny piece of bread which is no more than a mouthful my compliments to all my relatives and friends, Nicolas de la Mare.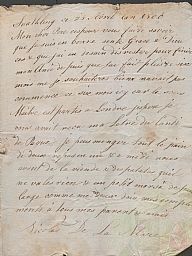 Mon cher Pere ces pour vous faire savoir que je suis en bonne sente Grace a Dieu cest que jai eu desain dis rester pour finir mon Anee de puis que jai fait plus de six mois me je souhaiteres bien navait pas commence ce six mois icy car le sous Maitre est partis a Londre jespere [que] vous avait recu ma Letre du landi de Paques je peus menger tout le pain de deux repas en un & a midi nous avont de la viende & des patates quil ne va les rien & un petit morsé de pain large comme me dens dois mes complements à tous mes parent & amis, Nicolas de la Mare.
Click letter above to see a larger image of the document.
---
Swathling January 12th 1807
Sir, Yours of the 31st December last containing a Note for £16-6 payable in London at 40 Days after sight, came duly to hand, for which I have discharged your account. Hope the improvement your son has made while under my care will merit your future recommendation, which it will be my study ever to endeavour to deserve. Hope this will find you all in good health as it leaves us, wishing you many happy years,
I remain, Sir, Your obedient servant, John Crouch.
Your son's book will be sent by Captain Grut next voyage.
---
There are other similar letters from Nicolas in the collection; please ask for more information. From the same collection: Letter from Marguerite Le Ber, 1843. For John Crouch's school, see Guernsey Newspapers.