November 1824: A Review of the High Street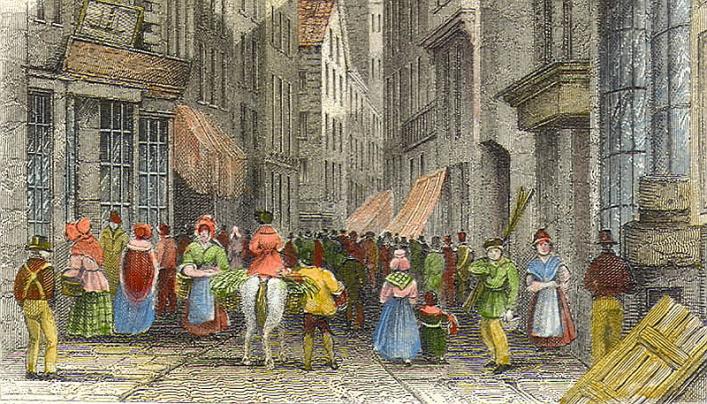 From Dumaresq and Mauger's Monthly Selection for 1825. Part One, by 'Ergo.'
To the Editors of the Monthly Selection
REVIEW OF HIGH-STREET1
LAMBLE, HUTCHINSON, and Co.
Live at the top of High-Street, O!
And deal in Cottons, Woollens, Lace,
Crapes, and India Silks, to grace
Lady or Gent, to whom they show,
They sell on terms extremely low.
GREENSLADE next attracts our view;
And what does Mr. Greenslade do?
With money he the STATES supplies,
For which they grant him Lotteries;
Besides he has an ample store
Of Wines and Groceries—what's more,
They have such ways that I defy
Any to go in, and not to buy.
MARSHALL'S Hotel's across the street,
Where men of different nations meet;
THE SARNIAN CLUB has here its meetings,
And interchange their ev'ning greetings.
The pleasures of a Club are known
To those who meet, and those alone;
Though others oft against it cry,
And after all don't know for why.
The name of Club they say is low,
Nonsense all that, as I shall show,
Call it a Meeting, Party,—name
It what you please, it is the same.
Five Clubs I know there are in Town,
There may be others of renown;
If I have time, both great and small,
I'll write the story of them all;
And dedicate it—you may smile,
UNTO THE LADIES OF THIS ISLE.
But why into digression run?
Now to my subject I return:
The POST is next that comes in sight,
Which seems as if 'twere made to fright
The fair away, whose modest mien
Shows how they wish to pass unseen.
DOVEY's the man to make a puff,
His charges too are low enough;
'Twould seem as if he sought the Post
To entertain the babbling Host.
LE LIEVRE's wines are very good,
Whether in bottle, or in wood;
At least, if they pronounce them so,
I'll pledge my credit it is true.
Boots and shoes are made and sold,
And Leather cut by Mister GOULD.
For handsome Shawls and Scarfs and so,
To Miss LE MOTTEE you may go;
And if you cannot make a choice,
I'll say you are by far too nice.
PETER DESPERQUE, as you will see,
Deals in Sugars, Soaps, and Tea,
Of which he keeps a large supply,
If not at hand, at least, that's nigh.
DAVEY has Drugs enough I'm sure
For all the Town—to kill or cure.
But let us leave such nasty stuff,
And take a pinch of CARTERET's Snuff;
His snuff is good as 'twill be found,
And meant to keep our noses sound;*
That you may doubt, but never mind,
I think myself 'tis very kind.
For snuffing now is quite the go,
In every class from high to low;
I take a pinch myself sometimes,
And like it much in making rhymes.
MOSS and DE GARIS what have you?
Watches, Sir, we warrant true,
That I believe, but what beside?
Trinkets and Plate to please a bride.
Enough, enough, SEBIRE's near,
But strange I think it must appear,
How such professions can agree,
For weddings you, for funerals he.
Messrs Editors, let me know
If you wish to hear me through;
I have a little more to say,
Which I can give some other day;
But first I like to ask permission,
And wait to see if I've admission,
In your Selection, No. five,
Which if you grant, and I'm alive,
I'll take a ramble down the street
And send you word of all I meet.
Nota Bene—It is said
That you are going soon to bed;
In other words, that your career
When your sixth number shall appear,
Will close.—But surely that's a joke,
'Twould be indeed a fatal stroke
To some who think your motives good
And far too little understood;
But most of all, believe it true
To your devoted friend—adieu.
ERGO
Oct 25th 1824
Ergo indeed, 'tis very true
What you have heard we mean to do,
For who would write to read alone,
Unless he had a heart of stone;
We've done our best; we'll do it still
Let others treat us as they will
But after we have bid adieu
We'll think, dear Ergo, still of you.
Nota bene—Finish pray,
All that you have got to say….ED.
Continued in Part 2, December 1824
---
1 Similar recollections of streets and areas of Guernsey can be found in various sources. For example:
'Then and Now: High Street 1878-1928 (2 parts),' in Guernsey Cuttings from the Curtis Collection, Scrapbook, staff collection.
Warren, J. P., 'Guernsey in the Eighteen-Thirties,' Transactions of the Société Guernesiaise, 1939, XIII (3), pp. 268 ff.
Stonebridge, W., 'Trinity Square, and some of the surroundings about 1879,' in The Quarterly Review of the Guernsey Society (Spring 1968) XXIV (1), pp. 13-15; part 2 ibid. (Summer 1968) XXIV (2), pp. 38-41; part 3 (Autumn 1968) XXIV (3), pp. 67-8; for the Handy Shop see The Star of April 13th, 1911.
L'Abbé, Claudine, Mémoires de Guernesey: Guernsey, The Guernsey Press Company, 1966;
Edith Carey's Growth of St Peter Port in the early 19th century, from the MSS of F.C. Lukis, Esq., Société Guernesiaise, 1934; '26 Cornet Street,' by James Marr, QRGS, Spring, 1988.
Coysh, Victor, 'Hauteville Look-out,' The Quarterly Review of the Guernsey Society, Summer (1956) XII (2), pp. 27-29.
Fleure, H. J., 'Memories of Nineteenth-Century Men and Business in St Peter-Port,' The Quarterly Review of the Guernsey Society, XIV (4), Winter 1958, pp. 68 ff.
Marr, James, 'Newtown recollected,' The Review of the Guernsey Society (Winter 1983)
Marr, James, 'La Rue Marguerite etc.,' The Review of the Guernsey Society (Spring 1984)
Mariette-Smith, Jessie, 'The Return', The Review of the Guernsey Society (Winter 1985) (St Jacques, Brock Road)
Hocart, R, 'The building of New Town,' Transactions of the Société Guernesiaise, 1992, XXIII (2), pp. 342 ff.