Ralph Durand
Ralph Durand (1876-45) came from an important Guernsey Huguenot family and was the Librarian at the Priaulx before and during the Second War. He was an explorer and author whose family history, described here, is full of interest, and includes refugees, soldiers, ministers, a provost of Eton, an actor-manager, and politicians.
The Career of a Rolling Stone is the title of an autobiographical article published in the Pall Mall Gazette of 1929 by Ralph Anthony Durand, who was Librarian at the Priaulx Library from 1929 to 1945.
He is often misleadingly referred to as an 'adventurer;' he seems rather to have been an intelligent and humble man of good family, little means, but a great deal of gumption, who was sympathetic and humanitarian, with experience of and special interest in Africa and the welfare of its people, and whose main ambition was to make a living as an author, in which he perhaps succeeded.
Ralph Durand was born in 1876, the son of the Reverend Havilland Durand and his wife, Mary Hawtrey. Durand is a common name in France, and although there have been several Durand/Durant families resident in Guernsey*, Ralph Durand's family were Huguenot refugees of noble origin. More than one unrelated Huguenot family of that name fled France to Britain following the revocation of the Edict of Nantes, the Guernsey Durands coming from Montpellier; they found the road to freedom somewhat rocky, in circumstances typical of the Huguenots of that time.
What we know of Durand family history1 begins with Jean (b. 1620), who was a pastor 'prétendu réformé' at Montpellier, and his wife, Cathérine d'Auriol.2 His son François Guillaume Durand (b. 1649) married Anne de Brueyx, daughter and heiress of the Baron de Fontcouverte, and the family styled themselves thereafter Durand de Fontcouverte. François studied at Geneva and was appointed pastor at Genouillac and Uzès. Following the revocation of the Edict of Nantes in 1685, all Huguenot property in Montpellier was seized and bought from the Crown by one André d'Audipret. Anne and their son Daniel Francois Durand were captured, but François escaped. Anne was perhaps imprisoned in a convent, which was a common fate for Huguenot women; children under seven years old were supposedly allowed to leave the country with their fathers, but five-year-old Daniel François was in effect sent to be 're-educated' in a Catholic household.3
In spite of great danger (as he should have left the country within a fortnight), François went in to hiding to try to see Anne, but was unsuccessful. He fled France and went to Switzerland. Later he raised levies for William III's Huguenot regiments4 while acting as military Chaplain in Westphalia and elsewhere. He was appointed pastor of the Walloon Church at Nijmegen in 1701. The same year [Daniel] François qualified in law at the University of Montpellier and took up a Captain's commission to raise a company for the King, receiving especial mention for his bravery and loyalty to the Royal cause. However, in 1705 he obtained a passport for his wife (who was none other than the daughter of André d'Audipret, the buyer—perhaps saviour—of the Huguenot property in 1685) and their child to travel to Lyons, in which they were styled 'anciens catholiques.' He was, however, a Protestant. Between that date and 1722 he finally seems to have rejoined his father and practised law in Leiden, though nothing more is to be heard of his mother.
Daniel's daughter Grace married Rev. J Daniel de Loches, who bore the same name as one of the regiments to which her grandfather had been attached. Another daughter died unmarried and left property on the Rhine to her younger brother, François Guillaume Essaie Durand. It is with this man that the family makes its first connection to Guernsey, although there is correspondence between his grandfather and Edward d'Auvergne of Jersey (Chaplain to William III's Scots Guards) discussing a removal to England which never took place.
F G E Durand was born at Nijmegen in 1714. He married Marthe Marie Goutelles in 1742; he had been admitted to the Church at Breda and the next year sailed to England to become Pastor to the Dutch Church at Norwich. He then became Minister to the French Church at Canterbury. He was also given the living of the combined parishes of St Sampson and the Vale in Guernsey, but installed a curate and remained at Canterbury, where he died in 1789. His son Daniel François Durand was one of his curates for a short time; he went on to become Dean of St Peter Port in 1795.
After a stint as an army chaplain and six years as a curate, Daniel François left Guernsey and took up a post as tutor to a young gentleman on the Grand Tour. He visited his relations in the South of France, where he was invited to become a naturalized Frenchman, join the Roman Catholic Church and become Baron de Fontcouverte. The Library has a letter of 1818, which though unsigned and addressed Dear Sir, may well have been written by him and from which his reaction to these overtures can perhaps be judged.
... the Chevalier died the day before I left Montpellier exactly on the very day week I had had the scene with the Priest which I gave you the substance of in my last letter. I had not seen him since nor have I been able to obtain any account of the manner in which he died as my brother arrived a few days after my last visit ... there is not much room to hope that he died in Christ as he certainly gave me sufficient evidence though Lipynol(?) agrees with me in thinking that he began to feel the influence of the Gospel, and would perhaps have been happy if this untimely affair with the priest had not taken place ... But enough of this disagreeable affair which really has taught what Catholics are and that all grace is from God ...
The Dean married Ann de Jersey, daughter of Richard de Jersey and Magdelaine Sauvère. He was Principal of Elizabeth College from 1780-1794 and was still in office as Dean when he died aged 86. He had several children, amongst whom was Havilland Durand (1799-1843), Rector of Câtel Church. He married Maria Caroline (d. 1894), daughter of Peter Maingay and Margaret Coutart. Their son Havilland was Ralph Durand's father and Ralph is buried in the Maingay family vault.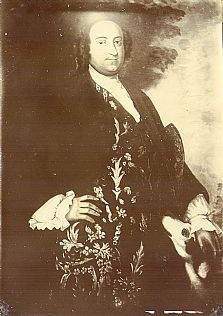 Ralph, however, had even stronger connections with Guernsey than did his Durand forebears. His mother, Mary Hawtrey, was the daughter of the Reverend Montague Hawtrey of Berkshire and Louisa Dobrée. Louisa was descended from several important and wealthy Guernsey familes, including Carey, De Beauvoir, Le Marchant, and De Lisle; the niece of Admiral James Saumarez, she was the direct descendant of Nicholas Dobrée (1705-47: pictured above) on both her mother's side by his first wife, Elisabeth Le Marchant, and on her father's side by his second wife, Martha de Lisle. Ralph's great-aunt, Louisa Charlotte Durand, had married as her second husband Jean de Saumarez Dobrée, his grandmother Louisa's cousin. Marriage between cousins of varying degrees was still common, and the social pool relatively (and deliberately) small.
The Priaulx Library has a copy of a very affecting diary kept by Louisa of the year 1839, when she was 19 years old, in which she describes meeting her future husband. She had an active social life which she describes in a lively and surprisingly modern manner; many of her young friends were people who went on to play an important part in the history of Guernsey at that period, and they are brought tantalisingly to life in her pages. Despite an obvious fancy for the Governor's son, she decides in the end, after much agonizing, to marry the intense, older (and rather High Church) Montague, who was in the island with his father, also a minister, and his several siblings.
Montague Hawtrey was given the position of curate to St James in 1839; the church was built under the auspices of Admiral James Saumarez, to serve the growing English-speaking population of the island (many of whom had a military background); all other island church services were conducted in French. Montague's father, the Reverend John Hawtrey, had bought land in Wellington and Montague later became an influential policy advisor on New Zealand to the Colonial Office, with special interest in the welfare of the Maori, passing on his humanitarian ideas to his grandson Ralph. In addition to Louisa Dobrée's diaries, the Library has copies of letters written by her cousins, Martha, Anne, Harriet, and Mary, daughter of Isaac Dobrée and Anne de Saumarez, which cover the same period. They shared the same social circle, and comment on the same matters. On 3 April 1839, Julia Routh writes:
That lucky Mr Hawtrey has all his four sons here for the last fortnight, such pets! I am so sorry they are going next week, the two eldest are clergymen and have preached alternately with him since they arrived, it is quite interesting. I wish you could hear Montague the eldest, fancy, we very nearly preferred him to Dr Jennings; he has nothing to recommend him in his outward appearance or delivery for he is very ugly and painfully shy, so they say, but when he begins!!
In 1841 Louisa writes from Rimpton (near Sherborne) to Gother Mann: 'I wish I could see you and show you my baby [Ralph de Beauvoir], he is such a beautiful child. We have no society except a few homely uninteresting clergymen's wives. However we continue very happy at home and I do not regret the gay parties at the [Assembly] Rooms!' Louisa went on to write children's books, one about the siege of Castle Cornet in the Civil War, another about a famous member of the Hawtrey family, Lady Mary Bankes, and the siege of Corfe Castle in Dorset; she had twelve children, one of whom was Ralph's mother.
The Hawtreys were of Norman origin; their name was de Haute-rive, and they held the manor of Hawtrey in Buckinghamshire; they were the original builders of Chequers. The family was of significance in the Tudor period. Later they formed a very strong connection with Eton school; the Reverend John Hawtrey, who was Montague's great-grandfather, had been a Fellow at the school; he was also grandfather to Edward Craven Hawtrey, one of the most well-known Headmasters and Provost; Montague's uncle and brother Stephen (who wrote on education) were masters there. The family maintained their tradition of providing schooling for many years, setting up several free and private schools.
Ralph was born in the rectory at Earley, near Reading, one of seven children. His father Havilland appears to have been as enterprising as his son, for at the age of seventeen he left Guernsey to become a coffee planter in Ceylon; ten years later he went up to Exeter College, Oxford, obtaining his MA in 1871, when he married Mary Hawtrey. Two of Ralph's sisters married back into the Hawtrey family, with the result that Ralph became brother-in-law of the famous comic actor-manager Sir Charles Hawtrey.
Ralph married Violet Picton-Warlow in 1904 at her family home, Ewenny Priory in Glamorgan. Her father was Colonel John Picton-Warlow, who had inherited the estate in 1867 and had changed his name at that juncture to Picton-Turberville (the Turberville family had held the manor earlier). According to the 1901 census she was born about 1873 in the East Indies; her brother is given on the 1901 census as a tea planter in Ceylon, so perhaps the original link between Ralph, whose father was out in Ceylon, and Violet, lies there. Her brother was a grower in Guernsey (see Walton, L., Wilfred Picton-Warlow.) Her father was three times married; her mother, whom he married in 1866 in the East Indies, was Eleanor Temple, a descendant of Sir Richard Grenville; she was daughter of Lieut.-Col. Sir Grenville Temple of Stowe, 10th Bart (b. 1799) and Mary Baring, (1799-1847). Eleanor died in 1887, having had 10 children, including three sets of twins; the Colonel's third wife, Caroline, also went on to have several children.
Three years younger than Violet, her sister, Edith Picton-Turberville, became one of the first female MPs, representing the Wrekin. The children seem to have been brought up by an aunt as their parents were out in the East Indies, and although the family is said to have been conservative, their mother Eleanor was an Evangelical Christian and Edith became a radical Labour activist with a missionary zeal. She made an important contribution to the advancement of women's rights and like the Durands had a humanitarian interest in the welfare of indigenous peoples in the British Colonies, writing influential reports, including the prevention of the execution of pregnant women. Neither Edith nor her twin sister, Beatrice, married. [See The Star of May 1, 1939.] Beatrice was also an active philanthropist with her sister. She became the Governor of the Barnardo's Girl's Village Home at Barkingside.
Violet and Ralph had no children. Ralph stayed in Guernsey during the war (just avoiding deportation, as he had been born in the UK), but, exhausted by the privations he had suffered, he died in 1945 before seeing the publication of his valuable account of the war years, Guernsey under German rule, which he wrote as official historian of the Occupation. His wife survived him.
*Mount Durand in St Peter Port is not named for this family; it was already referred to as Le Bordage or Bordier Durant in the mediaeval Patent Rolls.
---
1 Much of this information has been taken from a Durand family tree by Marie-Louise Luxemburg, a copy of which is held in the Priaulx Library. Other sources include 'History of a Huguenot Family,' from the Guernsey Magazine, May and June 1873, and Agnew, David. C. A., Protestant exiles from France in the reign of Louis XIV: or the Huguenot refugees and their descendants in Great Britain and Ireland, London, Reeves and Turner, 1874, (also available); Winterflood, H., Guernsey Press 15/09/07, pp. 20-1 covers the history in more detail. Portraits of the Durand ministers have recently been gifted to the Candie Museum by Nicholas Drake, who has also donated important family papers to the Island Archives. Please contact the Library should you require further information.
2 'Beaucoup d'Auriol languedociens furent protestants.' 'Peter Auriol was a refugee from Lower Languedoc, who rose to eminence as a London merchant. The Archbishop of York, the Hon. and Most Rev. R. N. Drummond, married his daughter and heiress, Henrietta, and afterwards succeeded to the peerage of Strathallan. The refugee's daughter thus became Countess of Strathallan. The present head of the family is the Earl of Kinnoul, who continues to bear the name of Auriol. The Rev. Edward Auriol is rector of St. Dunstan's-in-the-West, London.'
3 His younger brother David seems to have avoided the same fate; having studied in Basle, he went on to become Pastor of the famous French Church of the Savoy in London; an author and translator, he became a Member of the Royal Society in 1728.
Other items of interest:
Hawtrey, Montague: An Earnest Address to New Zealand Colonists, with reference to their intercourse with the native inhabitants, London, J. W. Parker, 1840