Servants in Silks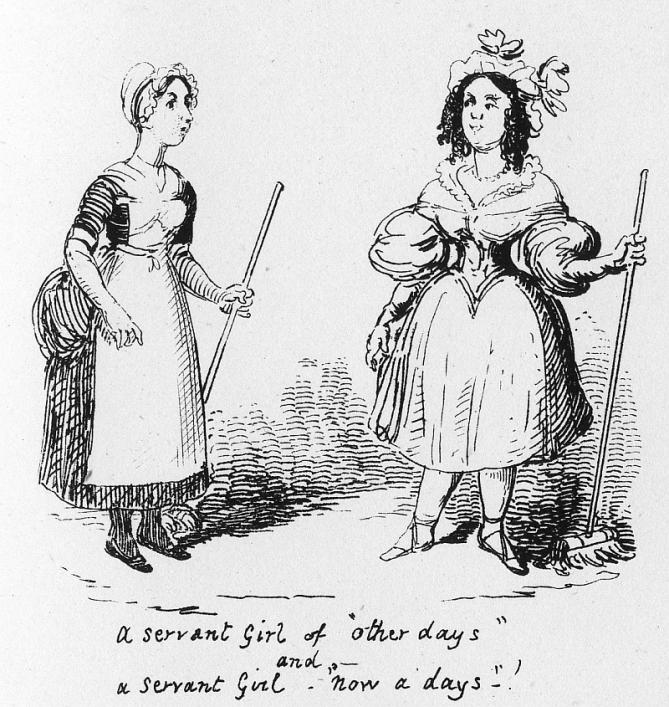 From The Sarnian Monthly Magazine, July, 1815. The illustration is from My Sketch Book, part of the Library's extensive collection of works illustrated by George Cruikshank, which can be viewed on request.
To the Editor
SIR
Although an utter stranger in this island, yet I venture to draw your attention, and that of your readers, to a subject, which appears to me to be pregnant with baneful consequences. The inordinate desire, the female servants appear to have for finery, surpasses everything I have before witnessed. Hardly do I dare to walk a yard, but I meet a greasy-fisted, red-elbowed wench, tricked out in her silks, her point, or mechlin lace, with a straw bonnet of the newest fashion, ornamented with rows of artificial flowers. A servant maid should not have anything artificial about her.
For if she use artifice in one instance she will in another. Is it not ridiculous to see a female, who has been the whole day scrubbing pots and pans, scouring and sweeping rooms, decked out in silks, which are only fit to cover the most delicate forms? Independent of the injury, that shewy dressing has upon the morals of servant maids, it tends to make them raise their wages, and thus their masters and mistresses are compelled to feed the luxury of their menials.
If a female servant have board and lodging found her, with a certain sum to keep her in clothes, with perhaps a little surplus to lay by, it is as much as she has a right to expect. Her apparel ought to be decent, not rich. A moderate sum, therefore, will suffice for that purpose, but when the stuff or cotton gown yields to the silk one, trimmed with lace, and a pair of strong-soled shoes, suitable to her station in life, to a dashing pair of half boots to sport at the Rohais;1 no wonder the wages are raised to support this extravagant propensity. I am a friend to liberty, yet I am a friend to social order. The master and mistress of a house, are responsible for the conduct of their servants. And I contend, that they have as much right to regulate the propriety of their dress, as their morality. It requires but firmness, and in six weeks there would not be a silken clad cook wench in St Peter-Port. If, for instance, a female servant were to swear, lie, get drunk, or rob, or have recourse to less justifiable means, to supply herself with finery, would she not be turned out of her place? Certainly she would. Why then is she kept in a family, when she dresses himself gaudily and improperly? If she were to be indecently clad would she not be reprimanded for the first offence, and in case of her persevering in error, would she not be turned out of doors? This is beyond a doubt. If then, the master or mistress have an indubitable right to exercise a degree of power over their servants as to their dressing improperly in one respect, is it to be supposed that it does not extend in parallel cases? The legislature of this island, to exclude servants from the use of silks, etc., passed the following act in the year 1574,
It is ordained that hereafter, and subsequent to Christmas Day next ensuing, no female servant shall take it upon herself to wear, as part of her dress, any velvet, silk, gold, or silver as ornaments, broaches, pins, or clasps, (and moreover no kerchiefs on the shoulders,) excepting ribbons, girdles, and bands of silk to bind their dress, and this on the penalty of five sous sterling, one half whereof to Her Majesty the Queen, and the other half to the informer.
It however appears that a further act was passed in the year 1575, to this effect,
It is ordained, that such persons as live in lodgings, and likewise the possessors of houses or lands, unless their net income amount to two quarters of wheat rent, shall be considered as coming within the meaning of the preceding ordinance.
Notwithstanding the above acts, the legislature found it expedient fifty-six years later to pass a stronger law, for the purpose, no doubt, of more effectually suppressing the growing evil I now complain of.
In the year 1631, the act I speak of took place, which runs thus:
Seeing the great superfluity, which is remarkable among female servants and chambermaids, in this island, in their dress and toilette trappings, by their using ornaments of silk, fine lace, and needlework, and that the said excess seems to have attained to such an intolerable pitch, these causes and other weighty reasons, have induced the legislature to check the said abuses. It is this day by the authority aforesaid prohibited, and forbidden to all sorts of female servants and chambermaids, hereafter to wear on their dress any ornament of silk or lace, of what kind so ever, or to wear any double frills round their necks, or to be seen wearing them after the publication of the present ordinance under the penalty of one hundred sous tournois, half to the King, half to the informer; to be levied on the delinquents, who may have it in their power to pay the said fine: those who are unable to pay it, to receive corporal punishment at the discretion of the Court. And by the same, all masters and mistresses are hereby charged not to suffer or permit their servants to infringe this present ordinance, under penalty if paying the said fine.
Here then is the law of the land, relating to the very question under discussion. In plain and unequivocal language, it says, that masters and mistresses are liable to a fine of one hundred sous tournois, if they permit their female servants to wear silks, etc. Is not this making them responsible for the conduct of their servants? Let it not be then conceived that it is at all an arbitrary act for a master to interfere in the dress of a female servant.
If a male servant agrees to find his own clothes, as a favour from his master, and he should happen to be a slovenly fellow, he is immediately told, that if he be not more careful of himself he will be placed in livery. Is not this a strong case in point? For how comes it that a manservant is to be held more in subjection than a female one?
I now beg leave to recommend to all the families of this island, to read the above acts of the legislature to their servants, and at the same time to give them to understand that they are still in force. And if they would form the resolution of setting their faces against this sad prevailing custom, it would be the means of shortly excluding numbers from taking an active part in the popular farce of 'High life below stairs,' and thus casting a satire on the upper circles.
I am, Sir, Your Humble Servant, PEREGRINUS.
Guernsey, 20th June, 1815.
---
1 Dances were held at public houses in the Rohais.