Some Perchard memorial inscriptions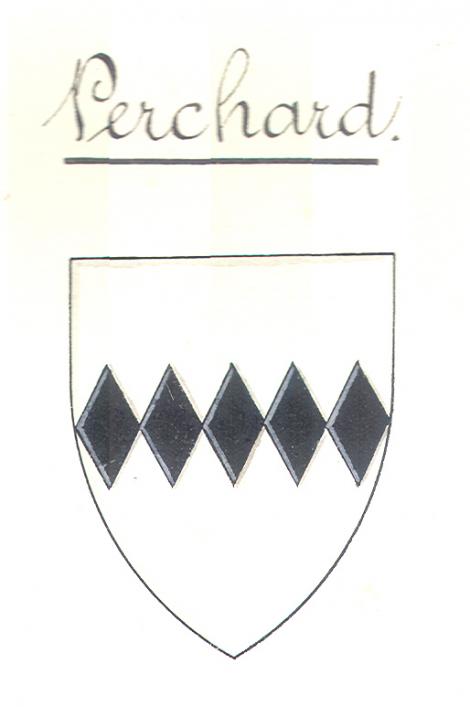 Interesting memorial inscriptions from the Library's Perchard family files.
See also: Dobrée, Le Mesurier, Perchard
---
David Kreckeler's 2008 book1 listing the inscriptions extant in the Brother's cemetery includes some to the Perchard family. Back in the 1870s, however, Guernseywoman Charlotte McCrea had researched this family because, as a relative, she felt she might have an interest in an undisclosed sum that Peter Perchard, the Lord Mayor of London, had left to his heirs on his death, the existence of which had only recently come to light. Charlotte kept a notebook2 of her correspondence on the matter, later annotated with genealogical information by another hand, which include letters between her and her uncle, William Le Mesurier, and between her and the solicitors dealing with the inheritance. In passing she wrote out certain inscriptions she found on tombstones relating to the Perchards, which do not seem to have been recorded elsewhere and are now lost.
From tombstone Town Church burying Ground [Cimitière des Soeurs], January 18th 1873:
Icy repose en attendante le jour glorieux de la resurrection Bien heureuse le corps de Mons. Daniel Perchard fidèle ministre du St Evangile lequel mourut au seigneur le premier jour du mois de Janvier Anno Domini 1685 age de 68 ans 3 mois - jours. [She adds a note that the Town Church registers show he was buried on the 3rd January.]
Ici repose le corps de Mme(?) Etienne(?) femme de Mons. Daniel Perchard. 1724, agé 75 ans.
Ici repose le corps de Susan Vaudin femme de Jean Perchard décédée Decembre 1727 age 59 ans et 9 mois.
Inscription on a mourning ring belonging to Mrs Carteret Carey:
Matthew Perchard died 13th August 1779 at 75.
From tomb in Church yard (Rue des Frères):
Sous ce Tombeau repose le corps de Jean Pe--h--- Décédé au Seigneur le 3 [?] Age de 59 Ans 11 mois.
From tombstone Town-Church Burying Ground:
Mons. Pierre Perchard fils de Mons. Jean Perchard décédé au Seigneur le 17th Feb. 1740 age 37 ans 1 mois 10 jours.
Comme aussi un enfant du sus-dit. Agé de 3 mois 12 jours.
MEMO.
The tomb stone inscription of James Perchard and Anne Palot are quite legible in Town Church cemetery near the Market [C. des Soeurs]. The stone lies flat. The date of Anne's death is stated to be 27/3/1765 at 79. James ob. 1744 at 62 and 5 months.

Jean Perchard is said to have been baptised 1/5/1582 and to have died 12/5/1653. The monument at St Peter's Church gives the date of his death but adds age de 72 ans. This could not be if he was born 1/5/1582; he could only have been 71 and 7 days.
---
1 Kreckeler, David W., The Brothers burial ground 1719-1948, Rue des Frères St Peter Port, Guernsey; transcribed and researched by David Kreckeler; foreword by Don le Tissier: Guernsey: Family History Section La Société Guernesiaise, 2008.
2 In the family files in the Library: contact a Librarian for further information.