Sunny Guernsey, 1948
16th September 2020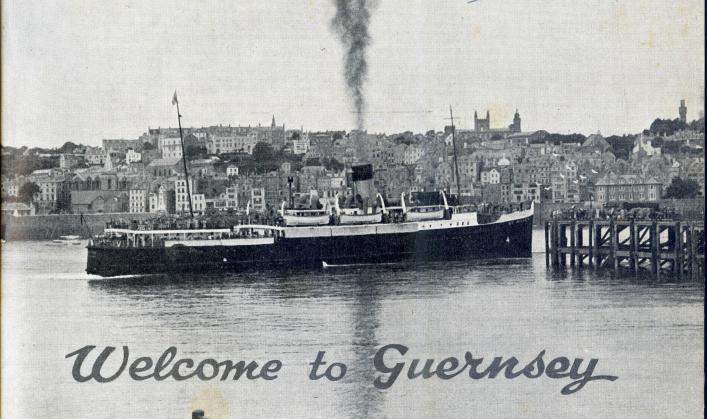 A newspaper report with travel statistics from September 1948: 'Air Travel Soars'. Photograph of ferry entering St Peter Port Harbour, from the 1952 Tourist Committee Brochure, Guernsey, Channel Isles: 'The Sunshine Isle'
Not only has Guernsey exported a record crop of nearly 7½ million twelve-pound chips of tomatoes to the UK in 1948; but tourist traffic has exceeded all previous years with three months till to go.
For the first nine months, Statistics Officer (Mr C Hamon) reveals, the actual increase in the number of people who came to the island direct from the UK shows a jump of 8.3 per cent over 1947. A total of 73,374 people arrived between January 1 and September 30— an increase of 5,627 over those in the same period last year.
Sea travel remains steady. There is little difference between the figures for the first nine months of 1947 and of 1948, which brought only 153 more people.
Most amazing fact, however, is that 'plane travel—by British European Airways and the charter companies—shows a total increase of 79 per cent over last year. The figure in 1947 was 6,923, and in 1948 it was 12,397, making a growth of 5,474 people.
Busiest months
Summary of traffic from the UK to Guernsey alone—and not including travellers from Guernsey to England, within the Bailiwick, or to Jersey, is:
1947 1948 Increase
Sea 60,824 60,977 153
Air 6,923 12,397 5,474
..
Totals 67,747 73.374 5,627
Excursions during the same period brought to Guernsey:
7,650 from Weymouth
920 from Torquay
125 from Southampton via Cherbourg
42 from Carteret (France)
..
Total: 8,737
Busiest months of the season, naturally, were August and September. In August, 18,505 came by sea and air, against 17,405 in 1947, while September showed 10, 344 arrivals—56 fewer than a year ago.
During August there were 5,770 excursionists (4850 from Weymouth and 920 fromTorquay) and in September 1,900 from Weymouth.
Air travel jumps
All-embracing statistics of travel by sea and air between guernsey, Jersey, Weymouth, Southampton, Croydon, Northolt, Alderney and Elsewhere for the first nine months of 1947 and 1948 show substantial increases in traffic in both directions during the present year.
By sea and air the inward flow was 114,785 people (1947 figure was 102,211); and the outward, 115, 685 (against 101,333 in 1947).
These figures include the tremendous increase in air travel – higher than the previous year by as much as 79 per cent!
Detailed summary of travel in and out of Guernsey during the first nine months of 1948 provides this interesting comparison:
Sea Inwards
United Kingdom 60,824
Jersey 21.739
Air
United Kingdom 6,611
Jersey 11,424
Alderney 1,301
Continent 312
Totals 102,211
Sea travel from England fluctuates little—being governed by the number of boats—but a notable increase was recorded in traffic with Jersey, which is attributed to the fact that people took the fullest advantage of the summer services. Generally, travellers from Jersey came up in the early morning and returned in the evening by the daylight steamer.
Excursionists
On top of this the figures were swollen by the popularity of the Saturday night boat to England. People from Guernsey were able to go to Jersey in the morning and return by the same vessel at the end of a long day out.
During the holiday season Guernsey welcomed no fewer than 13,883 sea-travelling excursionists, which included (in addition to those mentioned earlier) 5,900 from Jersey and 146 from Alderney.
While British European Airways' traffic – encouraged by the 21-seater Dakotas which were only taken off earlier this week – shows a substantial increase, other figures illustrate the step-up in business achieved by the charter companies.
These companies have flown holidaymakers to Geurnsey from as widely distant places as Gatwick, Liverpool, Whitchurch, Lympne, Cardiff, Bovingdon, Southend, |Exeter, Ringway (all in the UK), Dinard, Cherbourg, Caen, Brussels, Morlaix, Paris, Deauville, Le Bourget, Lyons and Antwerp.
As usual, the Railways' staff had a strenuous time at the Jetty, but more than ever before, a tremendous amount of hard work devolved upon the Airport Commandant and his staff, besides the BEA personnel, in handling nearly 80 per cent more people.
Credit, too, is due to the many pilots, who transported these thousands of travellers across the Channel without a single serious mishap.
More room
Curiously enough, as a footnote to all the figures, Guernsey hotel and boarding-house owners, as a whole, do not report a record season, though many agree that it was a good one (with food as the main and persistent problem).
Reasons for this, advanced to me by people in the trade were 1. Visitors had more hotels at their disposal than in 1947 and therefore were not so cramped; 2. Some hundreds of holidaymakers stayed with friends.
Nevertheless, the record holiday (and tomato exports) year reflects credit on the Tourist Committee, hotels and boarding houses railways and shipping companies, and all concerned in the second primary industry of popularising 'Sunny Guernsey' as a resort.