Victor Hugo and Guernsey: Le Gouffre
25th September 2017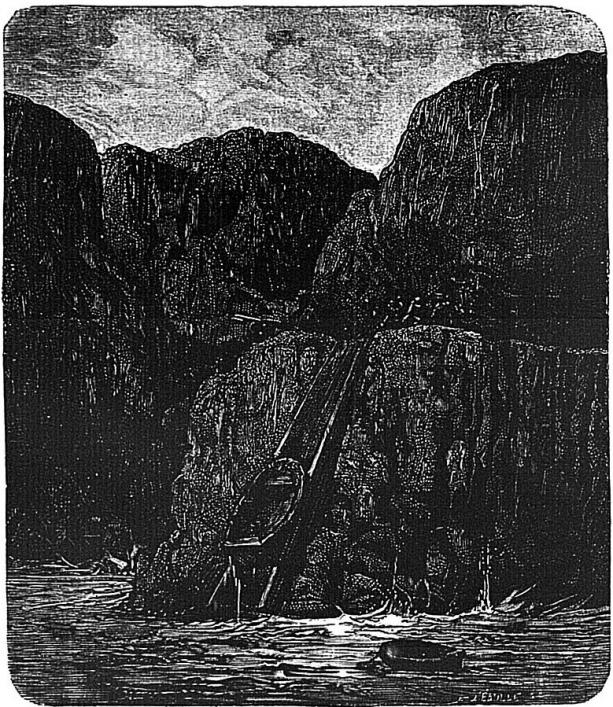 One of Victor Hugo's favourite places to visit. Although with its rocky landscape combined with wild flowers and grassy swards, it is one of the places in Guernsey that would probably most appeal to the Romantic sensibility, one can't help speculating that the name of the place, 'Le Gouffre,' 'The Abyss,' went some way towards Hugo's partiality: it was one of his favourite words, found many times in his poetry and prose. Part of the Victor Hugo and Guernsey project. The illustration, by François Chifflart, is 'Le port au quatrième étage,' a nickname coined by Hugo and not otherwise used, from the 1869 edition of Les Travailleurs de la mer. The tiny figures of the fishermen and their families hauling up the boat can just be made out. [By Dinah Bott]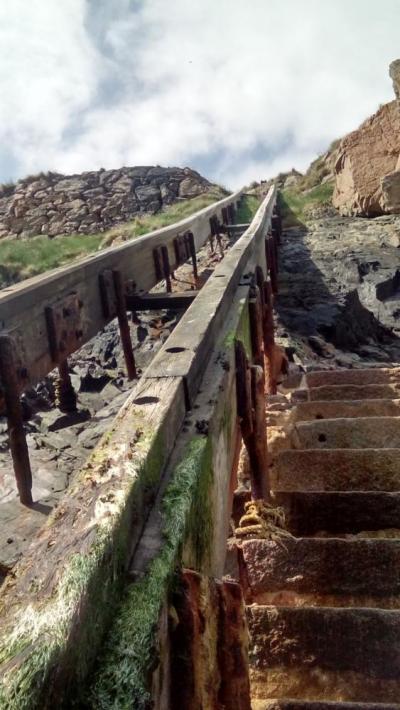 Le port au quatrième étage
A favourite spot of the Hugo family, this is certainly La Moye at the Gouffre. The illustrator Chifflart spent a few days with Hugo in Guernsey before he composed his illustrations for Les Travailleurs de la mer. The photograph above shows the tracks at La Moye as they are today.
On one of the highest of these cliffs, Victor Hugo discovered, while out walking, a group of fishermen living quite comfortably with their families. The women and children looked after the cottages while the men were at sea. Every evening the catch and their equipment would be hoisted up to the top of the cliffs with a winch and ropes, worked by the all the members of the community who would gather as soon as the signal was received from the man on watch that the boats were returning home.

This was a true instance of common purpose and brotherhood …

The communal efforts of these good people put their boats into shelter and away from the fury of the waves, which would otherwise have smashed them to pieces on the jagged reefs that lay all around.

Victor Hugo gave this fishermen's hamlet the name of le port au quatrième étage.
[Paul Chenay, Victor Hugo à Guernesey, Paris: Félix Juven, 1902.]
---
The Gouffre Hotel
The Gouffre Hotel, situated in the Basses Vallées, was built by fisherman Thomas Bourgaise between 1857 and 1861, on land acquired from Jean Le Couteur. Thomas had married farmer's daughter, Rachel Le Lacheur, in 1855; she was to keep the Hotel until the 1880's, when it was sold to Randall's. The hotel was enlarged by the new owners, who had employed Mr and Mrs F De La Rue as managers. A farm attached to the premises supplied food for the guests. The romantic scenery of the Gouffre itself, 'a narrow gully between lofty precipices, where a little rill falls in a tiny cascade over the cliff into the sea,' became a tourist attraction soon after the hotel was built, and was especially appreciated by Victor Hugo, who would stop his carriage tours there to picnic and to take lunch in the hotel.