Victor Hugo and Guernsey: Paul Stapfer
16th June 2017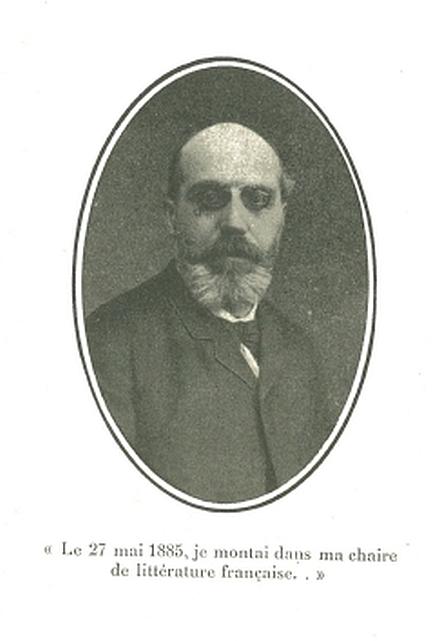 The Parisian Paul Stapfer was born in 1840 and graduated in Classics in 1860. In 1866 he joined the staff at Elizabeth College, Guernsey, to teach French. He calculated that this employment would give him time to work on his doctorate in English literature, and that he could thus both improve his English and observe the doings of Victor Hugo. He was the author of a significant book of memoirs of Victor Hugo, Victor Hugo à Guernesey: souvenirs personnels. This is part of the Victor Hugo and Guernsey project.
Anarchy ruled at Elizabeth College then, but a friendly anarchy, that of the golden age. A simple curtain separated the classrooms, and the noise from one class would join the noise from the one next door; it was lively chaos and confusion. The pupils' favourite sport was to bring live crabs into school, hidden in their school bags; chasing them round proved a pleasurable diversion from their studies.
The boys, however, improved in their manners with age, and he encouraged his pupils to take an interest in Victor Hugo, especially in his plays. He found teaching rather boring, and began to give private lectures in English literature for women, which he published in Guernsey in 1869 as Causeries Guernesiaises. His comments, however, concerning the stratification of Guernsey society caused him a good deal of trouble.
The photograph below is of Stapfer's students from Elizabeth College.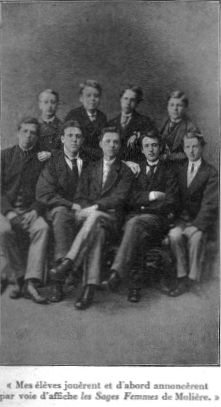 Stapfer took rooms in upper Hauteville and began to frequent the literary circle of Guernsey; George Métivier, Hennett de Kesler, and especially Arsène Garnier, who gave him photographs of all the pretty girls of Stapfer's acquaintance who had sat for him in his studio, as well as sixteen different photographs of Victor Hugo to go with the two or three the great man had presented to Stapfer in person. Stapfer knew several people in Guernsey who were 'extraordinarily distinguished' in their intellect and learning, in particular several women; but, he lamented, 'there was no general circulation of ideas,' no casual gatherings of friends in private homes, no easy visits of friends and acquaintances.
Stapfer was received by Hugo at Hauteville House on numerous occasions. He was amazed at how little attention the people of Guernsey paid to the great poet. He singles out, however, Miss Carey, the daughter of the Bailiff, Sir Stafford Carey, as Hugo's greatest fan, who was above the narrow-mindedness of many her fellow islanders.
She personified the spirit of liberty, of revolution, of progress, as opposed to the old conservatism of society, routine and limited. She understood that the true glory of Guernsey would in the future be that it had had Victor Hugo, and it was thanks to her initiative that some of the island's élite occasionally attended Hugo's dinners for the poor children, and that the performance of his drama Hernani did not play to an empty house.
Stapfer spent three years in Guernsey. Just before he left he gave a lecture, entitled Excelsior, in which he excoriated the people of Guernsey for their class snobbery, their lack of intellectual curiosity, and their neglect of Hugo.
You have the honour to have amongst you incontestably the greatest man of letters in Europe, and yet you let him live in the solitude of deep oblivion, as if in a sort of second exile, indifferent to his presence, indifferent to his absence, and without seeming to appreciate that in centuries to come the name of Victor Hugo will wreathe Guernsey in its glory.
Stapfer wrote several articles about Guernsey and in 1905 published his book of memoirs, Victor Hugo à Guernesey: souvenirs personnels. He became a professor of literature at Bordeaux in 1883, and eventually the Dean of the Faculty of Letters, writing and editing articles and books on European literature. He died in 1917.
In the great Hugo sale of 2012 at Christie's, Hugo's own copy of one of Stapfer's books was for sale. The Christie's entry for the lot reads: 'STAPFER, P. Les Artistes, juges et parties. Paris: Sandoz et Fischbacher, 1872. In-8. (Rousseurs.) Broché (manques à la couverture, dos fendu). Victor Hugo fait l'objet de la deuxième 'causerie' de cet ouvrage. Seule cette partie est coupée. Il a noté, au verso du titre, sa critique datée 9 avril 1872: Ce livre est d'un malhonnête homme. Il me fait dire ce que je n'ai pas dit et faire ce que je n'ai pas fait... [Victor Hugo was the subject of the second 'talk' in this book. He noted, on the back of the title page: 'The author of this book is dishonest. He has made me say things I didn't say and do things I didn't do.'] [DAB]