Victor Hugo and Guernsey: Thomas Guille
4th April 2019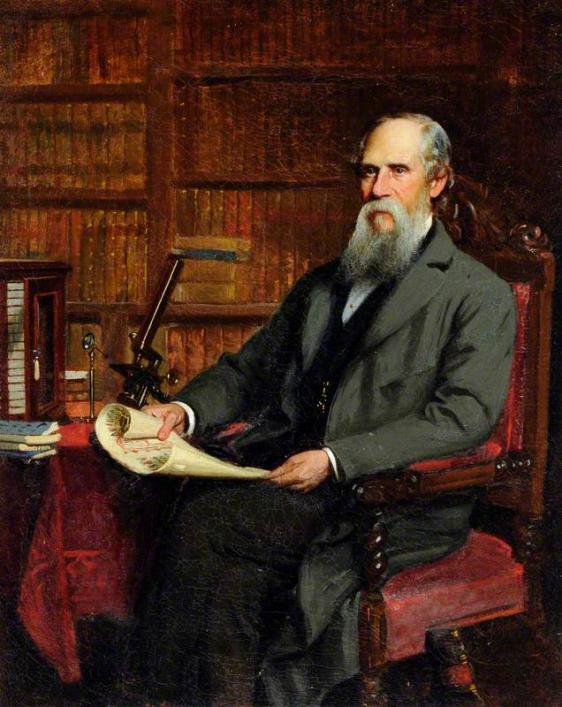 A philanthropist and island patriot, whose career, along with his childhood friend Frederick Mansell Allès, is 'an illustration of the power of faith, hard work, and perseverance' [Henri Boland, 1904.] The portrait is attributed to Frank Brookes and is in the collection of the Guernsey Museums and Art Galleries.
Thomas Guille (1817-1896) was the son of a farmer from the Forest. At the age of fourteen he was training to be a carpenter when he met a family friend, Daniel Mauger, just back from America, where he was making a good living as a painter and decorator. Guille returned with him to the United States and became his apprentice. Mauger encouraged his thirst for learning, enrolling him in the New York branch of the library of the General Society of Mechanics and Tradesmen, which had a section specifically for apprentices. Guille was inspired by this to one day bring such a library to his native island.
In 1834 he was joined in New York by his old friend Frederick Allès, two years his junior. For twenty years they worked together, becoming first employees and then partners of Daniel Mauger. Upon his retirement they took over the business, at a time when the economy in America was booming.
In 1851, on a short visit to Guernsey, Guille wrote a series of articles in the Gazette proposing the foundation in Guernsey of parish libraries, and these caught the attention of the Farmer's Club. He became an honorary member of that society, whose members included George Métivier and Henri Marquand. In 1855 he returned to Guernsey and committee was formed to progress his ideas, consisting of Pierre Roussel, a passionate defender of Guernsey's heritage and the French language, Jurat Clugas, advocate Le Ber, and Marquand. They accepted Guille's offer of his book collection and funds to back the project, and the Guille Library was opened in 1856 as a circulating library. This proved unsuccessful, and in 1867 the library was brought together in St Peter Port under the auspices of the Société Guernesiaise. Unfortunately, the members of the Société rejected the English language completely. Guille tried in vain to persuade them to make the library and reading-room bilingual. This stubborn attitude towards English eventually led to the Société's demise (it was later re-founded).
By 1881 the Guille Library was in decline, and Guille's old friend Frederick Allès stepped in to help; it was at this point that they bought the former Assembly Rooms for conversion. The library became the Guille-Allès Library. The two lifelong friends dedicated their achievement to their parents. The library contained books and newspapers in both French and English, and later had attached to it the Artisans' Institute, dedicated to the education of the working man. None of these undertakings met with much enthusiasm from the population of Guernsey; it was not until 1981, when the service became free to all, that the Guille-Allès Library came into its own.
Later in life Guille suffered a tragedy; his beloved wife was out walking on the cliffs when a gust of wind caused her suddenly to lose her footing, leading to her death.
The Priaulx Library has a miniature copy of Les Châtiments clandestinely published in 1853, its small size designed to be smuggled into France (this can be seen on request), which was presented by Victor Hugo to 'M Guille' on 12 July 1855. If this is Thomas Guille, it would appear that Hugo was in active support of Guille's library project even while he was still in Jersey.