Marguerite Le Ber, 1843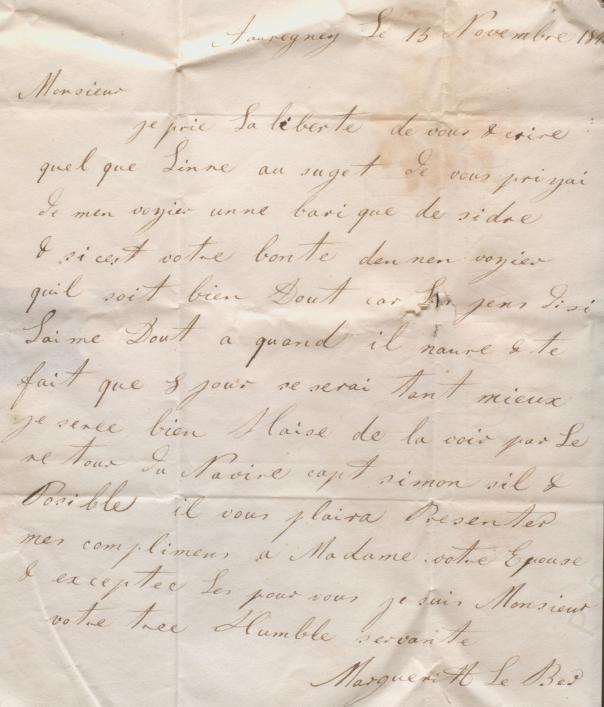 A letter from Marguerite in Alderney to 'Monsieur De La Mare au Huret, au coin de Mr Jean Robin sur Les cais, Guernesey.' From the Le Hurel collection of de la Mare family documents, donated by E Hatton.
Alderney 15th November 1843.
Monsieur
I am taking the liberty of dropping you a line to ask you if you would send me a barrel of cider, if you could very kindly only send me some nice and sweet because the folk here like it sweet like when it is only a week old, I would be very happy to receive it by the return of Captain Simon's ship, if possible, kindly give my best regards to Madame your wife, and please accept my best wishes for yourself. Marguerite Le Ber.
Monsieur,
Je prie La liberte de vous &crire quelque Linne au suget de vous priyai de men voyier unne barique de sidre & si cest votre bonte den rien voyier quil soit bien Dout car Les gens disi Laime Dout a quand il navre ete fait que 8 jour se serai tant mieux je seree bien Haise de la voir par Le retour du Navire capt simon sil & Possible il vous plaire Presenter mes complimens a Madame votre Epouse & exceptee Les pour vous je suis Monsieur votre tree Humble servante, Marguerite Le Ber.
---
From the same collection: Letter from Nicolas de la Mare, 1806.