The Fancy Ball, 7 January 1836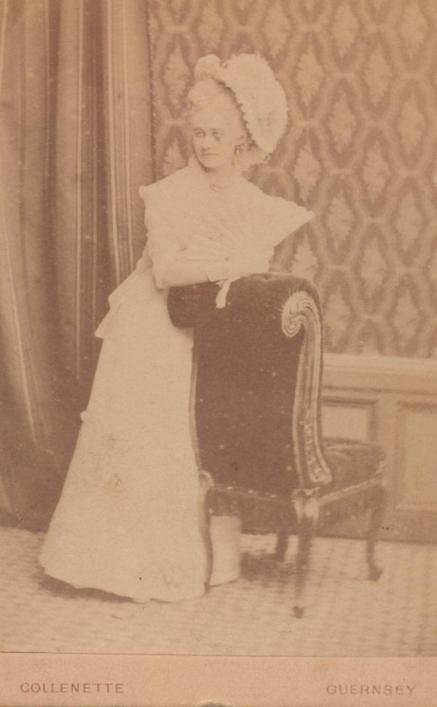 'Oh happy night, enchanting sight, 'Neath garlands gay and floods of light, Brilliant eyes, balmy sighs, Shaming flow'r and lustre bright.' A report from the Star of 11 January, 1836. The photograph is a late 19th-century carte de visite, one of several in the Library Collection of subjects in fancy dress.
For albums and other fads of the time see A Letter to his aunt, 1834.
---
Which lines were practically illustrated on Thursday evening. we need not tell our readers that several Bachelors of the island fixed that evening for a grand fête. It is nearly six years since a similar entertainment was given, and although that was considered the ne plus ultra, yet this was decided to be the plus ultra.
These réunions are really beneficial to the constitution, at least to the fair sex, for on the first announcement of such an event an impetus of some degree is given to the circulation, and all is couleur de rose, as the hour approaches. When the wished-for moment arrives, the ascent to the Ball-room is generally equivalent to an ounce of lavender drops.
That the Bachelors should conspire together, to congregate such a phalanx of beauty and fashion we can readily conceive; but after the display on Thursday evening, that they should remain in a state of celibacy we do not so readily comprehend, for all who had hearts in their own possession were in a very fair way to make a transfer.
The Ball-room was decorated in a variety of ways, the chandeliers were splendid, and the space generally occupied by the Orchestra filled up with a transparency with the letters W.A. and a Crown. An elegant Russian tent was erected at the lower end of the room, over which was placed a splendid Orchestra; and, through a pretty entrance to the right, instead of entering the old kitchen, you suddenly found yourself in a most superb tent formed of pink and white drapery, which was most gracefully hung around with garlands of the most beautiful artificial flowers, and Divan couches in the Turkish style, covered with the softest cushions were placed around. A splendid glass reflected the light of a lamp which was suspended from the centre, and rendered its rays doubly brilliant. Everything was in strict accordance with oriental scenery. That nothing should be omitted to chase away ennui, a collection of Albums, scrapbooks &c, ornamented a table in the centre. It formed a delightful retreat after the fatigue of a giddy waltz, and seemed fully appreciated by the numbers who were seen lounging in this fairy temple. It apopeared to be a perfect imitation of the Grand Signor's Tent, and we can conceive it to be correct, if elegance, combined with luxury, and ease are still the characteristics of the Turkish nation.
Dancing commenced about half-past nine, and it might be more appropriately said than usual, that they 'tripped on the light fantastic toe,' for the groups were so various and grotesque, that no-one need regret never having visited a Venetian Carnival.
At one o'clock the supper-room was opened, and whatever of their classics they may have forgotten, the Committee remembered the line 'Sine Bacchus et Ceres' &c. That they know the line, they gave us abundant proofs in the profusion under which the tables groaned with every delicacy to tempt the gastronomic powers. Paris supplied various nick-nacks in the shape of pâtes de Périgord, Boar's heads and Patisseries, which, on their arrival here, were introduced to a quantity of Fish, Poultry and Game of all descriptions. Wines of all kinds materially assisted in the discussion of these matters, as a sort of running fire was kept up by the discharge of the corks from the Rouge and Sillery.
The music was such as had not been heard there before; the usual performers on these occasions being assisted by several extra musicians among whom were Mr TARGETT, late of Southampton, whose flute-playing, alternated with the French flageolet, added much to the brilliancy of the performance.
Mr DAVIES superintended the getting-up of the Orchestra, and arranged for them several new sets of quadrilles for this occasion, among which were a set from I Puritani, and the Paris Omnibus¹ set, the bells and clack of the whip coming in with curious effect. He conducted the music the whole of the evening.
A great facility was afforded to the entry of the company by a guard from the Rifle Corps being stationed at the door.
About four o'clock tea and coffee were served, which tended to prolong this festive scene; nor was there a general departure until near six.
We subjoin a list of the costumes, &c., but the entries were sometimes so numerous that we fear a few may have escaped our notice. The Ladies' Fancy Dresses were extremely gay. for the modiste appeared to have been put in universal requisition for a general debut:
ANDROS, Captain, RN, Swiss peasant. BROCK, Mr F., Duke of Reichstadt, or Austrian Uniform. BROCK, Miss Elizabeth, Leila. BROCK, Miss S., Greek girl. BROCK, Miss Harriet, Fancy Spanish Dress. BROCK, Miss R., Circassian Slave. BELIN, Miss, Virgin of the Sun. BUSH, Miss, Greek Slave. CAREY, Mr. DeVic, Napoleon Bonaparte. CAREY, Mr. Tupper, Spanish Calassero. CAREY, Mr Albert, Ambassador. CAREY, Mrs Albert, Old Court Dress. CAREY, Mr Gledstanes, Court Dress of Louis XIV's time. CAREY, Mr F, Spanish Bull-fighter. CAREY, Miss H, Amy Robsart. CROSBY, Captain, First Dress—Rifle Uniform; Second, Baron Humbug, KG, GCB, GCH, &c., &c., &c.; Third, Knight of Malta. Mr CHAMBERS, First Dress, Rifle Uniform, Second, Knight of Malta. CHEPMELL, Mr W, Guernsey Peon. CHEPMELL, Miss, German Peasant. CHEPMELL, Miss Elizabeth, Lady of the sixteenth century. CLARK, Misses, Gypsy Girls. CAMPBELL, Mrs, Fancy Silver Lama. DE SAUSMAREZ, Miss C, Highland Dress. DE COURCY, Miss, Anne of Austria. DE LISLE, Mr De Beauvoir, Physician of the 16th century. DE HAVILLAND, Master Charles, Sclavonian. ESTON, Mr, First Dress, Rifle Uniform, Second Dress, Knight of Malta. FALLA, Advocate, French Colonel. FRAMPTON, Mr, First Dress, Rifle Uniform, Second, Persian. FLETCHER, Mrs, Lady Abbess of St Clair. FLETCHER, Miss, Autumn. GIDDINGS, Miss, Swiss Peasant. GORE, Mr, Sclavonian. HUMPHRIES, Mrs, splendid crimson and gold dress. JAMES, Mr, Dress, Plain, Second, Albanian Chief. JENKINSON, Mr, First Dress, Rifle Uniform, Second, Miss in her teens, Third, Spanish. KING, Mr, Hunting Dress. KENNEDY, Master Edmund, Sailor. KENNEDY, Miss, Old Fashion Dress. KENNEDY, Miss Johanna, Sister of Scio. KENNEDY, Miss Fanny, Brenda. LAUGA, C, Mr, First Dress, Dutch Nobleman of the sixteenth century, Second, Plain. LE FEBVRE, Miss, Neopolitan. LE MARCHANT, Miss C, Swiss. LE MARCHANT, Master J, Page of Honor. LE MESURIER, Miss Martha, Bernoise. LE MESURIER, Miss H, Albanian. LE MESURIER, Mr F, Peasant of Madeira. LEE, Miss, Spanish Costume. LE COURTOIS, Mons., Guadeloupe Peasant. LIPSCOMB, Miss, Maiden of Aleppo. LIPSCOMB, Miss Augusta, Annot Lyle. LIPSCOMB, Miss Ann, Polish Lady. MACCULLOCH x 2, Miss, Hauteville, Ancient Court Dress. MAUGER, Miss R., Villette, Gypsy. MANN, Miss Roman Peasant. MONTGOMERY, Miss, Tyrolese. MONTGOMERY, Miss Harriet, A Convent Novice. O'BRIEN, Mr R (96th) Highland Costume. O'BRIEN, Mr E, Albanian Youth. POWER, Miss, Fenella. ROOPER, Mr, Rifles, First Dress, Uniform, Second Dress, Bosnian Chief. STANLEY, Captain, Spanish Don. TUPPER, Mr Daniel, Albanian Chief. TUPPER, Mr F, Greek Sailor. TUPPER, Miss (Colborne Place), Titania, Queen of the Fairies. TYNDALL, Miss, Paysanne de Brabant. VERNER, Miss GA, Scotch Girl. VERNER, Miss Elizabeth, Sister of Scio. VERNER, Miss O, Swiss. VERNER, Mr W, Orangeman.
IN THEIR OWN MILITARY UNIFORMS
BAINBRIGGE, Captain, RN; CUNNINGHAM, Colonel, RE; COX, Major, Rifles; COLLINGS, Captain J, Guernsey Militia; DE SAUSMAREZ, Captain Durell, RN, Full Uniform; DOBREE, Harry jun., Lieut.-Colonel, Guernsey Militia; GORDON, Captain, RN; GROVES, Captain, Rifles; LUKIS, Mr JW, Guernsey Militia; MANSELL, F jun., Lieut.-Colonel, Guernsey Militia; NAPIER, Captain, Rifles; SIMMONS, Captain, RA; SCOTT, Dr, Rifles; TUPPER, Mr Thomas, Consular Uniform; TUPPER, Captain H, Guernsey Militia.
PLAIN AND FANCY DRESSES
ANDREWS, Mrs; ANDROS, Mr; ANDROS, Mrs; ANDROS, Mrs C; APPLETON, Captain; APPLETON, Mrs; ATKINSON, Mr; BERTIE, Mr C; BROCK, Mr John Savery; BEGBIE, Major; BELL, Mr Thomas: BELL, Mrs & Miss; BELIN, Mrs; BROCK, Mr W (Belmont); BRAND, Mr; CAREY, Mrs D; CAREY, Mr James; CAREY, Miss (Berthelot-Street); CAREY, Mrs Tupper; CAREY, Mr John (Grange); CAREY, Mrs J; CAREY, Mr John jun.; CHEPMELL, Mr H; CAREY, Mr Edward; COLLINGS, Mr (Grange Road); COLLINGS, Misses do.; CORBIN, MRs G; CORBIN, Miss G; COX, Mrs Major; CAMPBELL, Mr; CLARK, Captain, RN; CLARK, Mrs; CLARK, Mr John; GOODRIDGE, Miss; DE SAUSMAREZ, Mr J T; DE SAUSMAREZ, Mrs J T; DE SAUSMAREZ, Miss; DOBRÉE, Mr Harry; DOBRÉE, Mr Augustus; DOBRÉE, Mrs Augustus; DOBRÉE, Mr Daniel; DOBRÉE, Mrs Daniel; DE COURCY, Capt.; DE COURCY, Mrs; DE JERSEY, Mr Charles; DE JERSEY, Mrs; DE JERSEY, Mr F; DE JERSEY, Mrs F; DE HAVILLAND, Major; DE HAVILLAND, Mrs Major; DE HAVILLAND, Colonel; DE HAVILLAND, Miss E; DE LANCEY, Captain; DE LANCEY, Mrs; DE LANCY, Miss; GOSSELIN, Mr and Mrs; GOSSELIN, Mr Joshua; GORDON, Mrs; GIDDINGS, MR F; GIDDINGS, Miss; HEYSHAM, MR and Mrs; HAYMES, Captain; HAYMES, Mrs; HOSKINS, Dr; HOSKINS, Mrs; HUTCHESSON, Dr; JEREMIE, Mrs John; JEREMIE, Miss; KENNEDY, Colonel; KENNEDY, Mrs; KING, Captain (Couture); LE MARCHANT, Mr; LE MARCHANT, Mr John; LUCKRAFT, Captain; LUCKRAFT, Mrs; LEE, Mr; LEE, Miss; LE FEBVRE, Mr Charles*; LIHOU, Mr Thomas*; LIPSCOMB, Mr; LIPSCOMB, Mrs; LUKIS, Misses; MACCULLOCH, Mrs T; MACCULLOCH, Mr Edgar; MAUGER, Captain RN (Villette); MAUGER, Miss (Villette); MANN, Colonel; MANSELL, Mr F (Vauxbelets); MANSELL, Mrs F, jun.; MANSELL, Mises; MAIS, Mrs; MAINGY, Mrs Rivoire; MAINGY, Mr Richard*;MANSELL, Mr H; MACDOUGALL, Mrs; MACDOUGALL, Miss; MACDOUGALL, Master; NAPIER, Mrs (Captain); NICHOLLS, Mr; NORTHCOTT, Mr; O'BRIEN, Mrs; O'Brien, Misses; OZANNE, Miss; PRIAULX, Joshua; PRIAULX, Mrs; PRIAULX, Mr James; PRIAULX, Miss (Montville); PRIAULX, Mr Osmond; POWER, Captain; POTENGER, Mr D; PRICE, Mrs Hugh; PRICE, Miss; RYND, Major; ROBILLIARD, Mr F; ROBILLIARD, Monsieur; RAY, Mr; SAUMAREZ, Captain the Hon. St Vincent; SMITH, Lady; STANLEY, Miss; SCOTT, Mrs Doctor; TUPPER, Mrs T; TUPPER, Mrs FB; TUPPER, Mrs C; TYBDALL, Mr W; TYNDALL, Mrs; VIGOUREUX, MR F; VIGOUREUX, Miss AM.
* Those marked with an asterisk are members of the Committee.
---
1 These were highly fashionable: from the The Court Journal, 1835: 'The first ball at Almack's took place on Thursday evening [in May], and was attended by the most distinguished personages in town. At eleven o'clock dancing commenced to Collinet's full band, with Musard's new set of quadrilles, Le Danois, followed by a new waltz, Les délices de Vienne. Musard's I Puritani, from Bellini's last new opera, was performed afterwards and greatly admired. The band was most ably led by Mr Bandouin, director of the balls at the Court of France, and of whose compositions some very delightful quadrilles and galops were played in the course of the evening. Mr Collinet's flageolet was, as usual, exquisite, and, in fact, the ensemble of this very excellent band richly merits the praise it always meets with.'