Memories of Old St Julian's
23rd July 2015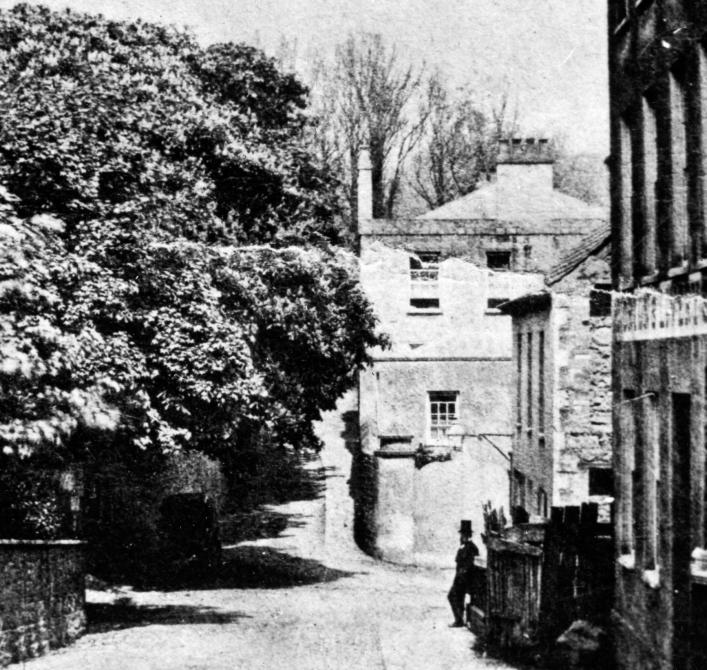 Old Court House again. From the Star, June 20, 1944. The photograph, from the Library collection, shows the house in 1861, ten years before the construction of the Avenue led to its demolition.
I met a Guernsey woman who is approaching her 90th year, but whose memory of the past is a keen as her appreciation of the present. Asked if she remembered the days before the Avenue was laid out she smiled and nodded, and began to reconstruct the scene as it came back to her down the years.
'At the top of the hill stood a large house and garden which was the residence of Dr Foster,' she said. This must have occupied the whole space from what is now the junction of the wall dividing the Avenue and Candie Road, and right across to the top of Hospital Lane.
'The grounds in the rear of the doctor's house ran down the slope until they came to a lane or roadway which joined the Truchot to the Vauxlaurens. Here was situated Gullick's brewery, where Randall's still stands. Lower down again was the property of a retired seafarer, Captain Brown, who was one of three captains who had built houses in this neighbourhood, the other two being still in existence today. This property ended where the Canichers crossed it, and below came Stickland's shipyard which stretched down to the Esplanade and the sea-shore beyond, as it was then. This was a busy scene in those days, and one that always attracted a crowd of sightseers, especially when a boat was being launched, a sight which I do not suppose we shall ever see in Guernsey again.'
On one point, however, memory refused to serve my informant. No recollection of Old Court House, Candie Road, could be brought to mind, and so our original correspondent's query as to the site of this building remains unanswered yet.
---
The Star, June 27, 1944
In the search for the history of the site of the present Avenue and the elusive Old Court House reputed to have stood in Candie Road, however, a correspondent helps with the information that the house occupied by Dr Foster, referred to in our last article, was known as 'Old Court,' [adding that] the present Vauxlaurens Brewery was then known as Frecker's Brewery, and that Mr Gullick was manager of the London Brewery.