The Queen Charlotte Inn
28th October 2016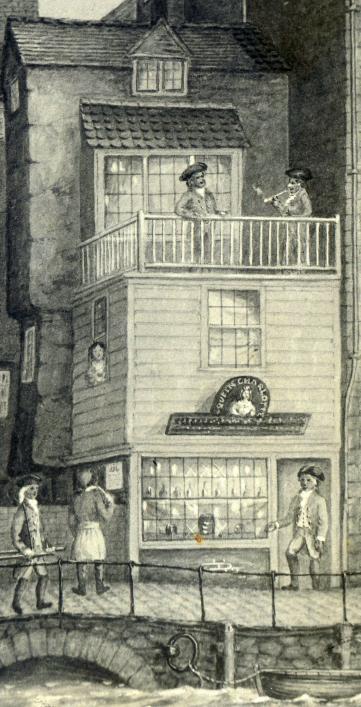 From Old Guernsey Exhibition and Fair Souvenir Guide and Programme, St Martin's Parish Hall, Guernsey: T B Banks & Co., 1908, p. 29. The painting of the Queen Charlotte Inn above, a detail of a larger view of Cow Lane, dates from c. 1800; it exists only as a photograph, as its whereabouts since WWII are at present unknown. The colour image is a detail of a painting by Captain C Montague Jones, possibly based up on it, painted 50 years or so later. The original of the Jones watercolour is in the Guille-Allès Library, Guernsey.
This old Inn was situated on the Quay at one side of Cow Lane. Nothing now remains, another building having been erected upon its site. During the privateering days it was a noted resort of the sea captains; here they met for a smoke and chat, and discussed their various adventures. It is said that at times, especially after a successful raid, they became most extravagant, lighting their pipes with bank notes, and tossing with Spanish dubloons, as if they were halfpence.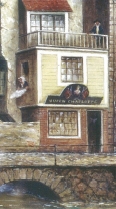 The western quays, which were only 18 feet broad, were built from 1775 to 1779, and seven persons, whose tenements bordered on them, refused to pay their proportion of the cost; they were only brought to the exercise of reason by being prohibited any access to the quays through their own back doors, but after the lapse of a few years they understood their own interest, and finally paid their quota. The arch over Cow Lane (La Rue des Vaches) was built in 1783, and the western quays were thus connected with the south pier [p. 37].