Finucania: paintings, prints, and drawings
8th September 2016
Guernsey Market Place [in 1809], with key. 1809 [1822]. 'Grand, grand old picture.' If you wish to reproduce any of these images, please contact a Librarian.
Finucania: the enigmatic Matthias Finucane
---
PL/PD 1. Royal Square, Jersey. Attributed date 1798. Drawing in watercolour and wash with ink line. 35x48cm. Original framed and mounted. With a key. Courtesy of Jersey Heritage, Ref no. SJA/0000/00307. [With thanks to Val Nelson of Jersey Heritage.]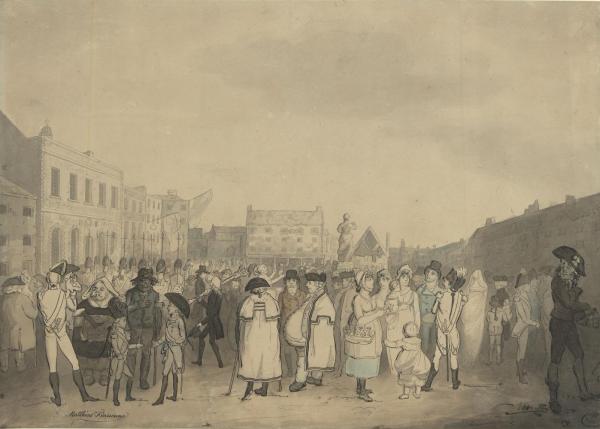 PL/PD 2A. Royal Square, Jersey. 1798 [?]. Watercolour with pen and ink. Unsigned, attributed to Matthias Finucane. Pen and ink with watercolour over pencil, 415 x 565mm., laid on board support with a gilt plywood window mount pasted to recto sheet edges, a short tear lower right, unframed, [19th century]. Image © Dreweatts & Bloomsbury Auctions. Sold 2017. Possibly the original of PL/PD 2B below. There are distinct differences between both the design and the execution of the watercolours (1 and 2A below).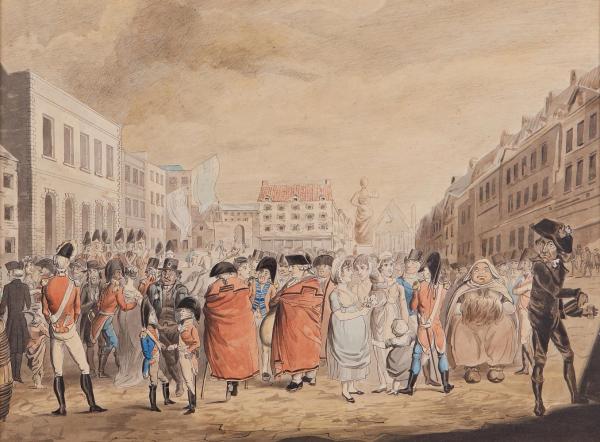 PL/PD 2B. Cartoon in watercolour (from b&w photographic plate). The numbers in red presumably refer to the key, as 2A above, (see below, Market Square, Guernsey, 1809.) Image said to be 'labelled at base.' Courtesy Jersey Heritage, Ref. no. SJA/0000/02303. 42x51 cm. May be a photograph of 2A above.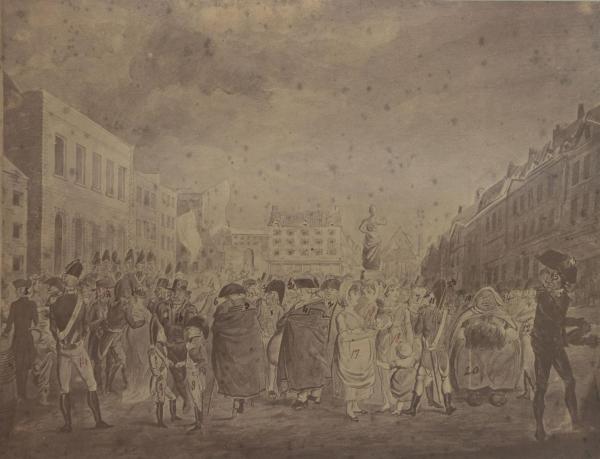 PL/PD 2C Reproduced as 'The 'Vier Marchi or Royal Square, from East End, 1798' in Nicolle, E T, The town of St Helier, Jersey: La Société Jersaise, 1931, facing p. 60, with caption, 'Caricatures of local celebrities of the time (Lieutenant-Governor Major-General Gordon, Lieutenant-Bailiff Pipon, Advocate-General, Dénonciateur, Vice-Dean and Town Crier. In Museum of the Societe Jersiaise.') [With thanks to Richard Hocart for this reference.]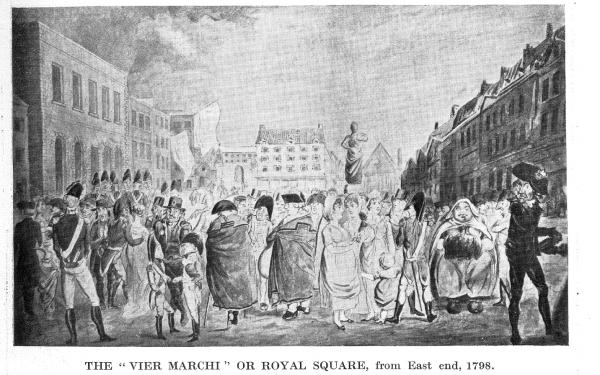 ---
PL/PD 3. The Militia is called out. Print overpainted in watercolour, with highlights in ink. Date barely visible below signature, 179[9?]. Candie Museum, Guernsey (reproduction here of a black and white photograph). May represent the reaction to a mutiny of 1783, in which case this cartoon lampoons the Town militia, commanded by Colonel George Lefebvre, which accompanied the 18th regiment under Major Mawbey to Fort George to face off the rebellious 101st regiment. The character in the centre, however, somewhat resembles General Sir Thomas Saumarez, whom Finucane painted earlier in a miniature (DB/PM 13). In 1791, in view of his local knowledge, the then Captain Saumarez was asked to accompany Major-General Dundas to Guernsey to advise on military affairs in the island, the French having threatened an attack. (There were to be frequent false alarms and rumours of impending attacks.) Saumarez was appointed Major of Brigade to the Militia and Quarter-Master General to the Russian and French troops stationed on the island. [Jacob's Annals, p. 80.] This caricature is referred to as The Guernsey Militia on the occasion of a false alarm in 1798 in Philip Steven's Painters of the Channel Islands, 2002.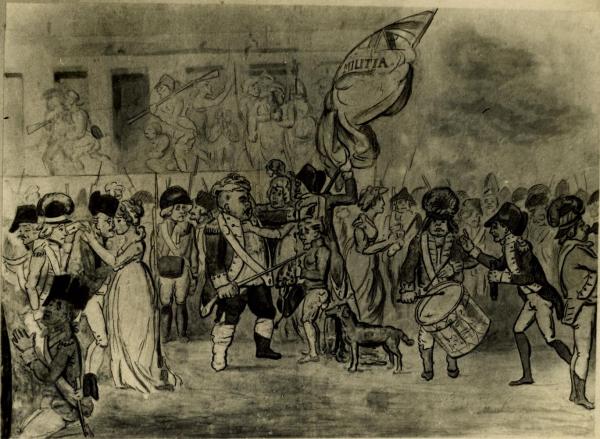 Detail of signature and date on above:

Detail of a drum from Militia.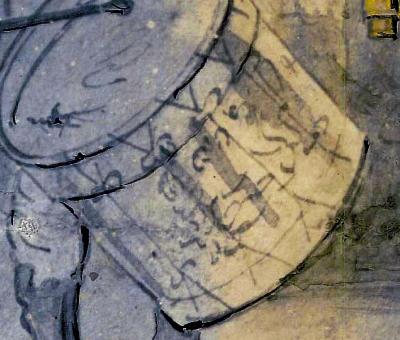 ---
PL/PD 4. The Hum-Drum. Watercolour. 9¾ x 6 in. (24 x 15 cm.) Norman Wilkinson collection, Guernsey.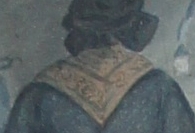 Above: Detail of a shawl from The Hum-Drum. Below: dedication from The Hum-Drum.

---
PL/PD 5. Views of St Peter Port. Finucane? No signature apparent. A very similar painting to that below of Cow Lane is to be found in the Candie Museum attributed to Captain Charles Montague Jones. Another watercolour also attributed to Jones is an updated reworking of an earlier painting of Lower Fountain Street. Jones, a Master pilot in Guyana, was in Guernsey in the last quarter of the 19th century and returned to Demerara, where he died. The paintings attributed to him seem likely to be copies of originals, possibly by Finucane; Jones is also responsible for two oil paintings of naval scenes, dated 1886, from the Napoleonic period in the Candie Museum collection. In a note on the photograph of the Cow Lane painting in the Library's collection, it is specified that the original watercolour itself was in the possession of Vera Carey, having been bought after the Occupation from Mrs G H Le Mottée of May Trees, Hauteville, in whose drawing room it had 'hung for many years.'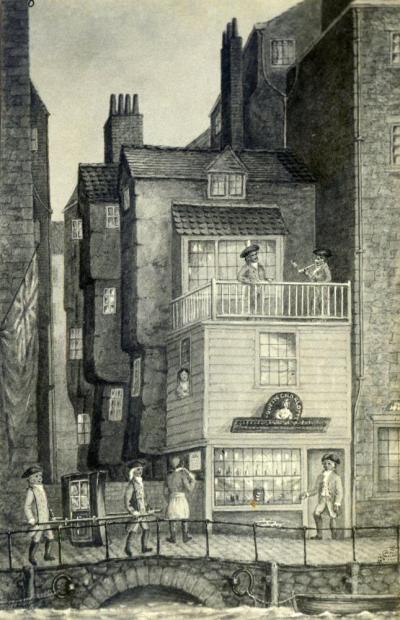 The painting below of Fountain Street is dated 1799; it is a copy dating from 1872 (signed by local chemist and amateur artist E W Dupuy). The figures resemble those in The Hum-Drum; the style of the date of 1799 is close to that in the Militia print. See Peter Le Lièvre's (1812-1878) Fountain Street, which displays a marked resemblance to these local views by Finucane.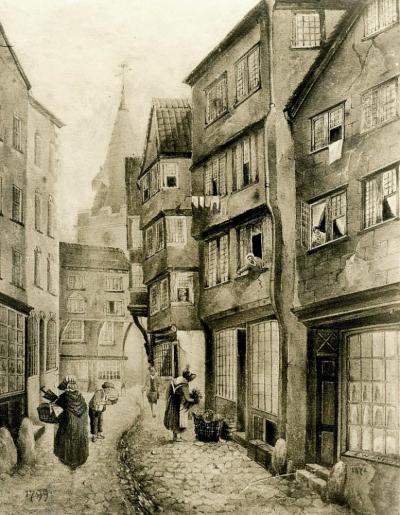 Three very similar paintings to the above: two used by Edith Carey in her monograph 'Growth of St Peter Port in the 19th century,' dated by her to 1810 (probably on account of the military uniforms), one of which, showing the Town Church, is signed 'C M Jones 1860,' and another in the Candie Museum of Cow Lane (a more panoramic view, otherwise very similar to the one shown above) attributed to Captain Jones. The photographs from the Edith Carey Collection in the Library are dated 22 January 1911.
---
PL/PD 6.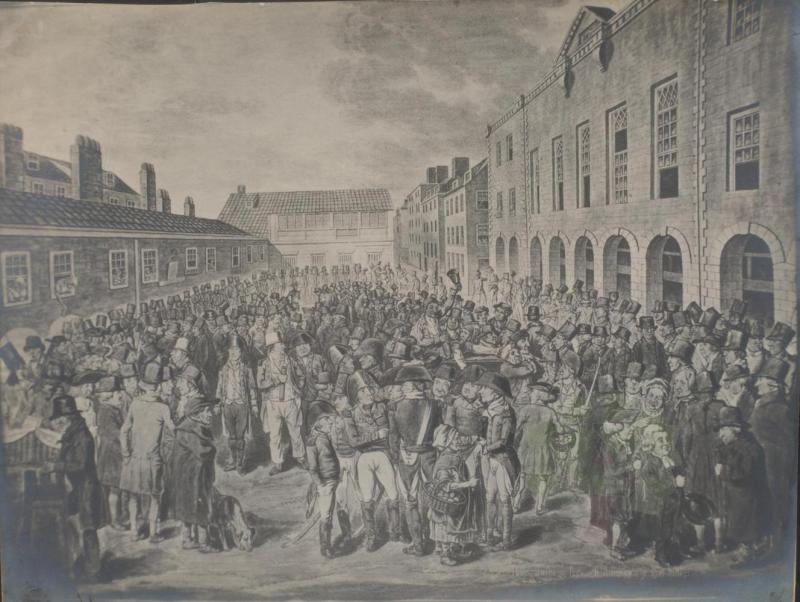 Guernsey Market Place, 1809 (see head of article). With key. Print in Priaulx Library collection. The image is said to represent the Militia on parade for the King's birthday, and is a revised and expanded version of a presently unknown precursor painting or print. Aquatint with hand colouring by Atkinson and Stadler, published by T. Clay, 1822 53 x 72.5cm. with the accompanying key. Sold Lawrence Auctioneers 18 April 2008. Aquatint, as previous, from Sark Seigneurie, 2009, sold 12 November 2012 Martel Maides, Guernsey. Biographical notes on several of the prominent figures featured in the work were written by George Métivier and copied by Edith Carey into her Scrapbook in the Library Collection (contact a Librarian for further information).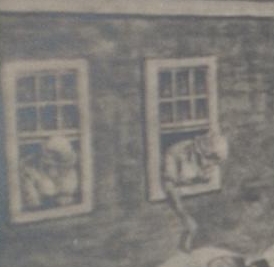 Detail from Market Place.
---
PL/PD 7. William 'Billy' Le Lièvre.
Photograph of preparatory sketch. Priaulx Library Collection: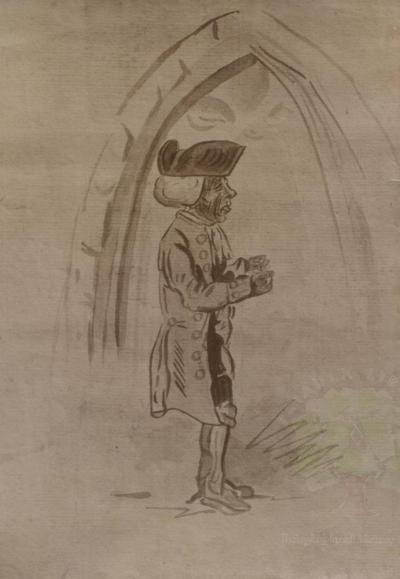 Watercolour sketch from first composite drawing of Market Place (see below):
Final version as published in the print:

---
PL/PD 8. William Le Marchant, former Bailiff: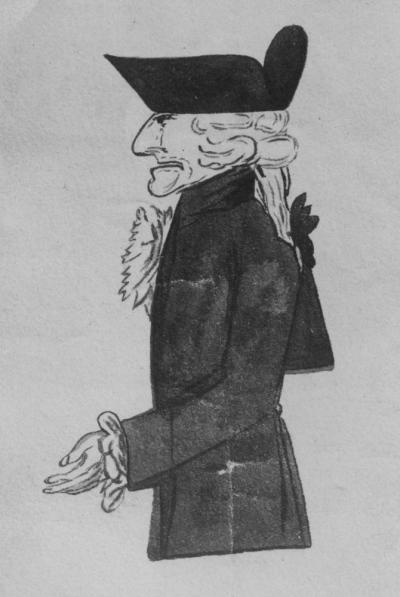 Above, photograph of watercolour sketch in Library Collection. Below, detail from Market Place, very much in the background of the composition: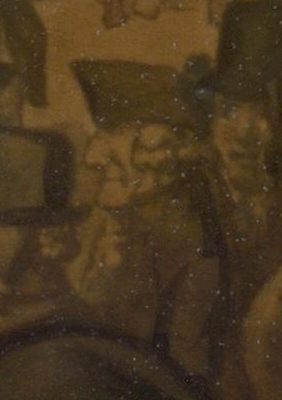 ---
PL/PD 9. 'First drawing' of the Guernsey Market Place. Copy in watercolour by F C Lukis. States of Guernsey GUEMG:GMAG 1978.91c. [See Stevens Cox, G, Social Life in Georgian Guernsey, Guernsey: Toucan Press, p 9, for reproduction.
PL/PD 9A. 'Second drawing.' Existence by implication: 'A note on the reverse explains: 'This was copied by F C Lukis of the Grange from Finucane's first drawing of the Market place. The 2nd Drawing being the one from which the Plate was copied and published.'' [Social Life, as above.]
The Guernsey Market Place! Shade of Finucane, couldn't thou but revisit the glimpse of the moon, what changes wouldst thou find! I have—and what true Guernseyman has not?—the delicious old print published in 1822 of that wonderful gathering in the Market Square, where every noted Guernseyman of the period is grouped and limned with such unrivalled skill and cunning, as takes us back into the past and compels us, though we never knew the men, to acknowledge their likeness as perfect as though we had known them all our lives. These our actors have vanished into thin air. Possibly there is not a man now alive who figures in that dear old picture. But we know them all well by repute. And then, too, we know the Assembly Rooms. They stand today just as they stood when Finucane painted the picture, and Sir James Saumarez, Sir Edmund Nagle, and the Prince of Bouillon, with Sir John Doyle, Col. Daniel de Lisle Brock, Col. Le Marchant, Major J De La Condamine, Bailiff Le Marchant, Doctor Carey, Mr Thomas Andros, the Rev. Dean Durand, Mr Collings, and scores of others posed upon the pavement and the town crier lustily rang his bell, and the knife grinder spun his wheel, and old Fanchion sold her cakes while the Town Regiment paraded around the Square to give the world assurance of a Militia worthy to take its stand among any troops in the King's service. Grand, grand old picture! I see what purports to be the original at the Grange Club. But it is not the original. It is only the original study, and I heard with pleasure the other day, that the original is in the possession of the Lukis family. [Amias C Andros, 'On some Guernsey institutions,' The Star, 28 May 1871.]
---
Set of 'drolls,' 'drawn by Matthias Finucane.' Published Laurie & Whittle, 53, Fleet Street, London: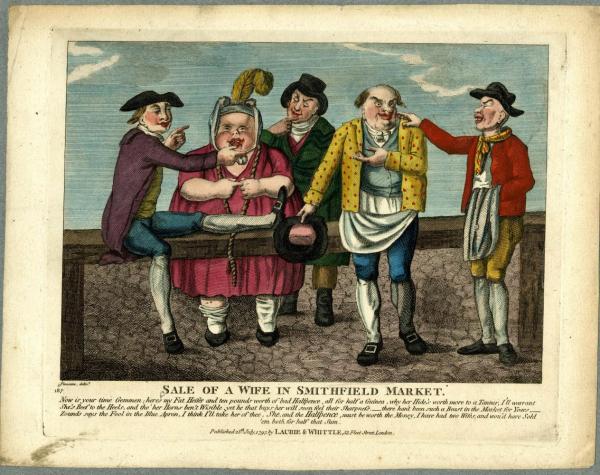 PL/PD 9. Sale of a wife in Smithfield Market. Print, published 25 July 1797, Laurie & Whittle, 53 Fleet Street, London. Republished in 1811 as John Hobbs, John Hobbs, ballad-sheet. This image @ Trustees of the British Museum.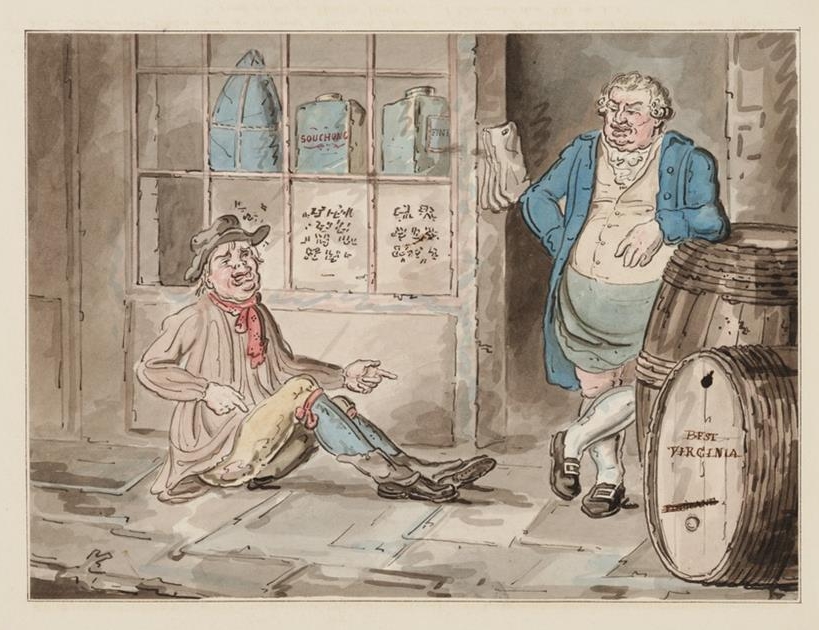 PL/PD 11. The Retort Courteous. Original drawing: watercolor and pen and ink; image 17.5 x 23.5 cm, on sheet 25 x 35.2 cm. Courtesy of the Lewis Walpole Collection, Yale University. Has Finucane signature (capitalised, crossed out). Published as print 1 August 1797 by Laurie & Whittle, 53 Fleet Street, London.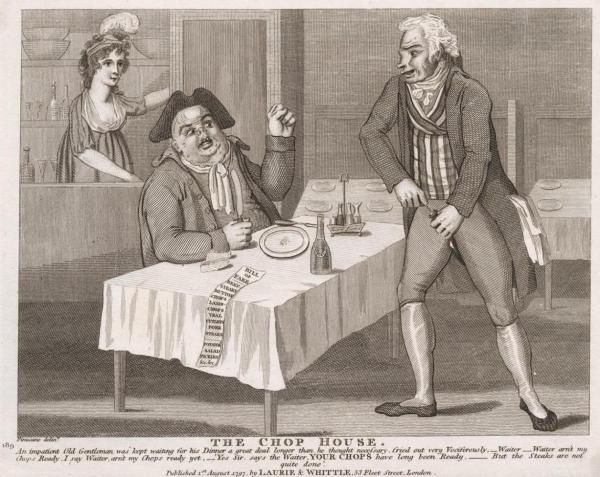 PL/PD 12. The Chop House. Print, published 1 August 1797, Laurie & Whittle, 53 Fleet Street, London. Courtesy of the Lewis Walpole Library, Yale University.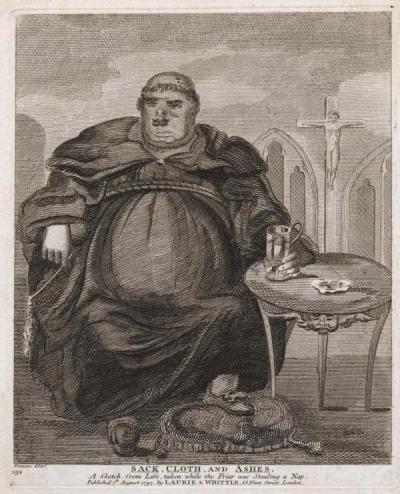 PL/PD 13. Sack, cloth, and ashes. Print, published 7 August 1797, Laurie & Whittle, 53 Fleet Street, London. Lewis Walpole Collection, Courtesy of the Lewis Walpole Library, Yale University. An original print has been generously donated to the Priaulx Library by Gregory Stevens Cox and may be viewed on request.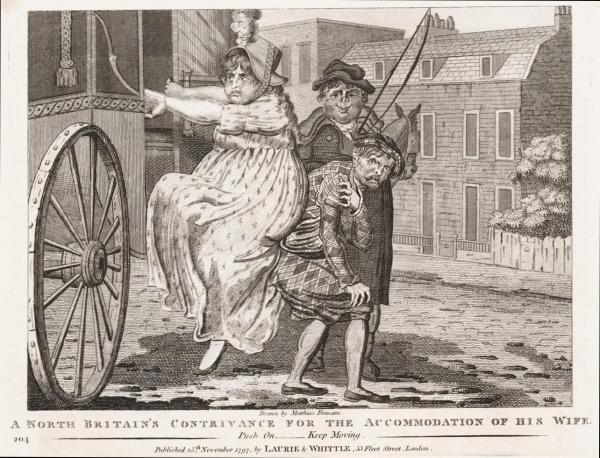 PL/PD 14. A North Briton's contrivance for the accommodation of his wife. Print, published 25 November 1797, Laurie & Whittle, 53 Fleet Street, London. [Courtesy of The Lewis Walpole Library, Yale University.]
---
Attributed to Finucane by Philip Stevens in his Dictionary of the painters of the Channel Islands, but the costume of figures post-dates Finucane's death. This is borne out by the identity of one of the caricatured men, Augustus Henry Tait, who was in Guernsey for only a decade, emigrating to Pennsylvania in 1839:
Guernsey characters I. Print. Priaulx Library collection (c. 1830-1839)
Guernsey characters II. Print. Priaulx Library collection (c. 1830-1839)