Extracts from old letters
22nd May 2019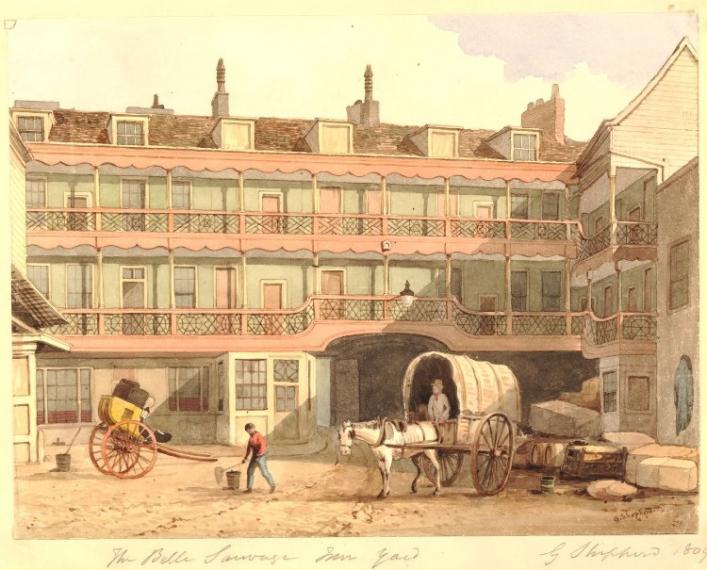 Affecting 18th century letters, from a notebook of Edith Carey, Guernsey miscellanea. The image is of the famous Bell Savage Inn, on Ludgate Hill, London, where Catherine Baldock nee Carey reluctantly stayed in 1790 (see letter below), and is from the British Museum, Museum number 1880,1113.3266.
Letters in possession of General W D Carey
From Juliette Le Messurier to her mother, Mrs Judith Carey.
London, Aprill 30th 1768.
Honoured Madam,
... Please to give my love to Collet Le Cocq, and tell her that her duaghter is much the same her husband came to me two days ago to tell me that she would not stay in the Hospital any longer for that she found her self Better at home so that she was to go out the next day ... I must confess that I pitty the poore man to be plagued with such a creature as she is for he appears to be a sober good sort of a man ... Miss Butterfield with whom we dined yesterday inquired much after you & familley ... Polly Mesurier whent with us. She expects her Papa with great impatience, for it seems he intends to take her home with him, I fancy Poore Polly will find great diference betwin Alderney or her manner of living at present, tho I imagine she will pass the best part of her time in Guernsey & that I am persuaded she will like very well.
I received a letter from Mrs Godin last Monday acquainting me that Louisa Carey was Rather Better but that she much fear'd that the Melancoly News of the Death of her sister Hariet¹ would be of no service to her ... Good Mrs Perchard desirs her Comp[limen]ts to you & family. I am conserned to find that Mrs Lihou has had the Small Pox for ten to one but that it will soon spread & as the summer is coming on it will undoubtedly prouve fattel to many.
Mrs Le Messurier Joyns with me in duty to you & my dear Papa with love to all my Dear Brothers & Sisters & Compts to all my inquiring friends & belive that I am with the greatest Respect Dear Mama, Yours most affect. & most Dutifull Daughter,
Judith Le Messurier.
P.S. Pardon this Scrawle & all other faults being in haste.
---
¹ Daughter of Darrell Carey and Marie Le Marchant
---
London June the 1st 1770
Honrd Madm,
Last Sunday I received your most Esteemed favour of the 23rd ulto wch has given me inexpressible Pleasure to learn that you & all my dear friends enjoy a Perfect State of Health. God of his infinite mercy grant that this may find you all still poss'ed of that great Blessing. Doctor Grant came yesterday to pay another visit to Sister Kitty [Mrs Baldock] he is in great hopes that he shall be able to remouve the tumeur [?] in her nose very shortly ... I must say that she is a very good sensible well behaved Girl & very obligin to every one wch gives me great Pleasure, therfor shall alway endeavour to give her all the incouragement in my power. I am sorry that It is not agreeable to you & my dear Papa to lett her have a p[ai]r of Stone Buckels at present as It has been a great disappointment and baulk to her ... Mr Bale dinde with us last friday we had a great deal of taulk about Waltham School ... Mr Bale as well as myself thinke it is a very improper Schoole for any young Person whatever, & would advise you by no means whatever to lett her return their any more. As to Miss Dobree Wee find not the least alteration in her as yet but her Master has still some hopes of succeeding but if he does he says it will be a long time first I sincerely wish he may but I can't say I have any hopes. Mrs Thos Le Marchant is now ill with the Small Pox but is in a very fair way of doing well & in all appearance is likely to have very few. Mr Le Messurier has recieved your letter of the 18th ulto & has duly noted the contents. I am sorry to hear that Miss Louisa Carey is so very bad, She is not yet come up to towne. ... I send you in Ann Baker's box the Wiers & the Manne the Parmersity & Rubarb & the Gauz for Sister Carey [Mrs John Carey i.e. Marie Le Ray?] with the bluestone & Chocolat Mill. My cousin Perchard's little girl has got the Hooping Cough, she is at Hackney for the Benefit of the Aire. We brought Isaac [son of Thomas Carey, then aged 12] to towne last Sunday as we thought him quit recovered but the weather has been so very cold for some days past that he has gott cold again, wch has brought on his Hooping Cough again, but I hope as the warm weather will come that he will soon get rid of it ... Kitty sends you in Ann Baker's box three of her gowns wch she can not wear & tow of her caps wch she sends for her little neas [niece] Le Pelley ... I remain your &c &c &c
Judith Le Messurier.
Miss Dobree presents her best Respects to you & love to sisters. Endorsed - Mrs Judith Carey at Mr John Carey's, Merchant, Guernsey.
[Par] favour of Mrs Bowden. W G P
---
Southton, Tuesday morning (1 July 1783)
Dear Mother,
We arrived at eleven o'clock last night after a tedious & most [stewing?] passage of 53 hours, excessively fatigued by having been so long confined with so numerous a company in so small a hole as Le Lievre's Cabbin, most of them very sick the whole time, which rendered it very disagreeable indeed, my wife suffered more by the heat than by sea sickness. I kept well the whole passage, we have had a comfortable night, and begin to be cool again, but I shall not set out 'till tomorrow morning for Salisbury, from whence we have no news since we left you, but we have a letter from the Boys of the 24th, they were come to town and say that all friends there were well. Isaac had been gone for Alderney a fortnight before, so I suppose he will be with you before the present, Peter and Abi [?] are not to come to town before the 1st of August & Patty & Caro are to remain at Mrs Montor's [?] at Clapham till they go to school. Mr and Mrs Stephens [née Le Marchant] lodge with us, they arrived yeaterday & are going for Lyminton, where Mrs S is to bathe for a month or six weeks, they prefer that place to this because there is less company.
Love to all, I remain, dear Mother,
Your dutifull son,
John Carey [aged 43].
---
Nicholas Guille to John Carey
John Carey, Esq.
Perpignan 20 October 1784
Dear Sir,
The 22nd ulto I informed your good mother of my dear Caroline's [née Delancey] safe delivery of a daughter (describes her death of a 'bilious fever') ... She took a formal leave of us all in the beginining of her sickness, but without any fear of death, speaking of it in the most detached resigned manner possible ... She was respected and revered by all classes and there is not a single person in this Town that has heard of her but has been affected at her loss, it is incredible the number of people unacquainted with us that sent and came daily and enquire after her health. Her body could not be kept above 24 hours, it began to corrupt and was put in a proper coffin & was decently conveyed at 9 o'clock next night at a Bastion of the Town and there very deeply buried, attended by the family and few friends who were accompanied by a party of Granadiers. That place is very retired and continually kept by a sentinel therefore nobody can uproot it, the Governor would have readily consented to bury her in the church yard but he was afraid the clergy would oppose it by spirit of bigotism & it was advisable to put it out of their power.
The Parson of the parish made her two visits to comply with his Duty, as he said in converting her to the true Religion without which there is no salvation, he found her the first time in an interval of her senses when he asked her five or six questions to which she answered very properly that she would die in the faith she had lived, without being in the least alarmed, a strong vapour put an end ot the conversation. he returned the next morning but found her insensible ... You most afflicted brother ...
Nics Guille.
---
Catherine 'Kitty' Baldock (nee Carey] (1735-1809) to her sister Frances Carey
London August 8th 1785
My dearest Fanny,
Long before this my beloved sister has heard of my distress. Of Fanny my Heart is almost broken with grief, what will become of me and my seven poor Children, but I will not afflict your affectionate breast with my Complaints, but proceed to acquaint you in what manner we entreat you will serve us in our present afflictions. Being informed that the Duke of Richmond [Master of Ordnance] is gone for Guernsey, my dear Brother has advised me to write to you, to request you would send for our worthy friend Walters, request of him to go to the Governor, Doctor Sausmarez, Mr Thomas Dobree & every other Person he will think proper, to request of them to speak to the Duke in my dear Husband's¹ favour, and endeavour to persuade him to do something for him, and if he does not chuse to give him the place again, to try to persuade him to allow him some small pension, or in short to do something for us in our present great Distress. My Dear Brother also says that he thinks it would be of great service if you would be so good to go yourself to speak to my cousin Thos Dobree (who promised & said that he would do all in his power to serve us) and to any other person you could think proper, your affectionate pleadings in our behalf might induce them to do something for us. We should imediately have gone to Guernsey ourselves but that we are trying to do all we can while we are on the spot to forward matters, but we much fear it will not be in our power to get a jot the forwarder if we could only persuade them to settle our Accts & pay us our due, that we might know at least what we have to depend upon, but when they will do that Heaven only knows. Desire Mr Walters not to forget to request of the Governor, to beg of the Duke to grant Mr Baldock some money for the Ballance of his Accounts, as we are in the greatest distress for want of it, having been obliged long ago to borrow money for the support of the Works, which is running on at interest for whant of money to repay those from whom it was had. God grant that this hard-hearted Duke may be induced to do something for us, my poor dear Mother why was I born to give her & all my friends so much uneasiness, my Duty to that Dear Parent, I really have not spirit to write to her. I am every Day with my dear Brother &c, they lodge within five or six Doors from us, my Poor Sister² is still very bad, but appears rather better, she is just gone in a Post chaise as far as Laytonstone to put Betsey³ to school. Doctor Le Messurier finds her much better and says that there is not in the least danger ... Mr Baldock & all friends joine with me in Love to you & all my dear Sisters & friends. Adieu my dearest Sister, may you never feel such sorrows as those which at this moment pierce the Heart of
Your loving and affectionate Sister,
Kitty Baldock
PS. All our united Love to our Dear Children & to that worthy good creature Elizabeth soon I hope we shall be with you.
Endorsed. Miss Frances Dobree Carey, at Mrs Judith Carey, Guernsey.
To the care of Messrs Hilgrove & Durell, Southampton.
---
¹ Christopher Bladock of the East India Company.
² Kitty's sister-in-law Mrs John Carey [nee Marie Le Ray], died in London this year, 1785.
³ Elizabeth, their daughter, b. 1770, died unmarried 1826.
---
London, August 20th 1790
Catherine Baldock nee Carey to
By my letter to Jack sent by Captn Bienvenu you will have seen that we had a most charming passage of about 19 hours, and we set off in the stage for London last Friday morning where we arrived in the evening about six o'clock, and have been obliged to remain all this time at the Bell Savage Inn on Ludgate Hill for want of being able to get lodgings ... Mrs Barclay and both the young Ladies have been so good to come with us, and have got us very pretty lodgings indeed, for fifteen shillings a week in Surry Street, Black Friars Road, at a most delightful part of the Town, we are to take possession of our new lodgings tomorrow ... Last Sunday I went to Edmonton, my poor sister [Judith] looks better than one could immagine but for my part I am afraid she is in a very bad way (Then come details, very precise, about her illness.)... She was quite happy to see us and expressed the warmest sentiments of the sincerest gratitude for all teh great kindness shewn to Caroline, and for all teh favours conferred on her by my D[ear] Brothers and you all. Jack & Betsey Carey have been extremely kind in calling on us, they are very well, Betsy dined with us last Saturday and Jack & ben Le Mesurier supped with us last night. How truly we are enjoying to hear of dear Mary Carey's safe delivery, and that thank Heaven she is so well, God grant she may continue, and assure my Dr Brother how sincerely Mr Baldock and myself congratulate him on the joyful occasion. Yesterday Mr Baldock and me whent to see Carey le Pelley, he is very well and grows a very fine Boy, how happe (sic) he was to see us. We took him to drink tea with us, Mr Chapman gave him the best of characters, and assured me that he was a clever good boy.