The Journal of Jane Maria Barlow, 1833-38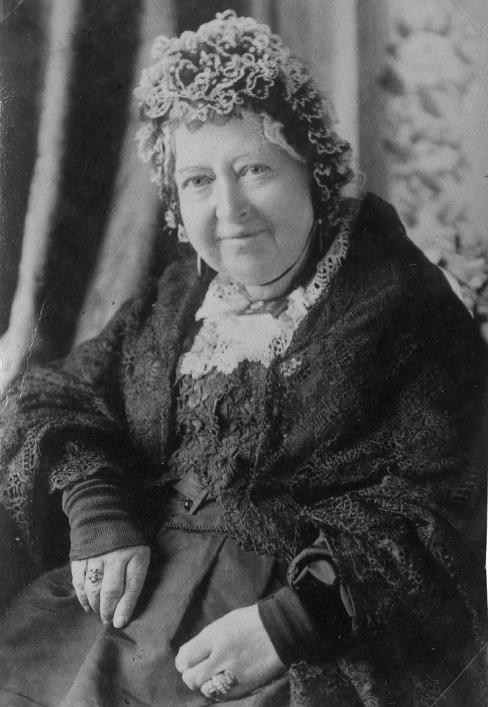 Primary concern: Prettiness of self and other girls. Where are all the beaux? Were all the men really either tall or handsome in the 1830s? Obviously not: 'De Beauvoir De Lisle renewed his attentions which I am sorry for, I shall be obliged to draw a line.' A very annoyed Savery Brock bursts a blood vessel. Guernsey has very bad pavements. The photograph from the Library Collection shows a very benevolent-looking Jane in her old age, many years after this diary was written.
The local historian Edith Carey was given the manuscript of this journal to copy early in the 20th century. She was not able to complete her transcription in the time allowed, but what she did manage still gives us a good idea of Jane and her personality. The whereabouts of the original manuscript is not known, but it may have passed to a Saumarez descendant living in Berkshire, via Jane's son, Frederick Barlow De Saumarez. Do you know where the original of this diary is? If you do, please tell us.
Jane Barlow was the daughter of Major Frederick Barlow of the 61st South Gloucestershires, who died at the Battle of Salamanca in 1812, and Catherine Maria McCrea of Guernsey, known as Maria,1 whose family2 was very involved in the American War of Independence—on both sides. Jane was born in 1810, and begins her journal at the age of 22. She later married Philip De Saumarez, R.N. This journal makes an interesting companion to the diary of Louisa Dobrée,3 which is similar in its concerns and very entertaining. Louisa moved in the same circles; her diary, written when she was 19 years old, covers the years 1839-40. A letter from 1822 from Harriet De Sausmarez to Durell De Sausmarez is equally gossipy about the same circle of acquaintances (QRGS 35 (1), Spring, 1979, pp. 1 ff.), and makes frequent mention of Harriet's brother Philip, then aged twelve, who was to go on to become Jane Barlow's husband. The portrait below is of Jane as a young woman.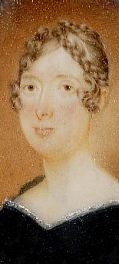 October 1833.
2nd. [While on the journey from Paris to Guernsey I and my mother arrived at St Malo, where] we were met by Mr James Carey and Mrs De Lisle (Mama's banker's son); the former kissed Mama and they both escorted us to the Hotel Francklin. At dinner William Carey, a handsome young man and Mr De Lisle came to tell us that we could not get off before Saturday. [...] William Carey (James Carey's son) is a very tall and nice person.
8th. At breakfast met a Mr Esnouf and his son, Jersey people. Mr Poingdestre is related to him by marriage. We go by the same boat tomorrow to Jersey.
10th. (Jersey). Mr J Esnouf and Mrs Esnouf called on us and we went out with them and saw a little of the town of Jersey, which is pretty, and went to their house, which is a delightful one with a pretty garden. I saw Miss Esnouf, four of her brothers and two sisters, she has one of her brothers at school near Geneva. I saw a Mrs Journon, Mrs Esnouf's sister. Mama knew Mrs Esnouf when she was a Miss Durel. One of Miss Esnouf's brothers will go with us on his way to Cambridge. Mr Poingdestre, my old beau called on us. He wanted us sadly to remain another week and to breakfast with him tomorrow. He has a pretty place a mile from St Hilaire and he frequently gives breakfasts and dinners. He gave a grand costume ball a short time ago.
11th. Left Jersey by the steam boat at ¼ to 10 and after a pleasant passage during which I talked to Mr Hemery, arrived in Guernsey at 1 o'clock. Was met on landing by Uncle Coutart and John Carter, Aunt Carter, Maria Maingy and Aunt Mary [...]4 Mr Savery Brock had the impertinence to stop the carriage to shake hands with us and asked whether Captain Smith [NOTE: with whom she had a great love affair in Italy and Paris, EC] was arrived. Maria Maingy is grown very old, never should have known her again. Uncle Coutart is grown stout and too much the papa. After taking lunch at Aunt Maingy's where we are going to stay until our lodgings are free, went to Aunt Carter's and saw Augustus Eliot who is quite recovered and I believe is going out to Canada in a week, as his mother is not coming to England. Saw Aunt Charlotte who is going to have a little one again, which will make the 8th alive.
12th. Poor Mrs Tupper is doomed to have yearly trials; she has lost poor Brock of an enlargement of the heart. He died on his passage from Rio to Guernsey.
I found Clifton as beautiful as ever, but should scarce have recognised the Guernsey streets having imagined them much wider. Saw yesterday two of Mrs Bell's boys, William and Anthony, they are both handsome but the former is beautiful. Julia Bell and her sister Anne came today, they are fine girls but not beauties. Julia has a beautiful figure and the upper part of her face good. She appears clever. Saw Uncle Coutart and three of his boys, Robert, Richard, and James. Robert, the eldest—10—is beautiful but the other two are plain.
15th. Miss Le Mesurier and Miss Hunt called. Miss Le M. is handsome, Miss H. pleasing. Mrs and Miss De Havilland called. Miss De Havilland is not handsome. Mrs Bell and Julia spent the evening with us. Julia pleases me much more on acquaintance and looks so much prettier at night, she is very pretty.
16th. Miss Louisa Priaulx and Rosa and Betsey Brock called; the latter is pretty and more so than ever. They had their handsome cloaks on.
19th. We go to our lodgings today at Mrs Claypole's at the bottom of the street close to Clifton, in fact the same street.
22nd. Maria Maingy called and we went to town together to choose a piano which I found to suit me at Mr Henry's, one of Broadwood's, at 18/- per month, but I have it for less as I have taken it for three months. Saw the food market which is magnificent, all the tables of marble.
November 1833.
4th. Louisa Priaulx called and asked me to her musical party Friday next. I ought to consider myself highly honoured to have been invited, as she can only invite 6 besides the Club and there are many dying to be invited.
The 57th Regiment is expected with a great many beaux. It is the Rifle Brigade, with the Marquis of Douro at the head.
Mr Savery Brock has, I am sorry to write, burst a blood vessel. He had taken Betsy Brock on the continent to break off an attachment between her and Mr Ross,5 the General's son, an ensign of 19, and she promised fair when she came back. However she never spoke to him in public or before her father, but her father found out that she had private interviews and this put him in such a passion that he burst a blood vessel yesterday or the day before. We sent this morning to inquire how he was but he had been bad again and was not better.
5th. Aunt Carter, Aunt Mary and Mrs Bell came to see me when I dressed [for Lady Smith's party]. Wore my bobbin net dress over white satin and very pretty wreath of different coloured flowers. [The portrait above is of Jane.] I went with Mama and Maria Maingy. It was a heavy party with a dearth of beaux. I had the best to dance with. I danced the 1st quadrille with Osmond De Beauvoir Priaulx; 2nd with De Beauvoir De Lisle; 3rd with Pedro De Lancy; 4th, a waltz, with De Beauvoir De Lisle; 5th quadrille with Capt Durell De Saumarez. I was much made of but I felt in low spirits, but I made an effort, they said I was in spirits but they were forced. De Beauvoir De Lisle renewed his attentions which I am sorry for, I shall be obliged to draw a line. Mr Savery Brock was better today but not well enough to allow his daughters to go to the party.
Mr Dan Dobrée being appointed to Trinity Chapel and being Master of the College, he has now the means to marry Miss Power. They engaged themselves when very young; they have been engaged now 9 years. They will marry immediately, but not with the consent of the Dobrées. Miss Charlotte Lowe[?] also is engaged publicly to a young officer who has been quartered here and who is going with his regiment, she is 18 and he 19, but they are not to marry before two years.
8th. In the evening I went to the musical party at the Priaulx'. It consisted of Mr Utermarck, Mr McCulloch, Mr Havilland Durand, Mr Lauga, Mr Osmond Priaulx, Mr James Priaulx, Miss Louisa Priaulx, the Chevalier Bosset[?], Col., Mrs, and Miss De Havilland, Mrs and the two Miss Kennedys, the three Miss Maingys, Maria, myself, Maria Maingy and Oliver De Lancy, and Capt. Durell De Saumarez. Spent a pleasant evening.
9th. My 23rd birthday.
10th. Went to garrison service and heard Dan Dobrée preach. I liked some of his lesson, but three things I disliked. He touched upon the politics of the day.
12th. The pavement of Guernsey is detestable, and when I return home I am always dreadfully tired as one has nothing else to do but go up and down hill.
14th. Next went to call on Mrs Carey, Castle Carey. They have a magnificent mansion. Met Mrs Tupper who was glad to see me, and Mr Carey.
18th. A marriage took place last night in the Town Church at 8 o'clock, between Mr Dan Dobrée and Miss Power, after an engagement of 9 years. The bridegroom was in high spirits and was in such ecstasies that he kissed his wife before the ceremony was quite completed; it was highly indecorous for a clergyman. She enters the family without the consent of his father and mother and his elder brother was against it, but I was glad to hear that he was at church and kissed the bride, but did not go to her house, but another brother did. Miss Power was so nervous that she could not answer properly and her husband was obliged to prompt her. She wore a white satin petticoat and white lace pelisse over and a lace veil was attached to her hair behind with a sprig of orange blossom. A pretty dress.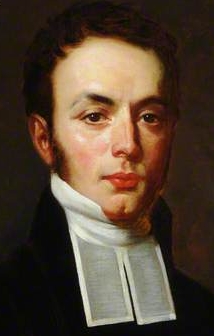 17th. I went to a garrison service and had one of the most beautiful and excellent lessons I have ever heard from Havilland Durand [portrait above, Guernsey Museum]. We stayed behind after the service to see the Altar which is magnificent—red and gold velvet. We came up with Mrs Durand and Mrs Saumarez Dobrée and Maria was joined as usual by Havilland Durand, although Maria still persists in saying there never will be anything. I cannot help wishing that a greater hit of friendship will be added one day. Ah! Money! Money! Havilland did four services today, he said he was afraid he would burst a blood vessel.
19th. The Rifle Brigade arrived today and the Marquis of Douro. Went to Mr Sausmarez Dobrée's, the Rifles were not there nor the Marquis, though they promised to be there, but I suppose were kept at the Governor's as he had them to dinner. Mr Sausmarez Dobrée opened the ball with me. I felt highly flattered. Next quadrille with Mr William Carey of the Bigoterie; waltz with Mr De Beauvoir De Lisle; 4th Quadrille with Capt. Durel De Sausmarez; 5th Waltz with young Carey of Frogmore; 6th Quadrille De Beauvoir De Lisle; 7th Havilland Durand; 8th went to supper; 9th waltz with Mr O'Brien; 10th quadrille, Osmond Priaulx.
I spent a delightful evening and there was an elegant supper without meat, only oyster patties. Miss De Lancey looked well and Elizabeth Brock and Betsey but the latter looked low spirited, young Ross being gone. The Dean's daughter (Miss Carey) and Miss Barlow were said to be the belles of the ball, the dark and the fair so a lady told Mama. Was not in bed till 2 a.m. ......
22nd. In the evening went with Maria to Havilland Hall. Miss Lizzie De Havilland made her first appearance from England, a pretty girl and good manners, but was overdressed for her own house and such a small party. Osmond Priaulx spoke to me but he was almost all the evening with Amelia Maingy. He is handsome. Marianne Maingy and Peter Carey flirted away and Havilland Durand and Maria Maingy .....
23rd. Went to town with Maria and sprained my ankle with the confounded Guernsey pavements.
24th. My foot is much worse and I shall not be able to dance at Havilland Hall which us very provoking. Capt. De Saumarez8 sent me a beautiful bouquet to wear tomorrow evening.
26th. The Marquis of Douro goes to the ball tonight. My foot is better. Col. De Havilland has sent to invite the officers in Jersey to come to his party and four are coming. All the Guernsey world will be there. Went to Havilland Hall which, being illuminated, looked pretty from the road. It was a handsome and a pleasant party, and a beautiful supper. The Marquis of Douro was there and looked and talked very affably. He danced of course with the two De Havillands and with his old friends the Cardews, but with not a soul else. It was so crowded we knocked him about a great deal and it was not always in my power to give him my hand when he proffered it, au reste he is very good natured, he is handsome, between dark and fair with a Wellington nose. He is not a great beauty and is not tall enough, but he is slim. Most of the other Rifle Brigade did not choose to dance, Maria Maingy danced with one. Sir Octavius Carey wished to dance with me but was obliged to go home with his wife, he said I was the handsomest person in the room. There were 300 persons at the Ball ..... I danced with Ferdinand Tupper, Capt. De Courcy, Pedro De Lancey, James Priaulx, Capt. Durell De Sausmarez, De Beauvoir De Lisle, and young Carey of Frogmore. All the girls were well dressed at the party and looked pretty. Havilland Durand and Maria Maingy both looked unhappy.
27th. Young Ross did not dance last night and looked in low spirits and as he is so tall he could overtop everybody and watch his dear Betsey Brock, his leave has been prolonged for a month. Betsy did not look happy either, her father followed her about like an old Duenna.
December
3rd. In the evening went to Mrs Le Marchant's, Manor Le Marchant, and spent a pleasant evening. Danced a waltz and quadrille with De Beauvoir De Lisle, and quadrilles and two waltzes with Capt. De Saumarez, a quadrille with Sir Octavius Carey, another with Mr Beresford and another with Capt. Stevenson. Refused Pedro De Lancey, Mr Dobrée of Beauregard, Mr De Courcy and 2 or 3 others. Mr Beresford and Capt. Stevenson, one of the Rifles; the Marquis of Douro smiled on me most exceedingly. I admire Lizzie De Havilland most exceedingly.
9th. The smallpox is raging in Guernsey. De Beauvoir De Lisle called. Poor De Beauvoir, he is deeply smitten with me and he is very clever and agreeable, but I can never regard him but as a friend. Sir Octave Carey called to invite us to meet the Marquis of Douro in the evening as the Marquis dines there Thursday week. It is very civil as there are not to be many—Harriet Carey, Miss De Lancey, and Maria Maingy .... Went to the ball, and it was a very brilliant one. Maria was introduced to Lord Douro by Mrs De Havilland and had a long chat, and to Captain Greene who leaves this in four months absence on Monday next. Danced with young Carey of Frogmore, De B. De Lisle, Capt. Stevenson, Capt. De Courcy, Osmond Priaulx, Mr Percy (Rifles), Edward Carey, Albert Carey, Mr Clegg (Rifles) and home at 2.30. The flirtatious were Ferdinand Tupper and Miss Herbert; Pedro De Lancey and Miss De Jersey, and James Priaulx and Harriet Carey, the Dean's Daughter. Mrs Ross [the Governor's wife] has sent her excuses for not having called on the plea of ill health. She has had very bad health, but the General is to call.
12th. Went to Octavius Carey's and we had a most charming evening. The company consisted of Mrs Harry Dobrée, Mr H. Dobrée jun., Mr Dan Tupper, Lord Douro, Capt. Stevenson, Mr Buckins(?), Mr Edward Carey, Mr and Miss De Lancey, Miss Harriet Carey, Col., Mrs, and two Misses De Havilland, Mr and the two Miss Le Marchants of Manor Le Marchant, Miss Caroline Le Marchant, Mr Osmond Priaulx, Mr Ross, Maria Maingy, Mama, and self. Lady Carey has a nice family, the baby beautiful. Lord Douro spoke a great deal to me and Maria Maingy. He said he liked my voice much and should like to hear me often.
16th. Harriet Carey called, I am so sorry for the pretty girl, she says she has not one tooth in her head that is not plugged—at 17! She is not strong. The day after a ball she is obliged to lie on a sofa all day.
19th. Ball at the De Lanceys.
26th. Dr Walters is dead, a happy release as he was in great suffering and prayed that he might die.
January
1st. Describes her New Years' visits to relations &c.
4th. A party at Havilland Hall where Lord Douro and others acted charades.
VOL. II 1834
February
7th. Met Mr De Lisle (not De Beauvoir) who asked us to accompany him to his brother's, Captain De Lisle's, to see the house he is building, a very pretty house and lovely grounds [NOTE EC: Perhaps Hirzelbourne, now Swiss Villa?] He has picked strawberries in the open air last week and I saw numberless strawberry plants in blossom. He has had asparagus for dinner, all in the open air, not forced, and has sent some to the sick Mr Maingy.
April
8th. Breakfasted at Câtel Rectory, and proceeded to look at the Câtel Church [....] and saw poor Captain Nicolas Dobrée's grave who perished in attempting to save some people off a wreck. His father has never mentioned his name since his death.5 We walked through some lovely lanes and picked some wild hyacinths.
15th. The flirtation between Miss Harriet Carey and Mr James Priaulx continues, and the one between Miss Harriet Brock and Mr H. Dobrée of Beau Séjour.
20th. Whilst I was walking with Maria today I picked a small bunch of May, the first I have seen.

May 14th. Had I been a boy I should have wished to have been in the 61st Regiment, my father's great-uncle having raised it. My grandfather commanded it, my father [see above, in a 1795 miniature by Buck] having been born in and fell [at Salamanca] commanding it, and I was born in it. The first Regiment that came to Guernsey was my grandfather's, General Barlow.
VOL. III 1834-1838
[See The Fancy Ball, a public dance on 7th January 1836 attended by many of her usual crowd, but not Jane herself.]
7th July. [Nr Southampton.] Mama had a letter from Aunt Mary yesterday. Miss Cardew is married to Capt. Carpenter; and shocking to relate, Miss Lihou is married to a Frenchman of the lower class ..... [1st August death Mrs Ross, London]
3rd August. Mama had a letter from Aunt Mary. The match is off between Captain Power and Lizzie Priaulx; he has asked to be off and she has consented, poor thing she is in London. I am very glad it is off, she was much too good for him.
30 Sept. 1836. Still continues to blow and rain. Such a gale, the poor Rifles have been 24 hours embarked and still not able to weigh anchor.
The Collings have been allowed by ballot to enter the Rooms. Mama stayed away as she would not be for their admittance and yet did not wish to be the vote to exclude them, so she remained neuter.
1837
19th February. Anthony [Maingy] told us that Col. De Havilland had offered him Havilland Hall for £12000; Robert McCrea said that it had cost Col. De Havilland £20,000 to build.
20th April. Capt. Le Mesurier wished for Sausmarez Manor but they asked £350 per annum. [EC: The Diary for the next half year was sent away before I could make any notes but I remember:]That D'Orléans was stood in the stocks for witchcraft, making the people believe in rabbit droppings as a remedy. That a party of men and girls went to Sark for the day and were driven round the island in an ox cart; one man rode the ox as postillion until, in crossing a stream, the ox bolted and they were all spilt in the water and returned home dripping wet. The Chevauchée de St Michel also took place; all the ladies' houses were kept with the shutters up on the lower windows. Jane Barlow went to see the procession from Mrs Humphries' house in the Grange, but went in through the back garden via her house in Vauvert.
Mary Gosselin was reprimanded by Mrs De Courcy for playing waltzes and quadrilles on Sundays. Jane remarks that she had no religion whereas her mother had died from going mad with too much!John Carey of the Bigoterie died, after a short illness, because Lizzie Priaulx (afterwards Mrs [Grove]s) refused him after leading him on. Evidently the De Havillands of Havilland Hall were the leading belles of the day, for when they refused to go to one of the monthly dances at Ingrouille's the officers of the 70th Regiment also stayed away.
1838
21st March. Went to call on Mary Andros, who said she was amused at the wedding of Rosa Brock and Mr Barnes by thinking of probable others. There was Andros Guille and Emma Brock, I and Phil, Harriet Carey and Henry Priaulx, and Miss McCulloch whose beau is at Oxford.
26th March. Mr Evelegh? Said that there were some odd customs here, that you did not take a gentleman's arm anywhere of an evening which you always do in England. I said that in Mama's day they did not mind taking an arm, but I said, if we err it is better to be too strict than otherwise.
April 1838. Mary Gosselin told me of two engagements on the tapis: Mr Augustus Dobrée and Miss Le Mesurier, and Honorable St Vincent Saumarez and Miss Rhodes,7 an English girl he has fallen in love with, although a respectable family yet there is no connexion, nor title, nor very much money, but the young lady is very pretty, is little, and is named Caroline. She has three brothers and a sister. I hope she will appreciate St Vincent as I think he is good.
23rd April. Aunt Carter told us that Mr Octave Brock had an unpleasant occurrence at Trinity Chapel the other day. He is a very little man and in the week? Meets? He found that the pulpit was very deep and they placed a small barrel for him to stand upon. He was quoting 'a little while and ye shall see me and again a little while and ye shall not see me' when, sure enough, he disappeared as the barrel gave way. The congregation had the greatest difficulty to recover their serenity ....
28th June. The eventful coronation of Queen Victoria. A lovely day—saw 1900 children in procession to go to the tea given to them, that was at 2 o'clock, at 4 went with Robert McCrea who dined with us to see the streets. Nothing extraordinary. In the evening went to see the fireworks let off at Castle Cornet. A failure. We did not stay to see the end of the fireworks, they were let off badly, one rocket thrown up and the other thrown up as the former descended. They ought to have had an illuminated framework on Fort George side then the same about Castle Cornet with unlimited set of rockets constantly thrown across the water at each other, the Castle to appear blown up at last with a blaze of fireworks and cannon let off. It was, on the contrary, dumb(?) show.
11th July. Caroline Le Marchant is engaged to be married to Captain Somerville, a very handsome man.
24th July. I went to call on the bride (Mrs St V. Saumarez) a very good—and very thin, she has a beautiful head of hair, large blue eyes, lovely dark brown hair and very dignified.... The bride has a beautiful head but walks ill and imitates the bad style of the French in every way and has not the haut ton French manner altho' she wishes to be very frenchified; with all these little whines(?) I cannot say she is affected and is altogether a nice looking person.
---
1 A Mrs Barlow is mentioned in the Cape Diaries of Lady Ann Barnard, p. 155:
Little Mrs Barlow is a pleasing unaffected girl wishing to please, I wonder my cousin Sir Hew [Dalyrymple] said so little of her & so much more of Mrs Ham: who seems to be so careless (comparatively speaking) of pleasing anybody—I suppose as a prophet is regarded in his own country, at Guernsey the Guernsey woman was less thought of for being one.
This must, however, be Nancy Coutart, wife of Frederick Barlow's older brother, John James Barlow. He was Major when the 61st Foot left Guernsey for the Cape; he had married Nancy the previous year. Lady Anne was at the Cape for a five-year period, between 1797 and 1802. Maria McCrea did not become Mrs Frederick Barlow until 1808. Maria was recorded as a conquest in the diary of the celebrated Anne Lister in Paris. She had gone to Europe, where the living was cheaper, after her husband's death left her in penury (she received £250 compensation from the Army; the Library has a letter in which her difficult circumstances are discussed, and there are further letters in the Island Archives). Anne Lister's diary was written in code, and no doubt poor Maria, had she been aware of its existence, would be have been more than mortified; Jane was with her, a little girl at the time.
2 Jane was closely related to the famous Jane McCrea, whose notorious murder supposedly at the hands of an escort of Native Americans was a cause célèbre of the War of Independence. For more about Jane's family, see Nigel McCrea's A History of the McCrea family of New Jersey and Guernsey, 1999. See also Gillett, E., Elizabeth Ham by herself, 1783-1820. Both books can be consulted in the Library. Frederick Barlow's brother, John James, also of the 61st, married Maria's Guernsey cousin, Nancy Coutart. The Barlows were the dominant family in the South Gloucestershire Regiment during that period.
3 The Journal of Louisa Catherine Stephens Dobrée, published Iowa City: Trinity Press 2001.
4 Jane's aunt, Mary Augusta McCrea, married John Chilton Lambert Carter. Maria Caroline Maingay was Jane's cousin. Born in 1802, she was about seven years older than Jane, and actually of Jane's mother's generation, as her mother Margaret Coutart, wife of Peter Nicolas Maingay, was Jane's grandmother, Jane Coutart's, sister.
5 Betsey De Jersey Brock (1815-1855) was the younger sister of Rosa Brock, whose beautiful watercolours we are very proud to hold at the Library. Savery's huffing and puffing worked, but the basis of his objection to Robert Ross we do not know, other than that he and Betsey were very young. She went on to marry the wealthy John Carey in 1838. Her beau at this time, however, Robert Ross, was 19 and an ensign in the 52nd Oxford Regiment of Foot. Son of the then Lieutenant-Governor of Guernsey, John Ross, and Katharine Brownrigg (1789-1834), he was born in Sri Lanka. In 1838 he married Harriet Maingay, daughter of John Maingay of Grange Villa, by special license; he remained in Guernsey and had several children here. Of Savery's indisposition, Mrs Routh says in a letter dated 11th November 1833: 'Savery Brock has been very ill, he broke a blood vessel which naturally very much alarmed his friends, he is however recovering; he has a kind heart, he had offered to send our girls two white camellias to wear in their hair at the first ball and when lying in a bed of sickness did not forget them.' Confusingly, Savery's eldest daughter, who was born in March 1809, was called Elizabeth, but never seemed to attend parties. She perhaps suffered from a long-term illness. The Comet of January 9th, 1837 reported,
It is our painful duty this week to record another instance of the uncertainty of human life. On Saturday last, after only a few days' illness, died, in the bloom and pride of life, ELIZABETH, eldest daughter of John S. BROCK, Esq., and niece of the venerable BAILIFF, of this island, aged 28. The sudden and premature death of this young, aimable, and highly accomplished lady, will be long and severely felt by her family, and an extensive circle of afflicted friends. In consequence of the unexpected demise of MISS BROCK, on Saturday morning, neither the BAILIFF nor the ATTORNEY-GENERAL, attended the Court on that day, on account of their relationship to the deceased, and consequently no important business was transacted.
6 See J. P. Warren's 'How Guernsey celebrated the Coronation in 1838,' in the Quarterly Review of the Guernsey Society, IX (1), Spring, 1953, pp. 3-5. There were treats for the children, processions, a Coronation ball that went on until until 4 a.m., fireworks at Castle Cornet (and it was generally agreed, as Jane remarked, not a good display); 'the balloons, bonfires and fireworks in different parts of the Town were alleged to be equal if not superior to the display at Castle Cornet. Not less than 20,000 persons were in Town that day.'
7 Augustus Dobrée (1791-1845), who married Margaret Le Mesurier, was a widower, first married to Sophia Smith; she died in 1836, having born him three children; they are discussed as a courting couple in Harriet de Sausmarez' letter of 1822 (see introduction.) Caroline Rhodes died young, at 28, in Geneva, where she had gone to convalesce. There is a memorial window to her in Castel Church (see above). She was of a well-off landowning family in Yorkshire.
8 Captain de Sausmarez, R.N., 1810-1895. Born in the same year as Jane, he was the son of Thomas de Sausmarez and Catherine De Havilland. His older sister Harriet wrote in 1822 that 'he has no pretensions to beauty; but he has such a fine bold spirit, makes such shrewd remarks and se pique tant d'honneur, he cannot fail to be admired.' His brother Tom, 'a lovely boy', younger by a year or so, was the favourite 'avec les dames', but died in 1827, aged 16. They both attended Mrs Robert's school in the Pollet, and Philip, who was already, aged 12, showing a strong inclination for the Navy, was due to be sent to England.
Lizzie (Elizabeth Louisa) Priaulx was born in 1808. She was the sister of Osmond De Beauvoir Priaulx, founder of the Priaulx Library. A nice portrait of her exists from around this period; the Library holds the portraits of her sister Grace and her sister-in-law Caroline De Lancey, née Carey. She went on to marry John Groves in 1847, and was the mother of Percy Groves, the First Librarian. She is mentioned in a letter of June 1824 in the Mann-Dobrée collection in the Library: 'Osmond and Lizzie Priaulx are here, she is a nice girl but not so pretty as Grace; he is a fine young man. My favourite, Grace, is not in spirits; she fancies herself more in love than I thought her and to please her friends has discarded her beau, this entre nous.' Grace married Captain John De Lancey.
Jane's cousin Charlotte Francis McCrea, daughter of Charlotte Dobrée and Robert Coutart McCrea, married George Bell, son of Thomas Bell and Julia Maingay.
Lizzie De Havilland is mentioned by Louisa Routh in a letter to her father dated 11th November 1833. 'Next Tuesday fortnight is Lizzy De Havilland's birthday and she is to be introduced that day, a grand ball is to be given on the occasion; my sisters and even mamma are to be there.'
From Mrs Routh, November 11th 1833: her daughters 'did not go to Lady Smith's, these quadrille parties come round too fast once a fortnight. On the 26th I shall chaperone our girls to Havilland Hall, it is to be a grand affair.' Julia Routh writes to her father on 23rd November 1833 about the grand ball, but Julia De Lacy Mann did not transcribe the details. She remarks that Mrs and Miss Barlow paid them a visit that day.
Carey of Frogmore: The Star, January 7 1865. 'To be let, with immediate possession, that desirable Estate, called FROGMORE. situate at the Rohais, bordering the main road, and about one mile and a half from the markets, comprising a good DWELLING HOUSE, having a south aspect, and containing parlour, dining and drawing rooms, four bed rooms, dressing room, and all other requisite convenience; with or without a COTTAGE detached, stables, coach-house, hay loft, gardens, and shrubbery, and about 15 vergees of good arable land pasture land. This Estate as a residence is most delightful; a stream of water runs through it and the grounds are tastefully laid out. Apply to JOHN MARQUAND, Law agent, 29, High-street.'
For Captain Power, see Caroline Le Marchant's letters. For D'Orléans (actually D'Orléan), see the Comet, November 7th and 10th, 1836.