Victor Hugo and Guernsey: Les Caves de Bordeaux
17th October 2017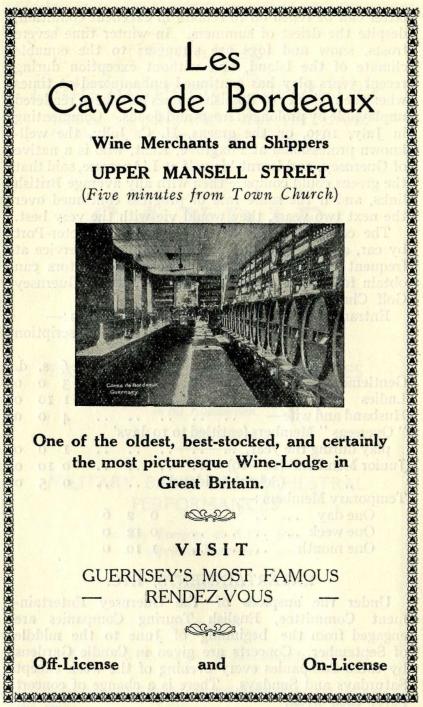 From Guernsey Life, June 1967, in the Library. 'Looking at Life,' by Michael Geraghty, concerning amongst other things an application for the transfer of a licence to run this well-known wine-bar and public house. The advertisment is from a 1934 tourist brochure in the Library collection.

[...] Les Caves de Bordeaux is a firm rock in the edifice of Guernsey's history.
It was Monsieur Gilles Feuillerat who established Les Caves during the Franco-Prussian war.¹ His aim was to provide a meeting place for the French community of the island which, in those days, was considerable.
His most distinguished customer was French author-politician exile Victor Hugo, who used to escort his mistress, Mlle Drouet, into the bar around 8 pm, twice a week for a glass of cognac, to which he was partial. It was a pity that M Feuillerat never thought of erecting a plaque, whether on the wall or on the chair that Hugo used, to announce: 'Victor Hugo was here.'
'Then my father, Bertrand, took it over and Les Caves continued to be extremely popular with French people, although there were not so many here after the First World War,' Mlle B Feuillerat, who now lives at La Bigoterie, Bertholet Street, told me recently. Bertrand, who was about as well-known in Guernsey as de Gaulle is in France, died in 1930. In due course, the place changed hands to Mackay and Co., Ltd.
In the old days, a platoon of king-sized barrels lined the wall behind the bar filled with wines and spirits. The German Occupation and its resultant shortage of drinks saw the barrel run dry—but it did not occur to anyone at the time to fill any of them with water for preservation purposes.
'Alas,' said Mme Feuillerat, 'being empty they merely disintegrated and that was the end of those magnificent barrels that must have been the envy of anyone in the wine trade.
---
¹ Auguste Bulteau is sometimes said to have founded the business, for example by Carel Toms, but this is not borne out by evidence (see his obituary given here).