Etienne Gibert to Nicolas Rabey, 1800
28th January 2016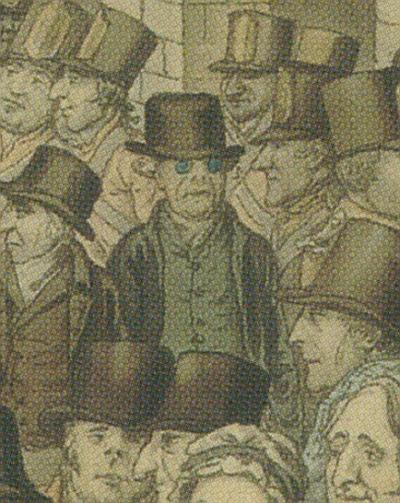 By George Rabey, in The Guernsey Free Churchman, Vol. VI (3) March, p. 27. 'A good 126 years ago now ...' The detail is of Etienne Gibert (1736-1817) amongst the crowd in Matthias Finucane's Market-Place, Guernsey, 1809. He is here aged about 73. For a somewhat less quirky portrait of him see Nicolas De Garis, conscientious objector; there is a third portrait of him, exhibiting considerably more dignitas, in the Library collection.

Transcription of a letter sent to my great-grandfather, Mr Nicolas Rabey, by Monsieur le Pasteur Etienne Gibert, a pious man of faith, minister of St Andrew's Church in Guernsey. Written in 1800 when Monsieur Gibert was in London through indisposition.
19 December 1800.

To: Sieur Nicolas Rabey,
Du Moulin,
Saint-Martin
Guernsey.

'Tailor'

Dear friend,

I was very pleased to receive your letter, as one is always very happy to receive news of those we love, not only in the way one should love everybody, but in same way a man who, having become aware of his own state of spiritual ruin, and of his inability to find a way out of it, turned his heart and his love to Jesus, the refuge and friend of those poor sinners who trust in him. That is the only way that leads to life, and those who follow it are members of Jesus Christ, they make up his Church, they are all brothers, and they must love one another as if they were the same family, since they are of but one and the same body.

Continue, dear friend, to give yourself (at every moment) just as you are to this tender Saviour who has given himself for you.

Give him your heart, so that he may make it pure. Try to supress your own will and to accept whatever happens as the result of his dispensations. Always remember that he loves you and that he will love you until the end. So, in short: stay true to Him.

I have fully recovered both my appetite and my strength; I am still a bit feverish, but that should not last long.

Kindly give my best wishes to our good friends at Les Câches. I will not ask you to tell them that I love them dearly; they have known that for a long time.

I remain, dear friend,
Your very affectionate,
Etienne Gibert.
NB. My great-grandfather, Nicolas Rabey, was a tailor by profession, and lived in the Mill house, now demolished, which stood opposite Beauséant. This was probably the house of the miller of the old Moulin des Camps, before the new mill was built by Mr Greenway, who lived in the house which is now the Victoria Home, Rue du Pré, St Peter Port. My great-grandfather became a member of the Independent or Congregationalist Church in Guernsey, under the leadership at that time of Monsieur le Pasteur Pierre Pariolet Dex, who began his ministry in Guernsey in 1800.
He preached at the Chapel in the Town known as 'Pierre Dex's Chapel.' This was in fact the building which stands presently between the top of Cornet Street and Mr Ollivier the gunsmith's shop, in the Bordage. This old chapel was turned into a two-storied house towards the end of the 19th century.
The Independent Chapel in New Street, St Peter Port, afterwards called Bethesda, was built in 1811; the Independent Chapel of the Villiette, St Martin, followed in 1813; in 1816 was erected the Chapel at La Villaize, in St Andrew, and in 1817, the Independent Chapel of St Saviour's was opened for worship.
In this Chapel is a memorial tablet to the memory of the Reverend Pierre Pariolet Dex, 'who was the faithful pastor of this Church. Died 11 August, 1835. Aged 59.' [From the French.]
---
Etienne Gibert was born in the French village of Lunès, Hautes Garennes, in the Gard region, 2 September 1736, and died at St Andrew's Rectory in Guernsey on 14 February 1817. There is a monument to him in the Church. He was Protestant minister at Bordeaux in 1759. He settled in London in 1770, and was ordained into the Anglican Church the following year. He became pastor of the French Church in Soho, 'la Patente,' known as the Soho Temple, in 1776, and from there progressed to become minister to the French congregation of the Chapel Royal in 1783. In 1785 he began a two-year stint as secretary to Sir William Eden, accompanying him on a diplomatic mission to France; he had not set foot in his home country for 15 years. In 1791 he made his first known voyage to Guernsey, for a legal matter, where he gave power of attorney to his nephew Elie to enable Elie to claim (and take possession of) his property in France (20 August 1791, before Jean-Carey Métivier.) In London he was a near neighbour of Havilland Le Mesurier and his family in St James; Havilland, away in Flanders, was keen in his correspondence for his little daughter Harriet to spend time with 'the Giberts.' In 1793 the Governor of Guernsey, knowing his reputation, wrote to offer him the post of Rector of the Town Church, but Gibert, according to Benoit, preferred somewhere 'more modest, but with more to do,' and asked to exchange places instead with the Rector of St Andrew's, the Reverend Daniel Durand, who took up the post at the Town Church. Gibert made his inaugural sermon at St Andrew's on 1 June 1794. The Library has a hand-written codicil to his will in the Collection (Strongroom).
See Nicolas de Garis, conscientious objector.
Abrégé de la vie du Rev. Etienne Gibert, Guernsey: T. Dumaresq et T. J. Mauger, 1828. The Library has a large number of works by this important religious author, and the biography of both Etienne and his brother Louis, who was a minister in America: Benoit, D, Les Frères Gibert: deux Pasteurs du désert et du refuge (1722-1817), Toulouse: Société des livres Religieux, 1889. See Van der Tang, M, Guernsey Churches, Chapels and Missions Past and Present, published by the author, 2010, for an overview of the island's religious buildings.